​As more children transition to distance learning, more employees are working from home, and more people are practicing social distancing, the coronavirus outbreak has upended many people's lives. Most Americans are actively avoiding others as much as possible and taking additional steps to protect themselves from the coronavirus, as concerns about contracting COVID-19 have grown sharply in recent weeks. Many Americans are dealing with lay-offs and pay-cuts, and adjusting to school and daycare closures amid the pandemic that has disrupted American life and the economy.
The majority of Americans remain optimistic about their own financial situation, with 62% saying that their personal finances are in good condition. Wealthier Americans are more positive about their current finances than less affluent Americans.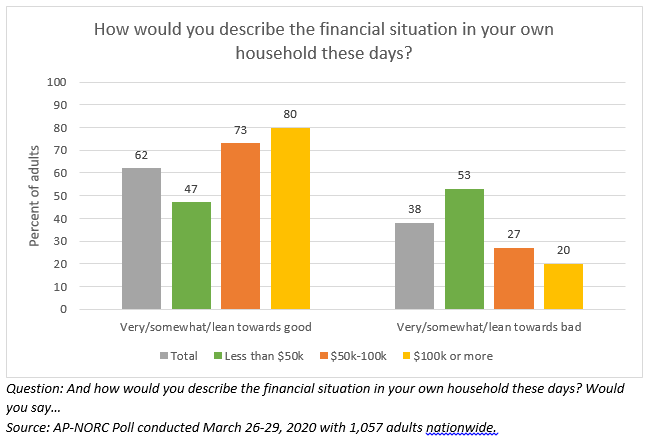 Thirty-nine percent think their personal finances will continue to improve over the next year, and another 42% think they will stay about the same. Just 19% think they will get worse. This remains relatively unchanged since January.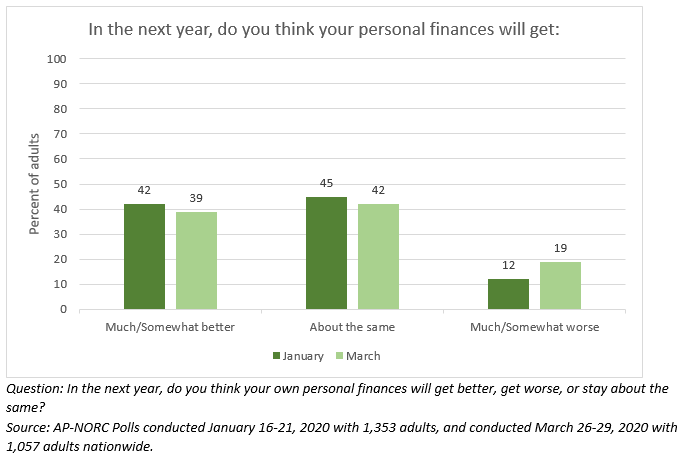 More Americans are taking precautions in response to COVID-19. Ninety-two percent report following the recommendation to wash their hands frequently and the percentage of Americans avoiding other people increased from 68% to 94%.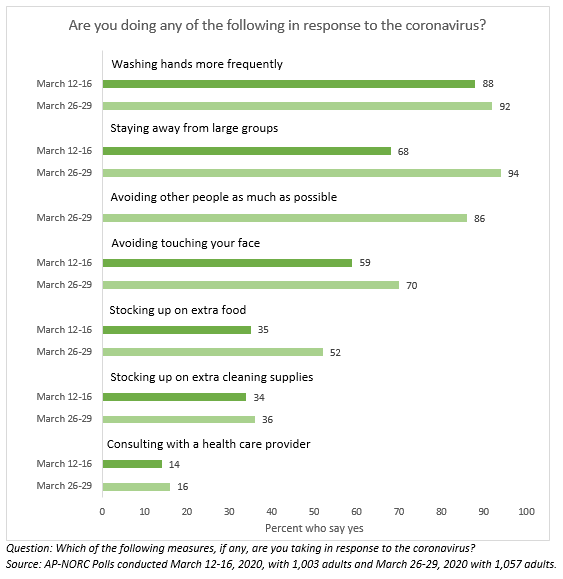 Concerns about COVID-19 continue to increase with half of Americans extremely or very concerned about someone in their family contracting the coronavirus up from 31% earlier in March. In comparison, concerns about the flu are more stable with about 2 in 10 expressing concern in both February and March.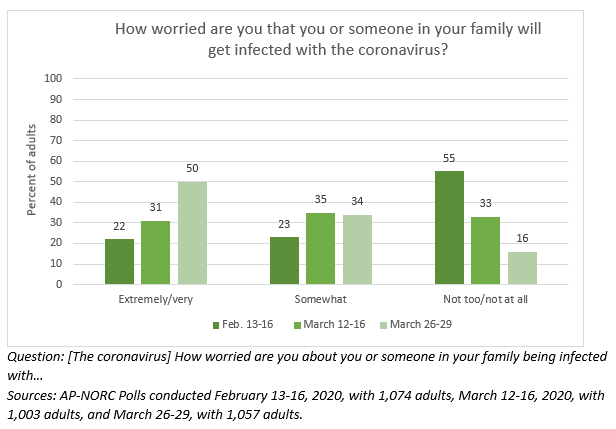 While younger adults were more likely to express concern about the coronavirus earlier in March, these age differences have decreased as more Americans express worry over the outbreak.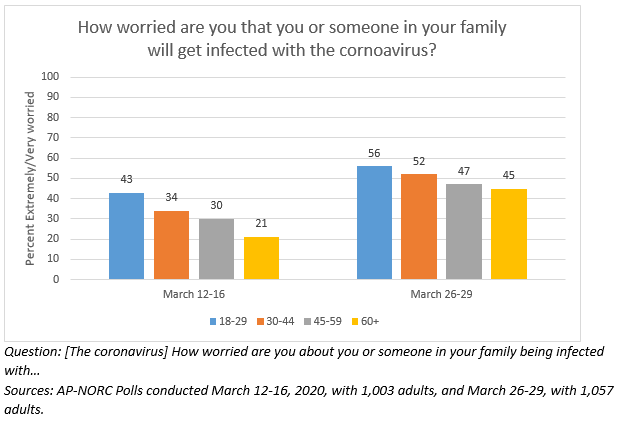 Fifty-six percent of the survey's respondents were employed prior to the coronavirus outbreak, and many of them report that they or someone in their household have had their jobs affected by the coronavirus outbreak. Fifty-six percent of those employed adults have someone in the household who has either been told to work from home or have chosen to do so. And 53% say their household's paychecks have been affected, whether due to being laid-off, taking unpaid time off, or having wages, salary or hours reduced.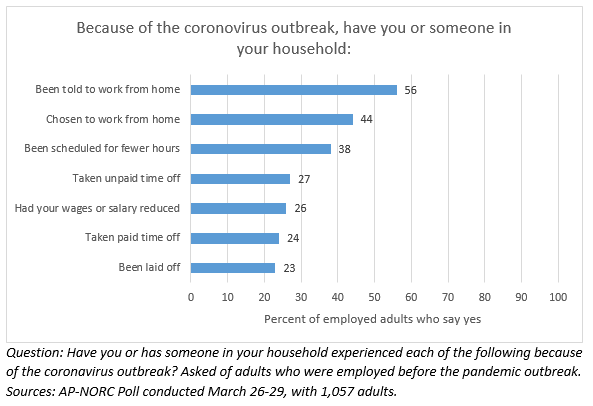 Those employed Americans with a college degree are less likely to have had someone in their household lose income because of COVID-19 than those with no college degree (39% vs 64%). And 69% of those employed adults who have a household income of more than $50,000 a year have someone in their household working from home, compared to just 36% of those making less.
Ninety-six percent of parents with a child in school or daycare say that they have been closed because of the coronavirus outbreak. Lower income parents are more likely than wealthier parents to be concerned about their child losing services such as school lunches or counseling. Twenty-two percent of parents making less than $50,000 say they are extremely or very concerned, compared to just 9% of those making more than $50,000.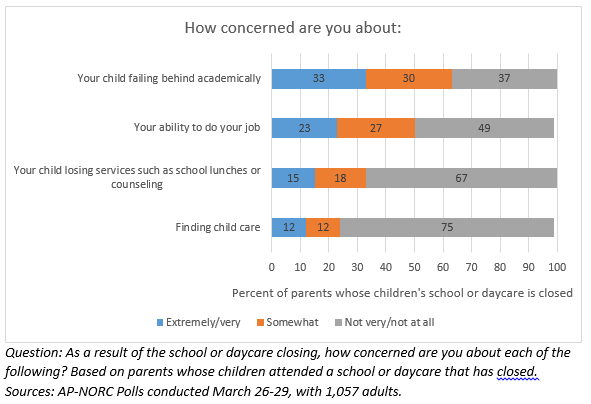 Most Americans are at least somewhat confident they can keep up with their expenses and handle an unexpected bill. However, as 401K and IRA balances fall in the wake of the recent stock market volatility, 52% are not confident they will have enough savings for retirement, up from 44% in the AP-NORC survey conducted in June 2019. Confidence around meeting other financial needs are holding steady compared to June 2019.
The survey's respondents who were employed prior to the coronavirus outbreak, and say they or someone in their household has had their income impacted the coronavirus outbreak, are more likely to have concerns about their ability to keep up with expenses or deal with any unexpected bills.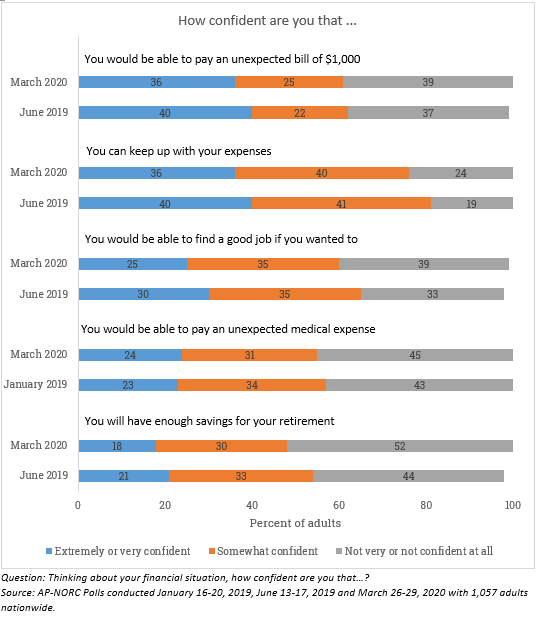 The nationwide poll was conducted March 26-29, 2020 using the AmeriSpeak® Panel, the probability-based panel of NORC at the University of Chicago. Online and telephone interviews using landlines and cell phones were conducted with 1,057 adults. The margin of sampling error is plus or minus 4.1 percentage points.