November 1, 2021
As the growth of the U.S. economy slows, prices increase, and supply chain issues persist, 65% percent of Americans consider the national economy to be in poor condition. And nearly half expect the national economic situation to get even worse next year.
However, Americans' views of their own finances have remained consistent throughout the pandemic. Sixty-five percent describe the financial situation in their household as good.
Views of the economy remained consistent throughout the spring and summer. Last month, 54% said the economy was poor and 45% said it was good. Now, 65% consider the economy to be poor condition.
Fifty-five percent of Democrats think the economy is doing well, down from 63% last month. And while Republicans have held a negative view of the national economy since President Biden was inaugurated, in the latest poll, only 15% describe the economy as good, down from 30% last month.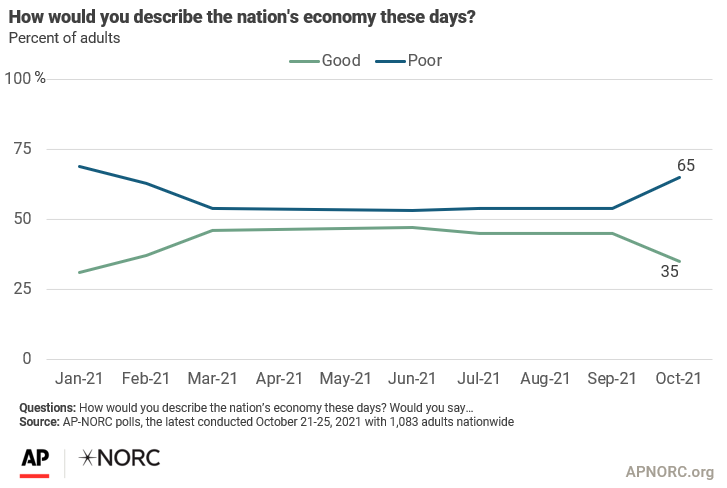 Thirty percent of Americans expect the national economy to improve over the next year and 47% think it will get worse. Among Democrats, 51% anticipate an improvement compared to just 10% of Republicans.
Despite the grim national outlook, 65% describe their current personal financial situation in good condition.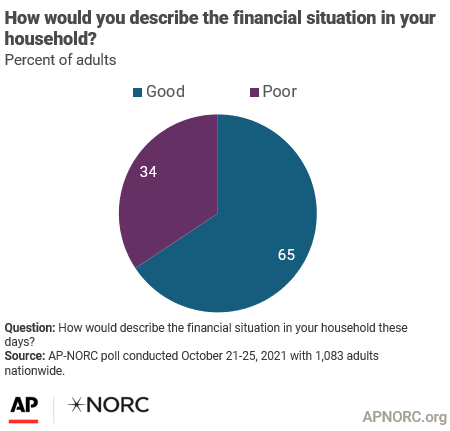 But worry is creeping in for some. The percentage of Americans who think their personal financial situation will get worse over the next year increased to 24% from 13% in February of this year. And only 33% think that their finances will improve, down from 40% in February.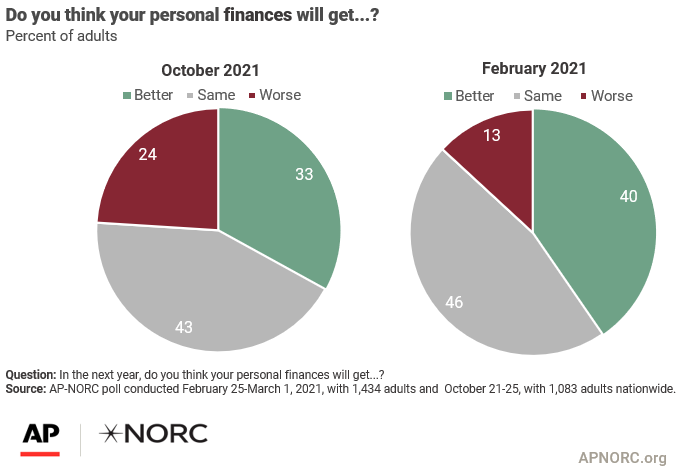 As in past months, less than half of Americans are very confident they can keep up with their expenses or pay an unexpected bill of $1,000, and only a quarter think they will have enough savings for retirement. However, the public is slightly more positive about their ability to find a job than they were at the beginning of the pandemic: 36% are confident they would be able to find a job, up from 25% in February 2020.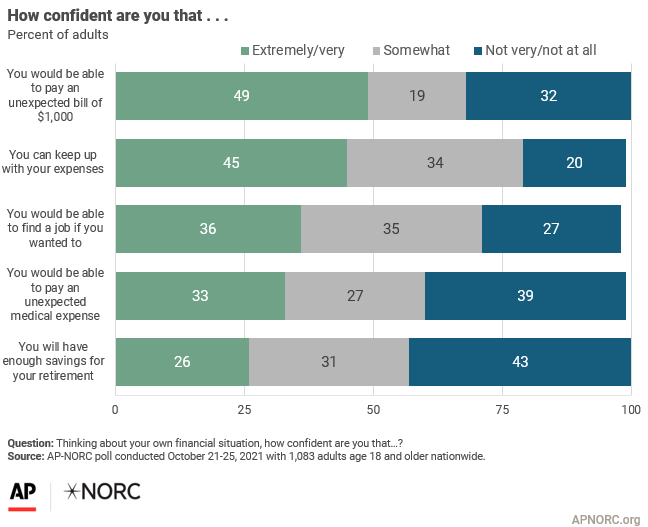 The nationwide poll was conducted October 21-25, 2021 using the AmeriSpeak® Panel, the probability-based panel of NORC at the University of Chicago. Online and telephone interviews using landlines and cell phones were conducted with 1,083 adults. The margin of sampling error is +/- 4.0 percentage points.
Suggested Citation: AP-NORC Center for Public Affairs Research. (October 2021)."Pessimistic Outlook for the National Economy" [apnorc.org/projects/pessimistic-outlook-for-the-national-economy]