April 5, 2021
The Biden administration has been grappling with surging numbers of migrants, especially children arriving at the U.S. – Mexico border without their parents. Three-quarters of Americans have read or heard about the large number of children apprehended at the southern border and a majority want to see the government prioritizing the issue.
While President Biden is getting high marks for how he is handling his job overall, the public is less supportive of his approach to immigration, border security, and particularly the influx of unaccompanied children seeking asylum.
While about three-quarters of Democrats approve of Biden's handling of immigration and border security, along with gun policy, it's the lowest of all the issues included in the survey.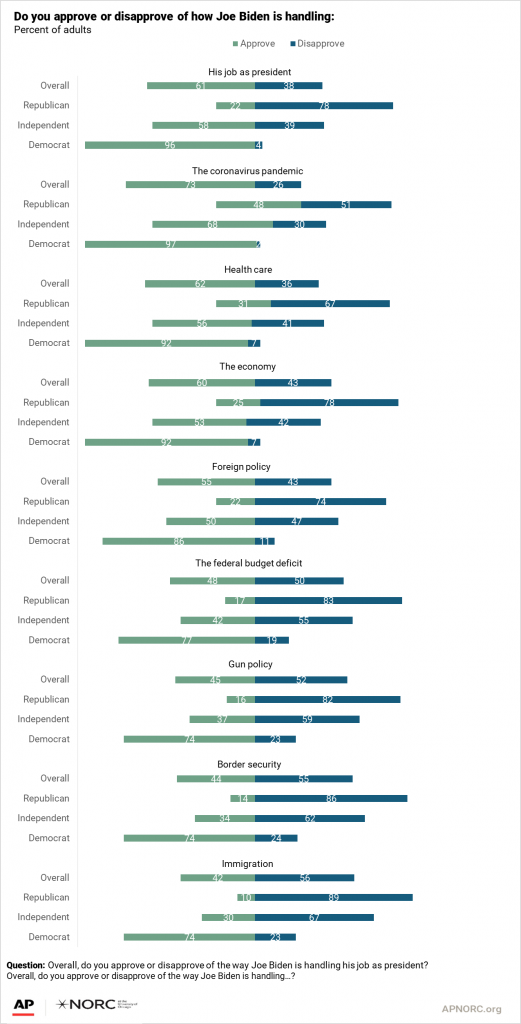 Forty percent of Americans disapprove of the way Biden is handling the crisis involving unaccompanied children apprehended at the U.S.-Mexico border. Republicans and independents are much more negative about the President's approach to the surge of children at the border than Democrats.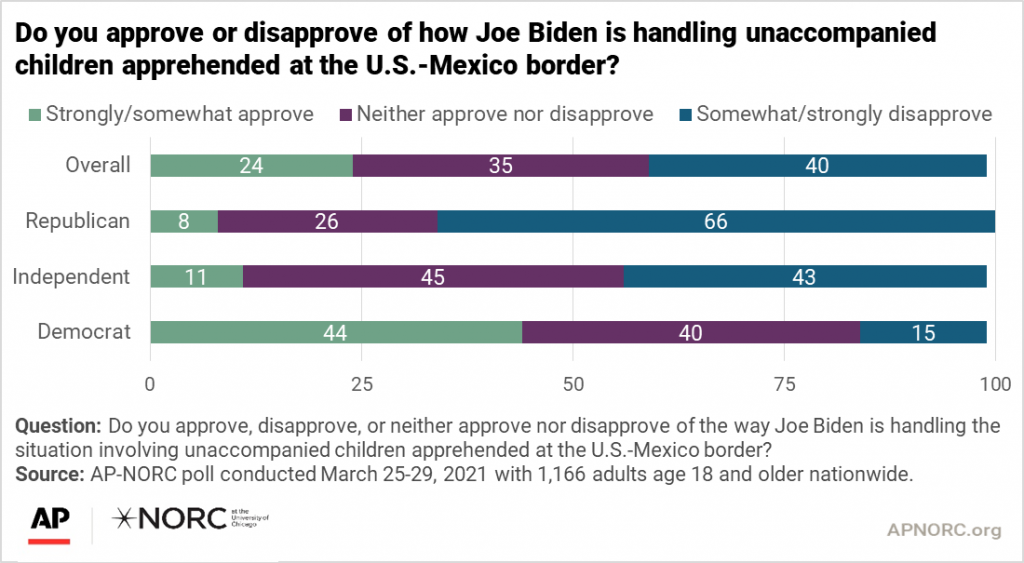 Most Americans think reuniting parents and children who were separated at the border and providing safe treatment to these unaccompanied children should be high priorities for the federal government. About half say increased security at the U.S.-Mexico border should be a key concern for Biden's immigration agenda. Other issues, including deportation, guest worker visas, and providing a path to citizenship, are considered to be of less importance.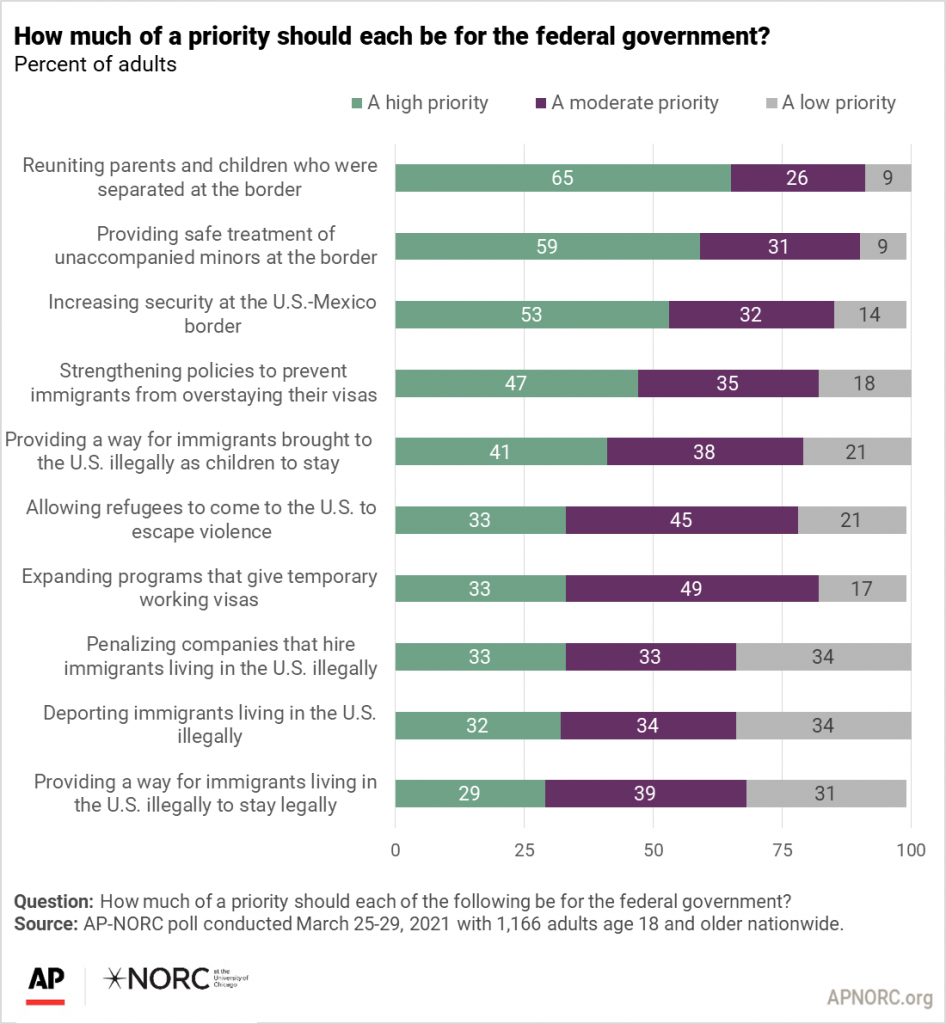 Most Democrats say reuniting children and parents, providing safe treatment of unaccomanpanied minors at the border, and finding a way to grant legal status for immigrants who were brought to this country illegally as children should be a high priority for the federal government. Most Republicans think increasing border security, preventing people from overstaying their visas, and deporting undocumented immigrants should receive high priority by Washington.
Still, most Americans agree that immigrants brought to the United States as children illegally, commonly known as Dreamers, should be able to stay here legally. Democrats, Black adults and Hispanic adults are more likely than Republicans and white adults to favor a path to citizenship for these immigrants.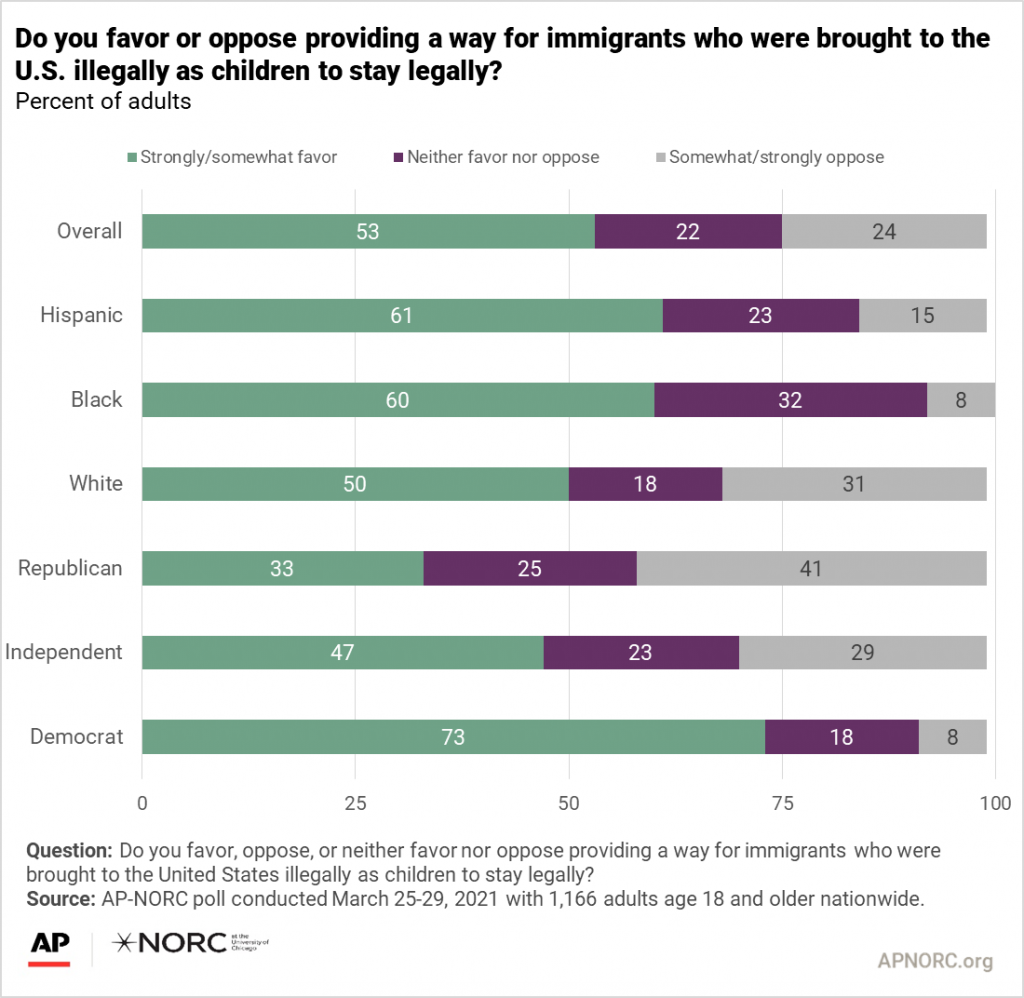 However, when it comes to direct threats to the United States from illegal immigration, the public is less concerned compared to other issues like militant extremism, the spread of infectious diseases, and the influence of China globally. But again there are large partisan differences: 72% of Republicans are extremely or very concerned about the threat of illegal immigration compared with only 22% of Democrats.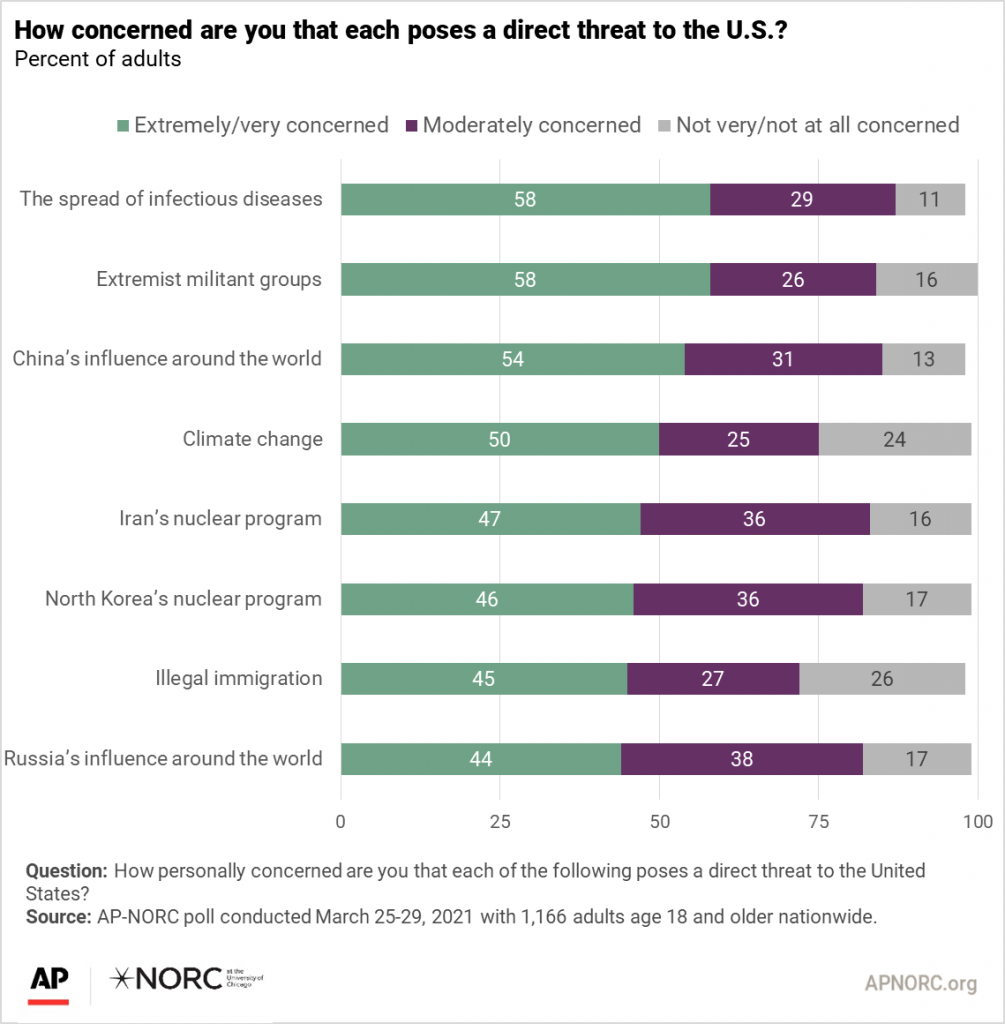 Americans are slightly less likely to support an increase in legal immigration today than in September 2019 when 35% thought legal immigration should have been increased. Overall, the levels of support toward legal immigration have held fairly steady since August 2018.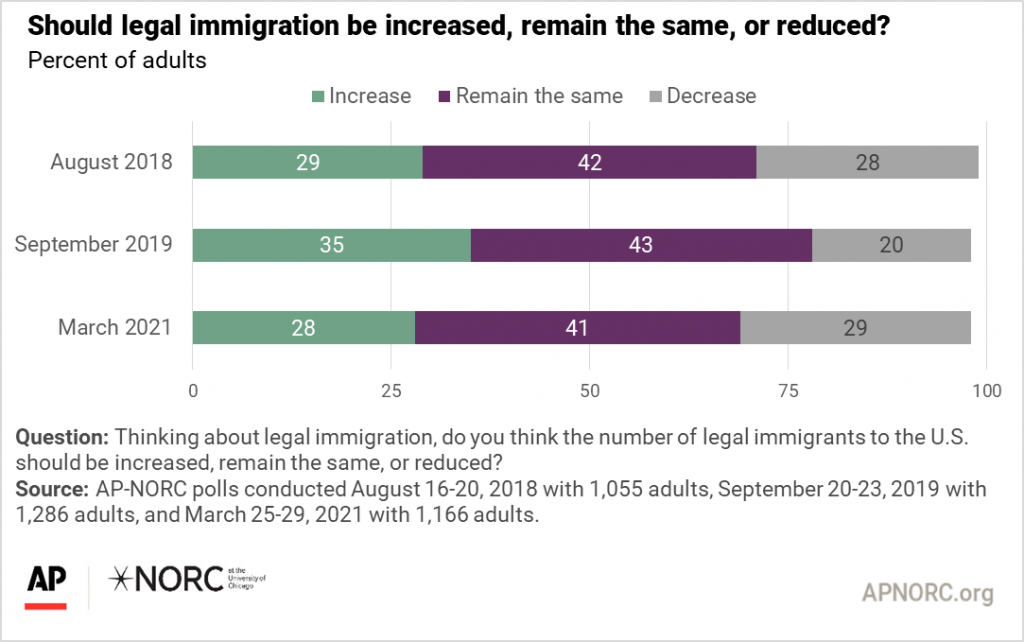 The nationwide poll was conducted March 25-29, 2021 using the AmeriSpeak® Panel, the probability-based panel of NORC at the University of Chicago. Online and telephone interviews using landlines and cell phones were conducted with 1,166 adults. The margin of sampling error is +/- 3.6 percentage points.
Suggested Citation: AP-NORC Center for Public Affairs Research. (March, 2021)."Title TK." [LINK TO PROJECT PAGE]