Sixty percent of Americans endorse legalized gambling on professional sports in their state, but only 42 percent approve of betting legally on college sports. Self-described sports fans are especially supportive of legalizing both professional and college sports gambling in their state. However, those who consider gambling a major problem in the United States are generally opposed to legalization.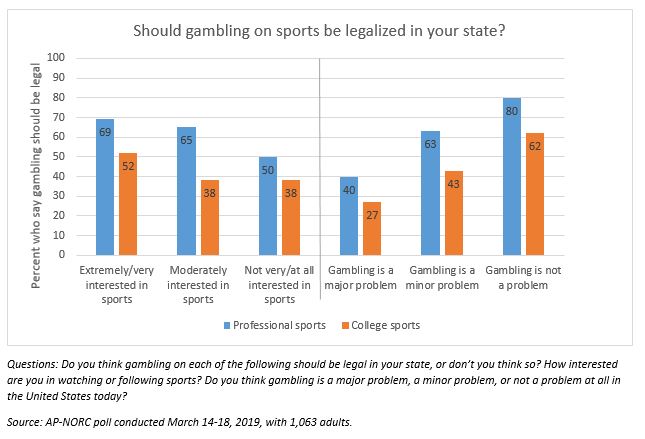 In May 2018, the Supreme Court struck down a 1992 federal law that banned commercial sports betting in most states. Since then, legislation in several states around the country has been enacted allowing legal sports betting.
Ten states have already legalized sports betting, while 30 states have introduced or recently passed legislation to legalize gambling on sports.[1] Across all states where sports betting is already legal, 71 percent of residents say gambling on professional sports should be legal, but only 47 percent favor the legalization of college sports. Where sports betting is not yet legal, 59 percent want to see gambling on professional sports legalized, but only 42 percent think betting on college sports should be legal.
While most Americans express little or no interest in betting on sports, there is slightly more appeal to gambling on sports in casinos, rather than online or at sports venues.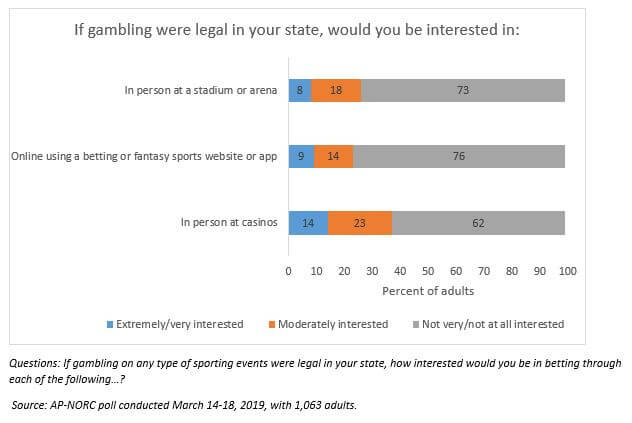 Asked about their current sports betting behavior, 8 percent of Americans say they gamble at least occasionally at stadiums or arenas, while 10 percent say they bet on sports via online websites or apps, and 20 percent have gambled on sports at casinos. Most popular, however, is casual gambling, like among friends or through an office pool. Thirty-two percent say they participate at least occasionally in office pools or friendly wagers.
The nationwide poll was conducted March 14-18, 2019, using the AmeriSpeak® Panel, the probability-based panel of NORC at the University of Chicago. Online and telephone interviews using landlines and cell phones were conducted with 1,063 adults. The margin of sampling error is plus or minus 4.1 percentage points.