Despite fundamental disagreements about which sources of information to trust, Americans overwhelmingly agree on what facts should be: accurate, transparent and based in data, according to a new national poll by USAFacts and The Associated Press-NORC Center for Public Affairs Research. The 2019 State of the Facts Poll examines Americans' perceptions of what constitutes a fact, their ability to understand facts, and their use and trust of government sources.
The public sees a challenging environment for finding facts. Sixty-four percent of Americans say they frequently come across sources that cover only one side of an issue, and 58% report receiving conflicting information from sources. Nearly 4 in 10 Americans believe the political divide in the United States is more due to individuals relying on different facts about major problems, than it is to having different beliefs about how to address those problems.
Party identification heavily influences where Americans turn for information and what sources they trust. Democrats are more likely than Republicans to trust the input of scientists (72% vs. 40%), academics (57% vs. 30%), and the media (23% vs. 11%). Democrats also are more likely to turn to and trust the national news media, while Republicans are more likely to rely on the president. About three-quarters of Republicans (76%) say the sources of information they come across are one-sided, compared with 59% of Democrats.
Still, this political division masks some significant areas of agreement. At least 8 in 10 Democrats and Republicans agree that facts must be accurate, complete, and transparent. And 6 in 10 or more of both groups say that facts must be based in data.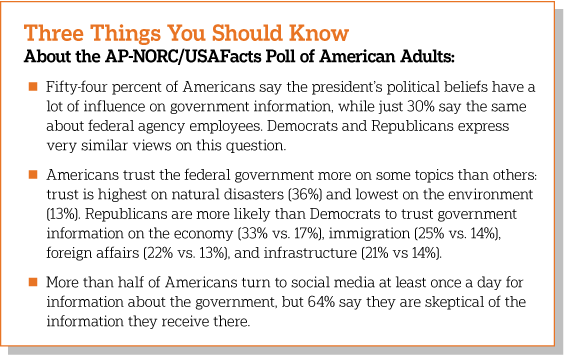 The nationwide survey of 1,032 adults was conducted using AmeriSpeak®, the probability-based panel of NORC at the University of Chicago. Interviews were conducted between October 15 and 28, 2019, online and using landlines and cell phones. The margin of sampling error is +/- 4.2 percentage points.