August 23, 2021
As the Delta variant surges, about 60% of adults feel both students and teachers should be required to wear face masks while in school as a response to the pandemic, and a majority support a COVID-19 vaccine mandate for teachers (59%) and students age 12 and older (55%).
But as with many issues, there is a wide partisan divide. Less than 4 in 10 Republicans favor mask requirements for students and teachers, compared with more than 8 in 10 Democrats.
In addition to the partisan disparity, there are other differences among the public. Vaccinated adults, Black, Asian and older Americans, and those with a college degree are more inclined to support mask requirements for teachers and students.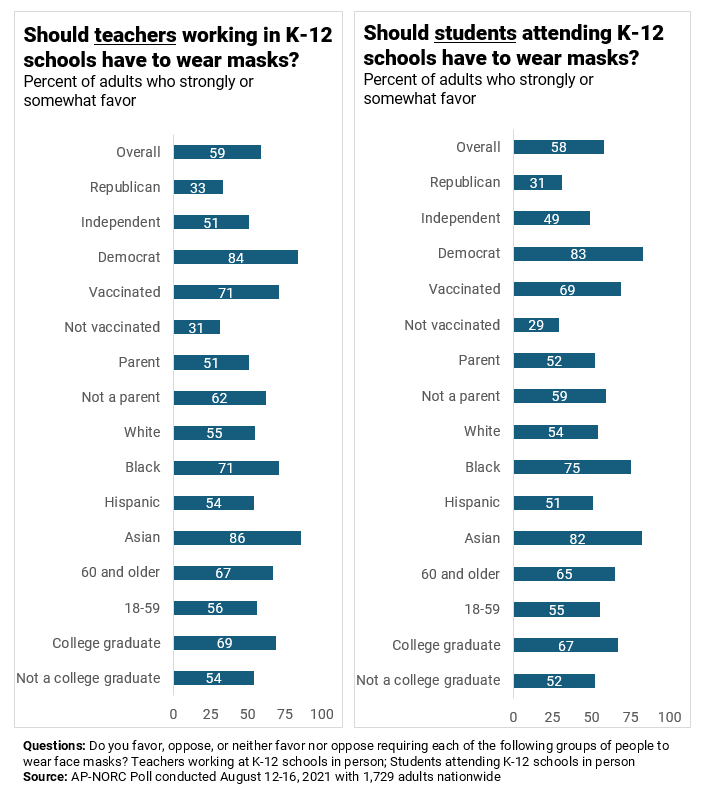 When looking at the public's view of vaccine mandates for teachers and students, there are similar disagreements. A minority of Republicans, independents, parents, and unvaccinated adults support a vaccine mandate for teachers or student in schools K-12. Older Americans, those who have been vaccinated, the college educated, and Democrats are strongly in favor of requiring teachers and students age 12 and older to be vaccinated.
More than 7 in 10 of both Black and Asian Americans support requiring teachers and students to wear masks. But while Asian adults also strongly favor vaccine requirements for teachers and students, Black adults are much less inclined to agree with vaccine mandates.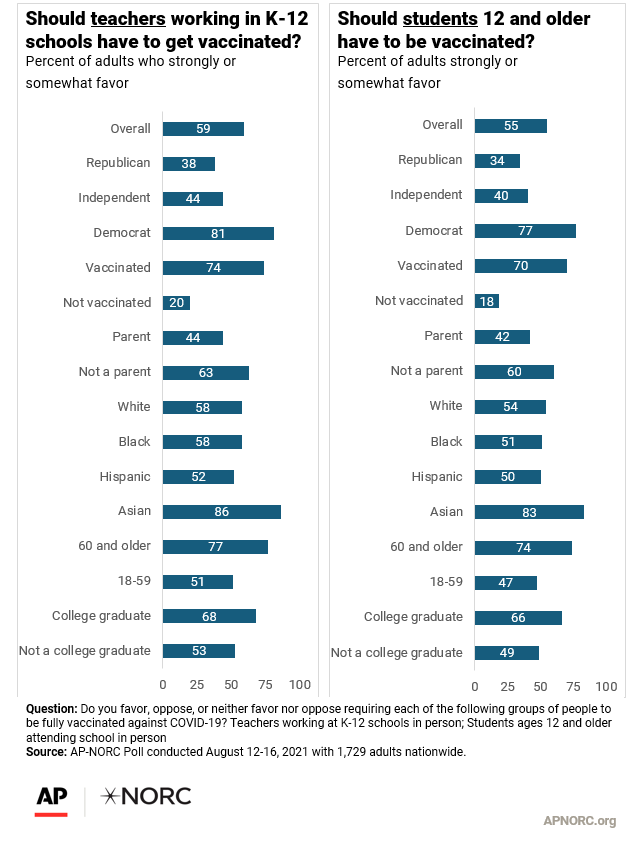 The nationwide poll was conducted August 12-16, 2021 using the AmeriSpeak® Panel, the probability-based panel of NORC at the University of Chicago. Online and telephone interviews using landlines and cell phones were conducted with 1,729 adults. The margin of sampling error is +/- 3.2 percentage points.
Asian, Black, and Hispanic respondents were sampled at a higher rate than their proportion of the population for reasons of analysis. The margin of sampling error for the 318 completed interviews with Asian respondents is +/- 8.2 percentage points, for the 337 Black respondents it is +/- 6.7 percentage points, and for the 301 Hispanic respondents it is +/- 7.5 percentage points.
Suggested Citation: AP-NORC Center for Public Affairs Research. (August, 2021)."Support for mask and vaccine mandates in schools." [https://apnorc.org/projects/support-for-mask-and-vaccine-mandates-in-schools]