Published: March 23, 2021
Many Americans are concerned about children falling behind academically and socially due to the coronavirus outbreak, and there is broad public support for summer school and tutoring programs to help children catch up, according to a new UChicago Harris/AP-NORC Poll.
When it comes to the future success of children, 82% of Americans say the amount of time children spend with a parent is key, and 66% of Americans support government-funded paid parental leave. Democrats, Republicans, and independents all tend to see parents spending time with their children as essential, and 79% of Democrats and 53% of Republicans support paid family leave.
The survey finds that, one year into the pandemic, parents are less concerned about the impacts of the pandemic on their child's education than they were in July 2020. And parents are less concerned about the effects of the coronavirus outbreak on their own children than adults without school-age children are about children in general.
In order to return safely to in-person learning, most Americans agree common preventive measures are important. Sixty-two percent say wearing masks is essential, compared to about 4 in 10 who say the same about other measures such as limiting class sizes, requiring staff to be vaccinated, and regular testing.
Just 33% of parents and 41% of those without school-age children are extremely or very worried about in-person schooling leading to additional spread of the coronavirus, though about another third of each group are somewhat concerned.
While 52% of Americans feel the use of technology has improved the quality of education, half also believe technology has increased inequalities between high- and low-income students.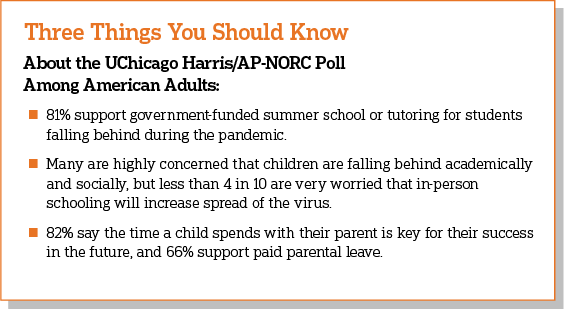 The nationwide poll was conducted by the University of Chicago Harris School of Public Policy and The Associated Press-NORC Center for Public Affairs Research from February 25 to March 1, 2021, using AmeriSpeak®, the probability-based panel of NORC at the University of Chicago. Online and telephone interviews using landlines and cell phones were conducted with 1,076 adults. The margin of sampling error is +/- 4.1 percentage points.
Suggested Citation: AP-NORC Center for Public Affairs Research. (March, 2021). "Widespread Public Concern About Children Falling Behind due to Coronavirus" [apnorc.org/projects/widespread-public-concern-about-children-falling-behind-due-to-the-coronavirus-outbreak]