On October 6, Judge Brett Kavanaugh was sworn in as the 114th justice of the Supreme Court after a contentious confirmation battle. Like the U.S. Senators who voted 50 to 48 – almost entirely along party lines – to confirm Kavanaugh, the American public views Kavanaugh, his elevation to the high court, and the conduct of the Senate hearings through a partisan lens.
Partisans have entirely opposite opinions about Kavanaugh's confirmation to the Supreme Court.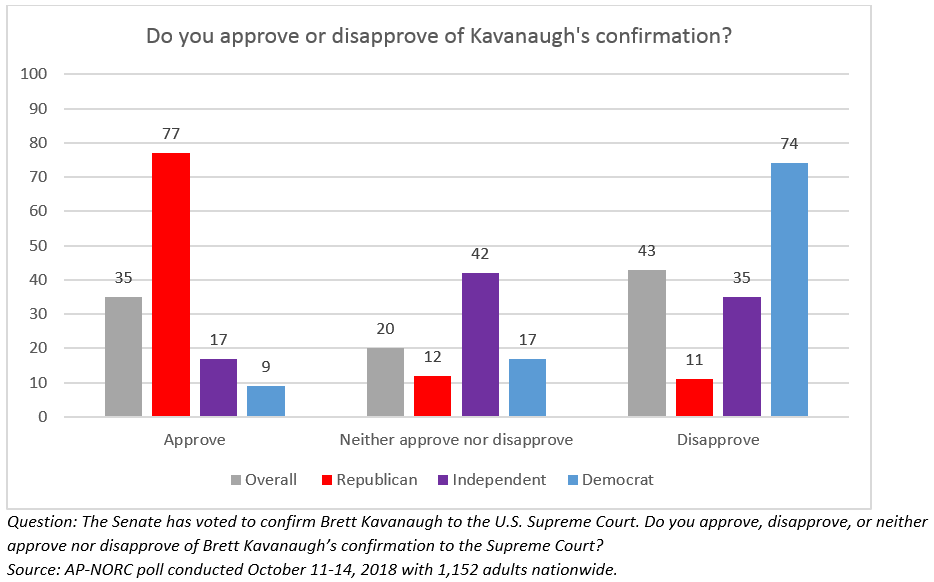 The bitter nomination fight largely centered on sexual assault allegations by Christine Blasey Ford from when they were teenagers, allegations he strongly denied. Sixty percent of Republicans say Kavanaugh's Senate testimony was the entire truth, 33 percent he was mostly telling the truth but hiding something, and only 6 percent believe he was mostly lying. In contrast, 54 percent of Democrats think Kavanaugh was mostly lying, and 40 percent believe his testimony was mostly truthful, but he was hiding something. Only 4 percent say he was telling the entire truth.
Ford's testimony to the Senate Judiciary Committee about her charges of sexual assault, followed by Kavanaugh's denial was shown live on broadcast and cable networks, and streamed live on websites. Opinions on whether each was treated fairly by the committee is mostly divided by party identification. There is some differences between men and women of the same party, but for the most part Republican women are more sympathetic to Kavanaugh than Ford and Democratic men are more sympathetic to Ford than Kavanaugh.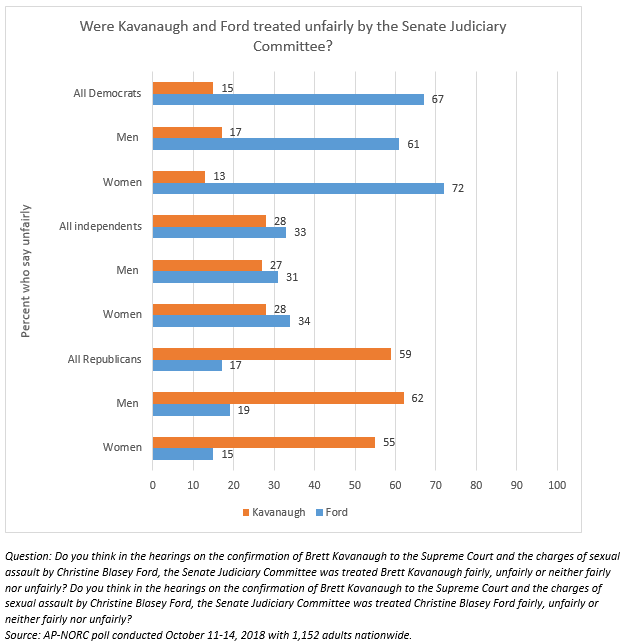 Similar partisan differences are found in the public's view of the F.B.I.'s role. Sixty-one percent of Republicans say the F.B.I. did a good job of investigating Ford's accusations; 69 percent of Democrats say they did a poor job.
Republicans are also pleased with how Senators of their party handled the confirmation hearings. Two-thirds of Republicans approve of the role Senate Republicans played during the hearings; less than half of Democrats approve of the conduct of Senate Democrats. Republicans are also very supportive of Trump's actions during confirmation process.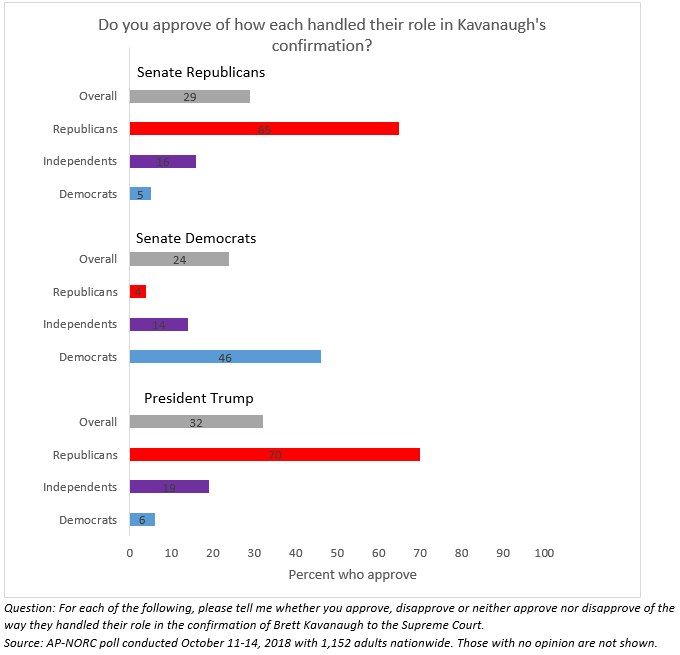 There is one area where Republicans and Democrats mostly agree: the importance of a Supreme Court nominee's professional credentials. There is broad agreement that Senators should look at a Supreme Court nominee's legal qualifications. And a majority, regardless of party identification think a nominee's personal history and character are extremely important considerations.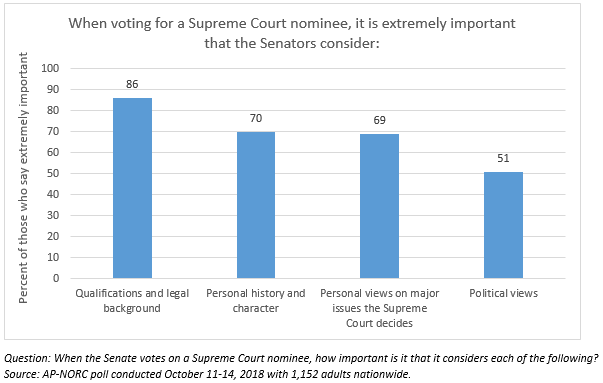 There is some concern that the acrimonious debate over the latest Supreme Court nominee could discourage people from serving in high government posts. Overall, 37 percent think people will be less disposed to serve in positions that require Senate approval, while 47 percent do not think the hearing will make any difference. There is less partisan disagreement on this issue: 44 percent of Republican say people will dissuaded from serving in a high post and 35 percent of Democrats agree.
But the question of whether the hearings would deter anyone from reporting sexual misconduct does get a strong partisan response. Fifty-four percent of Democrats say people would be less inclined to report incidents of sexual misconduct; only 12 percent of Republicans agree.
And in the wake of the Kavanaugh confirmation, 68 percent of Republicans say they have a great deal of confidence in the Supreme Court. However, 47 percent of Democrats only have some confidence, and 45 percent say they have hardly any confidence in the Supreme Court.
The nationwide survey was conducted October 11-14, 2018 using the AmeriSpeak® Panel, the probability-based panel of NORC at the University of Chicago. Online and telephone interviews using landlines and cell phones were conducted with 1,152 adults. The margin of sampling error is plus or minus 4.0 percentage points for all respondents.