There is no consensus among the public when it comes to the new tariffs on imported goods that President Trump announced. Forty percent oppose the tariffs and 38 percent are in favor. Jobs, prices, the environment, the health of American industries, and the United States' ability to compete in the global marketplace all rate as important considerations when negotiating trade agreements.
Opinion on many issues these days divides along partisan lines, and trade is no different. Seventy-five percent of Republicans approve of how Trump is handling trade negotiations with other countries; 90 percent of Democrats disapprove. Similarly, 66 percent of Republicans support the president's decision to impose tariffs, while 62 percent of Democrats oppose it.
There is also little agreement about Brett Kavanaugh, Trump's nominee to fill Justice Anthony Kennedy's seat on the Supreme Court. Twenty-five percent favor his confirmation, 29 percent oppose it, and 46 percent have no opinion. The public is divided on whether the U.S. Senate should vote before or after November's midterm elections (51 percent vs. 48 percent).
While most Americans disapprove of President Trump's overall job performance, 51 percent approve of his management of the economy. And 47 percent approve of his dealings with North Korea. Fewer approve of how he is dealing with other issues, such as the federal deficit, immigration or health care.
Seventy percent of Republicans think the tariffs will be beneficial to the economy, while 68 percent of Democrats expect them to have detrimental effect. Republicans are more positive than Democrats about the impact of the tariffs on wages and unemployment. But when it comes to consumer prices, few Americans think the tariffs will have a positive impact on their wallet. This is one place where partisans agree, less than 30 percent in each party believe prices will decrease and more than 70 percent expect increases.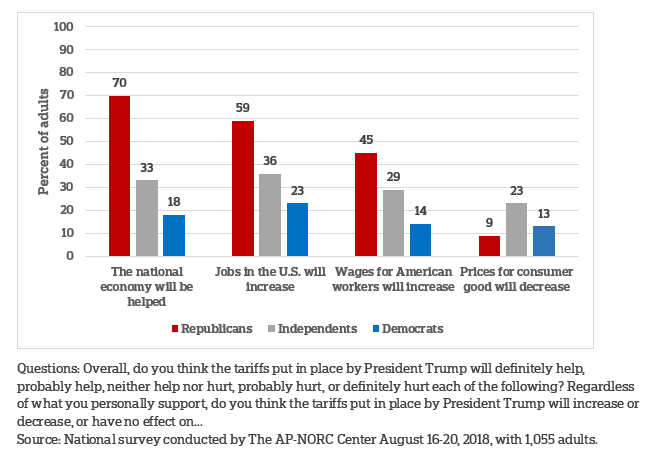 Few Americans expect the new tariffs to have a positive effect either for themselves personally or their community. Overall, 19 percent say the tariffs will help them and their family, and 24 percent say their local communities will benefit. More, but still a minority (40 percent), say they will help the national economy.
When the United States negotiates trade deals with other countries, most Americans think the effect on employment should be the top consideration, followed by the impact on American industry. Most Americans also regard the environmental impact, how American competitiveness is affected, and keeping consumer prices low as important considerations when working with other countries on trade.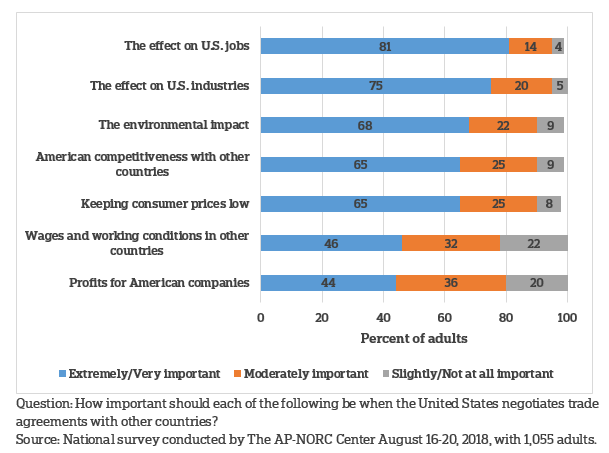 There are strong partisan differences regarding Brett Kavanaugh, Trump's nominee to replace retiring Supreme Court Justice Anthony Kennedy. Seventy-eight percent of Republicans say the U.S. Senate's vote to confirm Kavanaugh should be held before November's midterm elections, while 69 percent of Democrats think the vote should wait until after the election.
Similarly, Republicans tend to have a favorable view of Kavanaugh's confirmation, while Democrats are more likely to oppose his confirmation.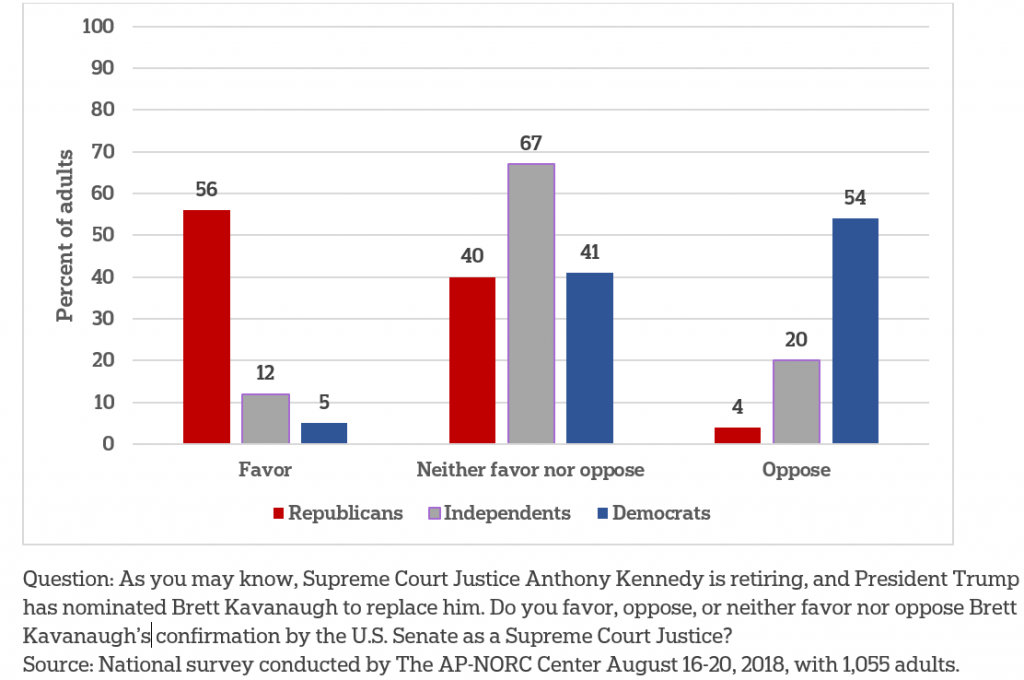 Trump's overall job approval is stable, essentially unchanged since June 2018. Thirty-eight percent approve of the way he is handling his job as president while 60 percent disapprove.
The public is more positive about how the economy is being managed: 51 percent approve and 49 percent disapprove. While 47 percent approve of Trump's handling of North Korea, that's down from 55 percent in June.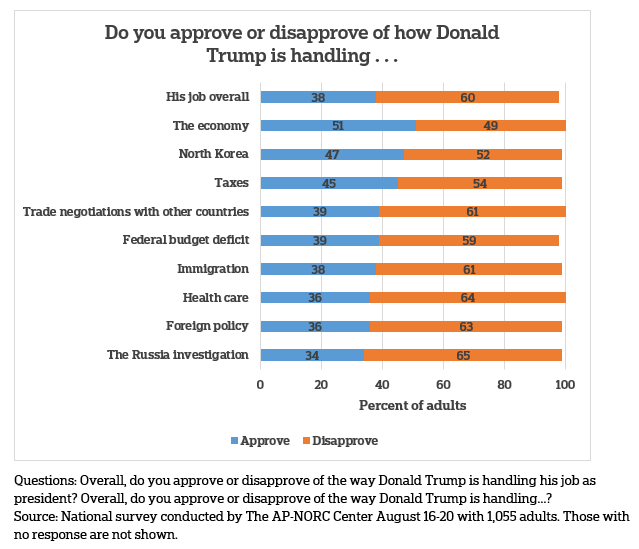 The nationwide poll was conducted August 16-20, 2018 using the AmeriSpeak® Panel, the probability-based panel of NORC at the University of Chicago. Online and telephone interviews using landlines and cell phones were conducted with 1,055 adults. The margin of sampling error is plus or minus 4.2 percentage points for all respondents.