November 21, 2023
Eighty-eight percent of adults plan to celebrate Thanksgiving this year and there is a lot of variety in which parts of the meal people look forward to most.
Thanksgiving's traditional main course – turkey – is considered the best part of the holiday meal according to 32% of the public, while 12% say it is their least favorite. The turkey's white meat is preferred by more people than dark meat.
Nineteen percent say stuffing or dressing is their favorite dish on Thanksgiving and 8% give stuffing a thumbs down. More people opt for stuffing cooked outside the bird rather than inside.
There is no consensus on the virtues of homemade cranberry versus sauce that comes from a can. However, cranberry sauce tops the list as most disliked part of the holiday, mentioned by 18%. Only 2% say cranberry sauce is their favorite part of the meal.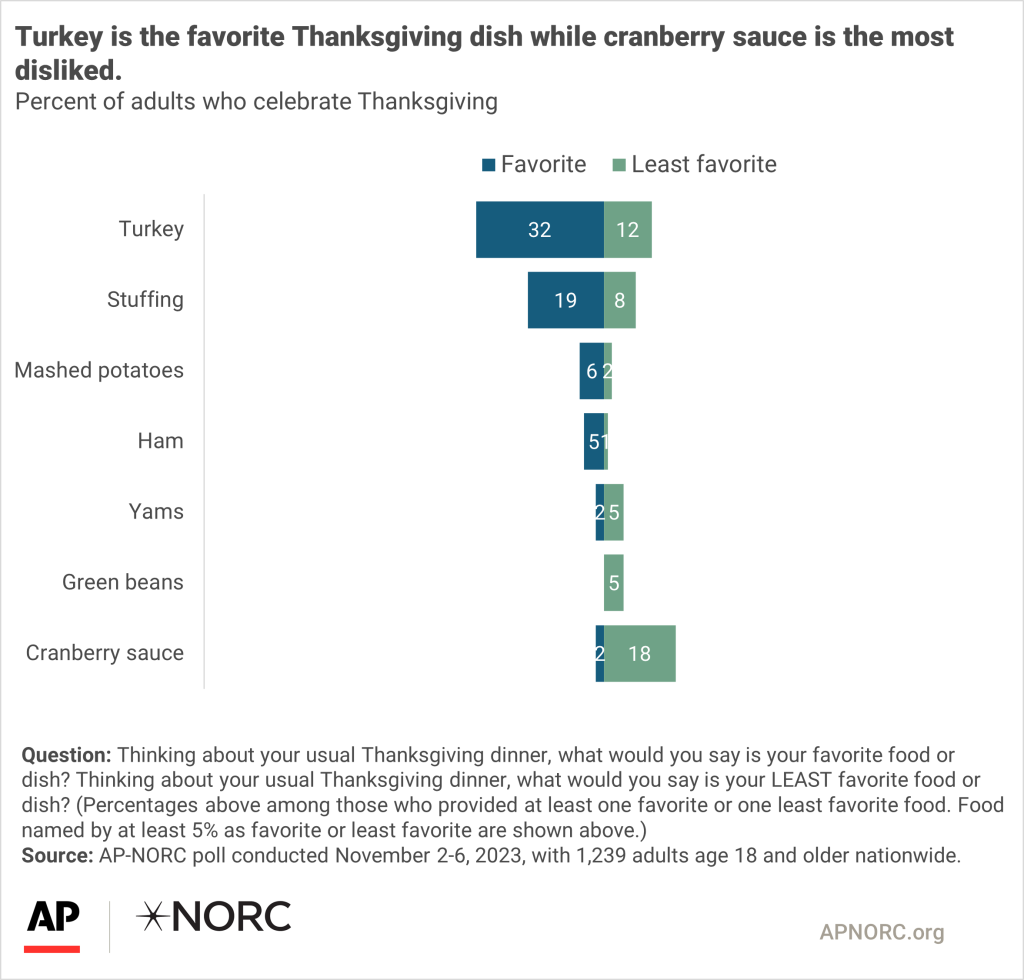 While turkey is most often cited as the best part of the Thanksgiving meal, breast meat is preferred by more people than drumsticks. White and Hispanic adults (47% vs 48%) are more likely than Black adults (21%) to prefer white meat. Black Americans are more likely to say they have no preference. According to the U.S. Department of Agriculture, stuffing should be cooked separately from the turkey. Cooking it inside the bird is less safe and takes the turkey longer to cook. The public is more likely to agree with cooking it outside the turkey than disagree.
While sweet potatoes are considered traditional, adults are more inclined to prefer it without marshmallows. Only 2% mentioned sweet potatoes as their most liked dish on Thanksgiving, and 4% say they dislike it the most. Black adults are more likely than white or Hispanic adults to say they prefer their sweet potatoes either without marshmallows or no preference. Northeasterners (42%) are more likely than Midwesterners (29%) or Southerners (29%) to choose no marshmallows.
Adults are equally as likely to prefer pre-made cranberry sauce from a can as a version made from scratch. However most people say they have no preference or don't like cranberry sauce at all.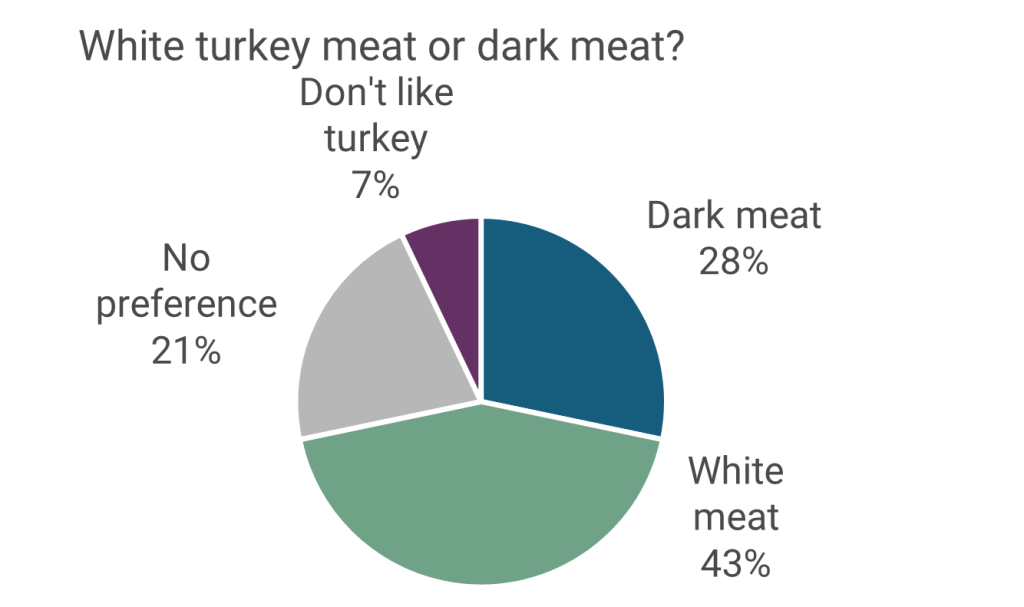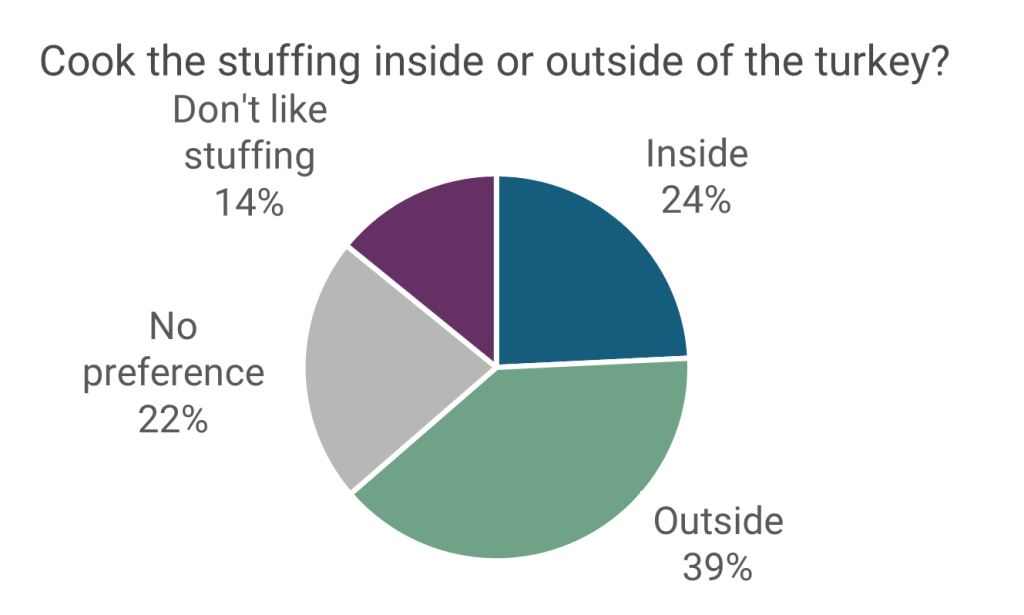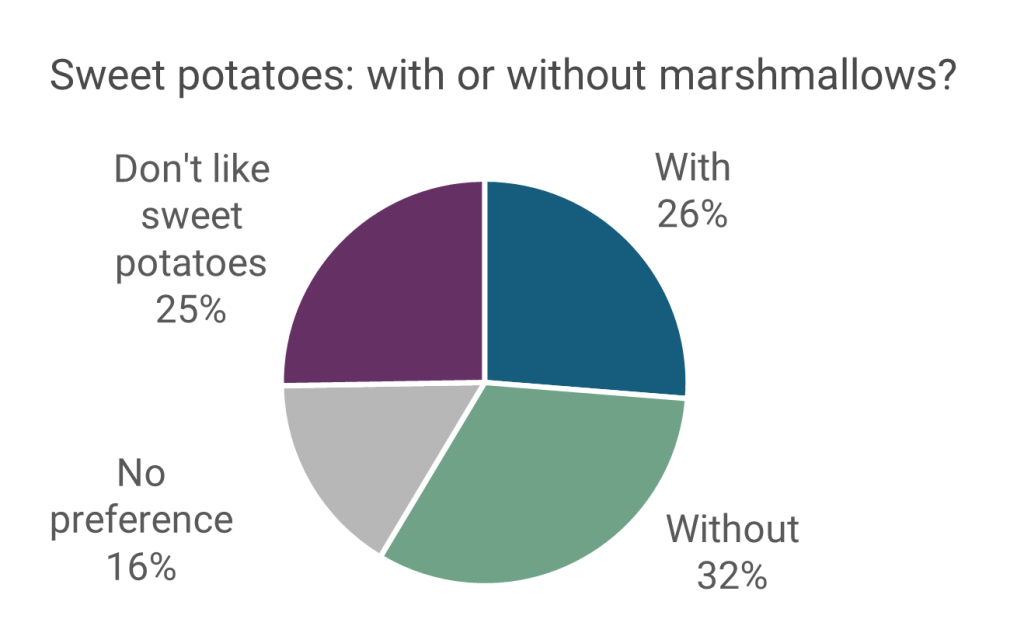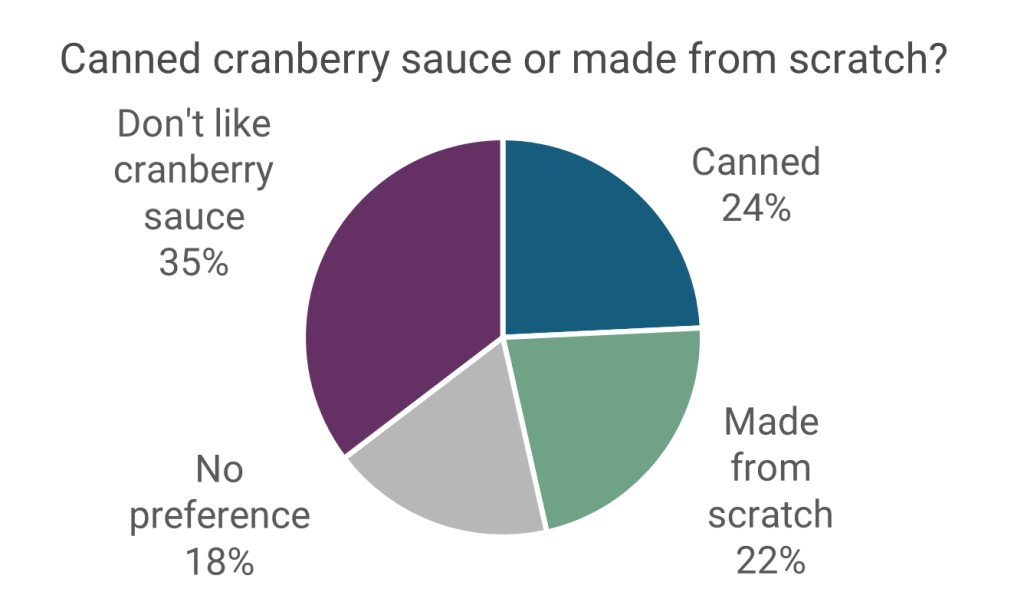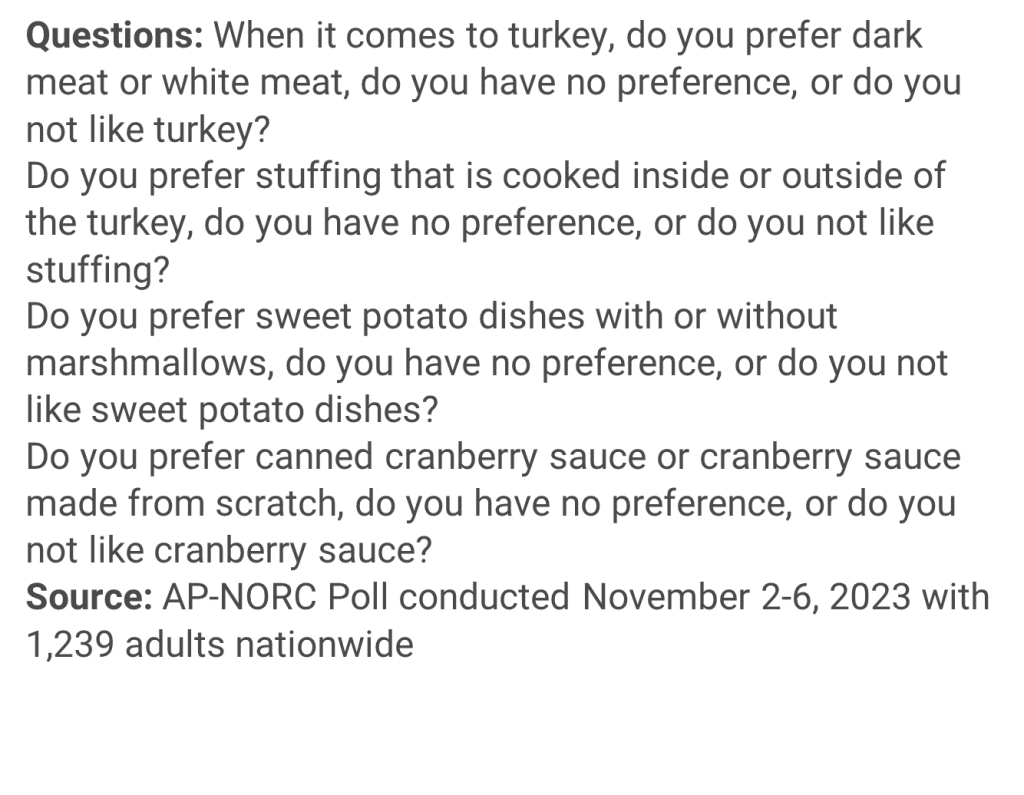 When asked specifically about pies, the holiday favorite is pumpkin pie, selected by a third of adults. Other types such as apple, pecan, or sweet potato are each preferred by less than a fifth of adults. White (39%) and Hispanic (32%) adults are more likely than Black adults (4%) to choose pumpkin pie. Seventy percent of Black adults say sweet potato pie is their favorite, compared to 12% of Americans overall, making sweet potato pie the clear winner among Black adults who are celebrating Thanksgiving, distantly trailed by apple pie at 10%. Sweet potato pie is selected by just 4% of white and Hispanic adults, respectively. White (19%) and Hispanic (20%) adults are also more likely than Black adults (3%) to choose pecan pie.
Midwesterners are especially partial to pumpkin pie (44%), but Northeasterners (36%) and Westerners (33%) are similarly likely to agree. Southerners are less likely than Midwesterners to choose pumpkin pie (27%), with many gravitating toward pecan pie (22%).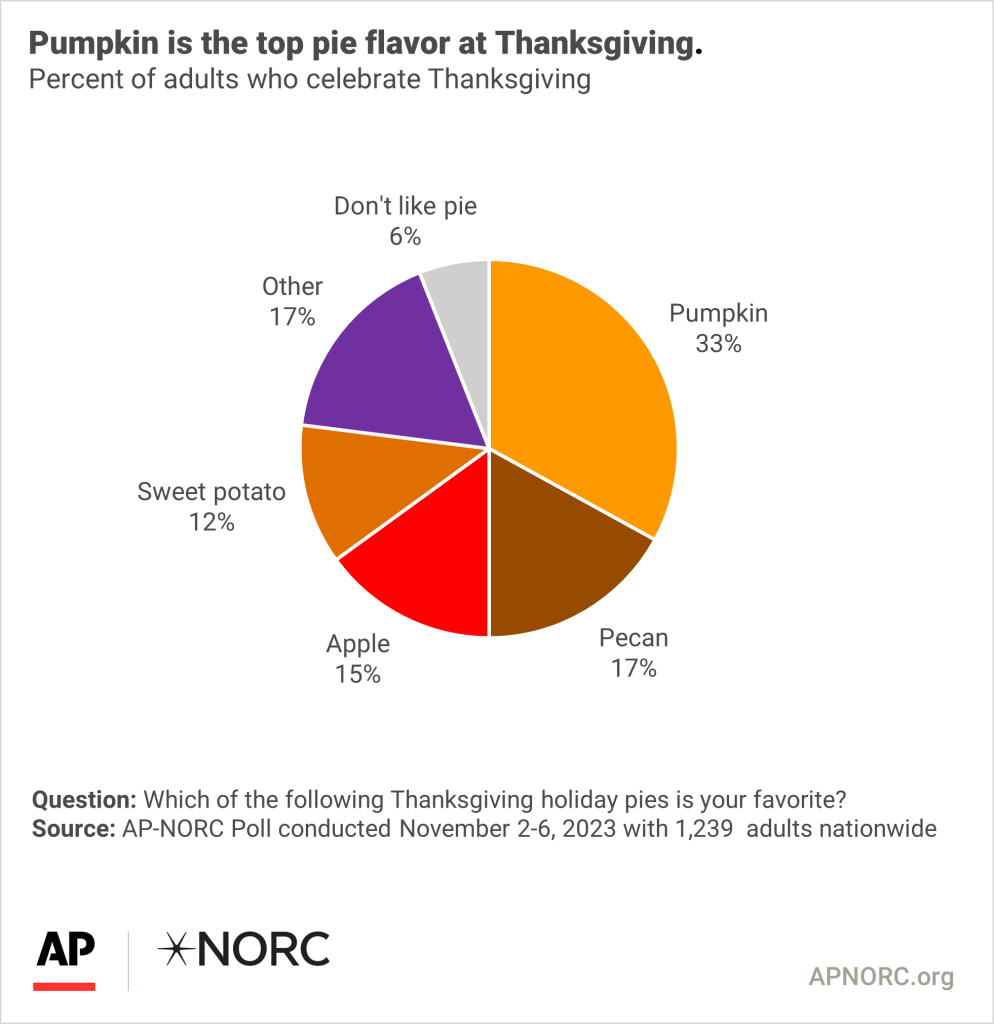 Cooking a Thanksgiving meal is a solo performance for some, and a shared project for others. Women are almost twice as likely (34%) to cook all or most of the meal than men (19%).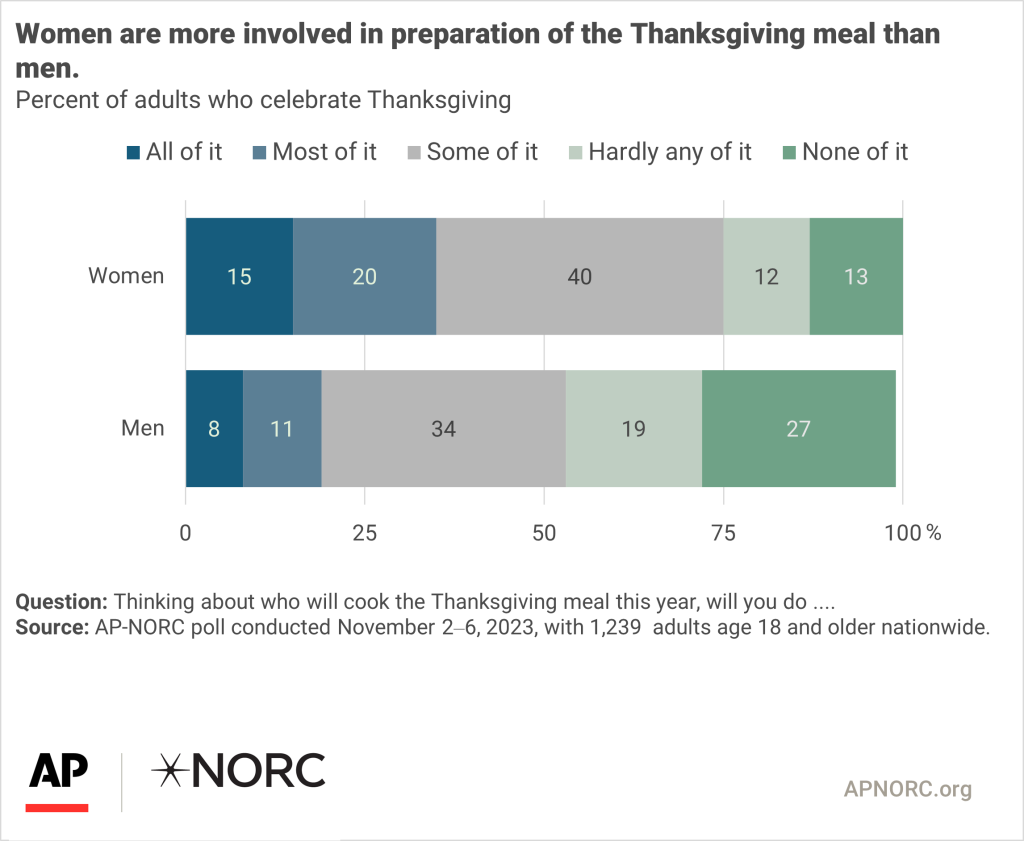 The nationwide poll was conducted November 2-6, 2023 using the AmeriSpeak® Panel, the probability-based panel of NORC at the University of Chicago. Online and telephone interviews using landlines and cell phones were conducted with 1,239 adults. The margin of sampling error for all respondents is +/- 3.9 percentage points.
Questions about Thanksgiving were asked of the 1,101 adults who say they celebrate Thanksgiving. For this group, the margin of sampling error is +/- 4.1 percentage points.