October 17, 2022
With less than a month remaining before Election Day, a majority of registered voters are convinced this November's midterm elections will significantly impact the country, the economy, and abortion policy, although fewer believe they will be personally affected by the outcome.
Regardless of party identification, more than 8 in 10 registered voters consider voting in November's midterm elections to be extremely or very important. While majorities of both Democrats and Republicans expect the outcome to impact the country overall and the economy, Democrats are more likely than Republicans to believe the same about abortion policy.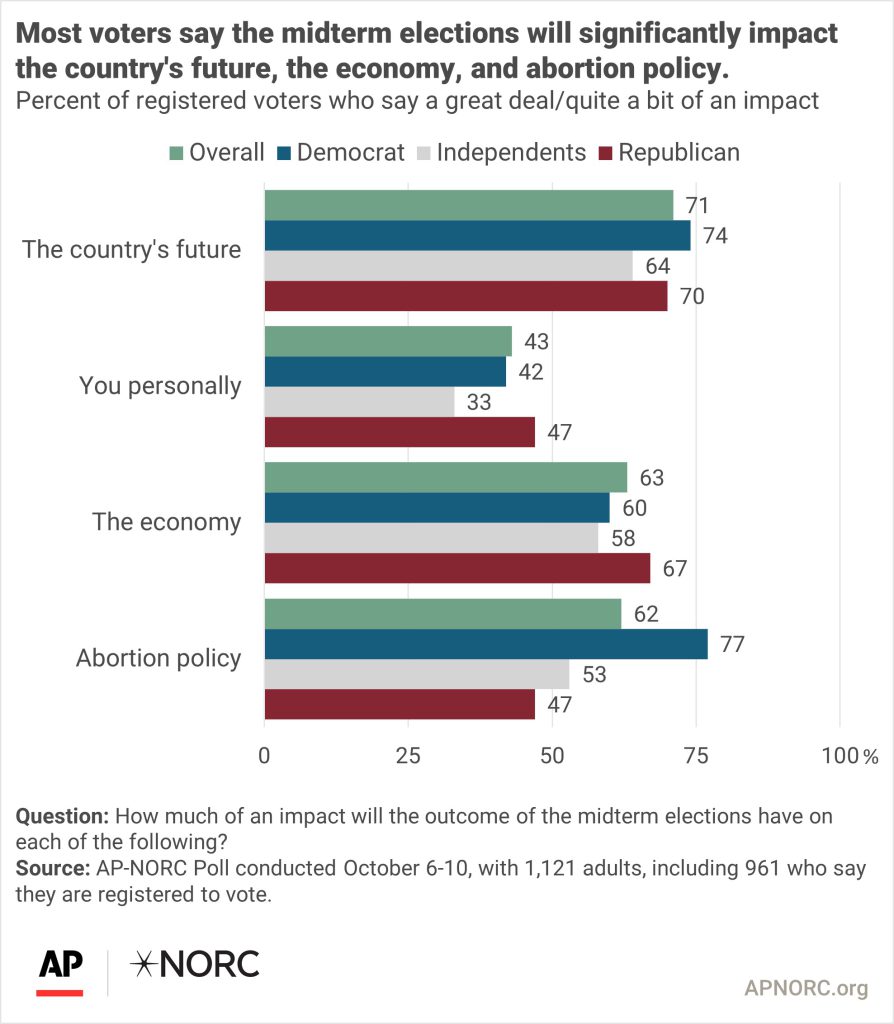 An overwhelming majority of voters, regardless of party identification or which party they prefer to control the U.S. House of Representatives, think it is important to vote in the upcoming election. However, Hispanic voters are less likely think so than white or Black voters.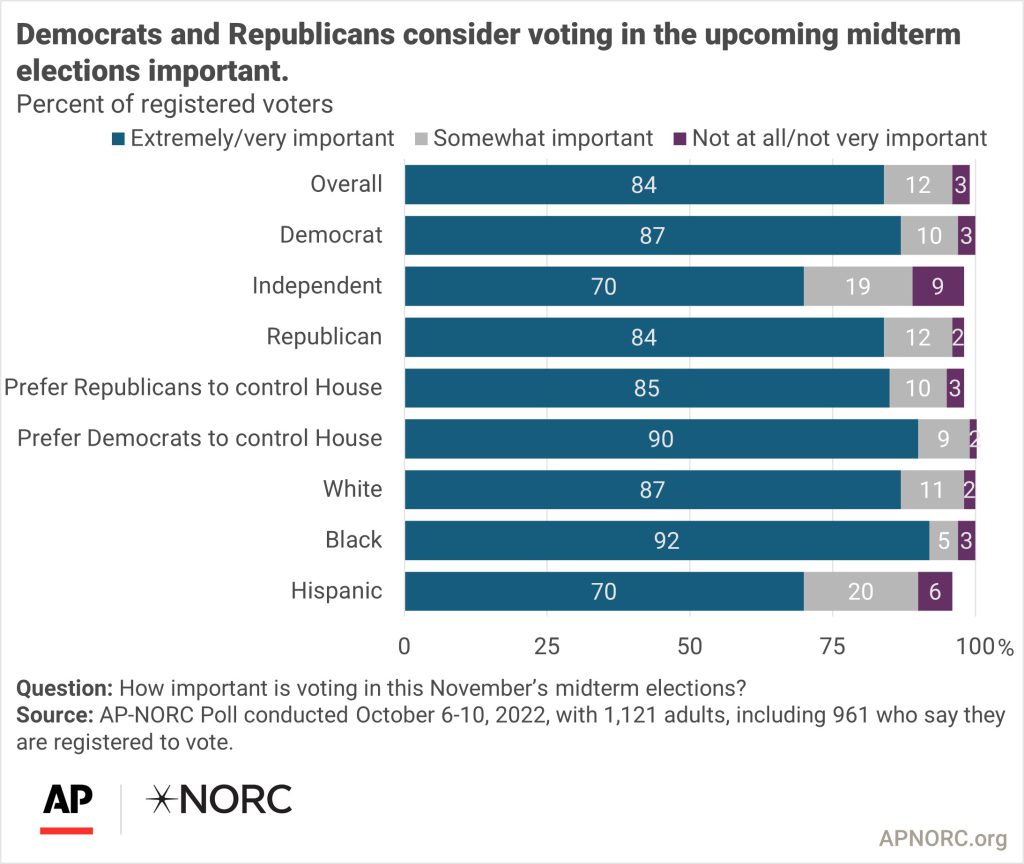 Voters give Democrats a clear edge over Republicans on their ability to handle health care and abortion policy but are more likely to trust the Republicans when it comes to the economy and crime. On issues including gun policy, foreign policy, and immigration, trust in both parties is about equal. About 1 in 5 registered voters don't trust either party to handle each issue.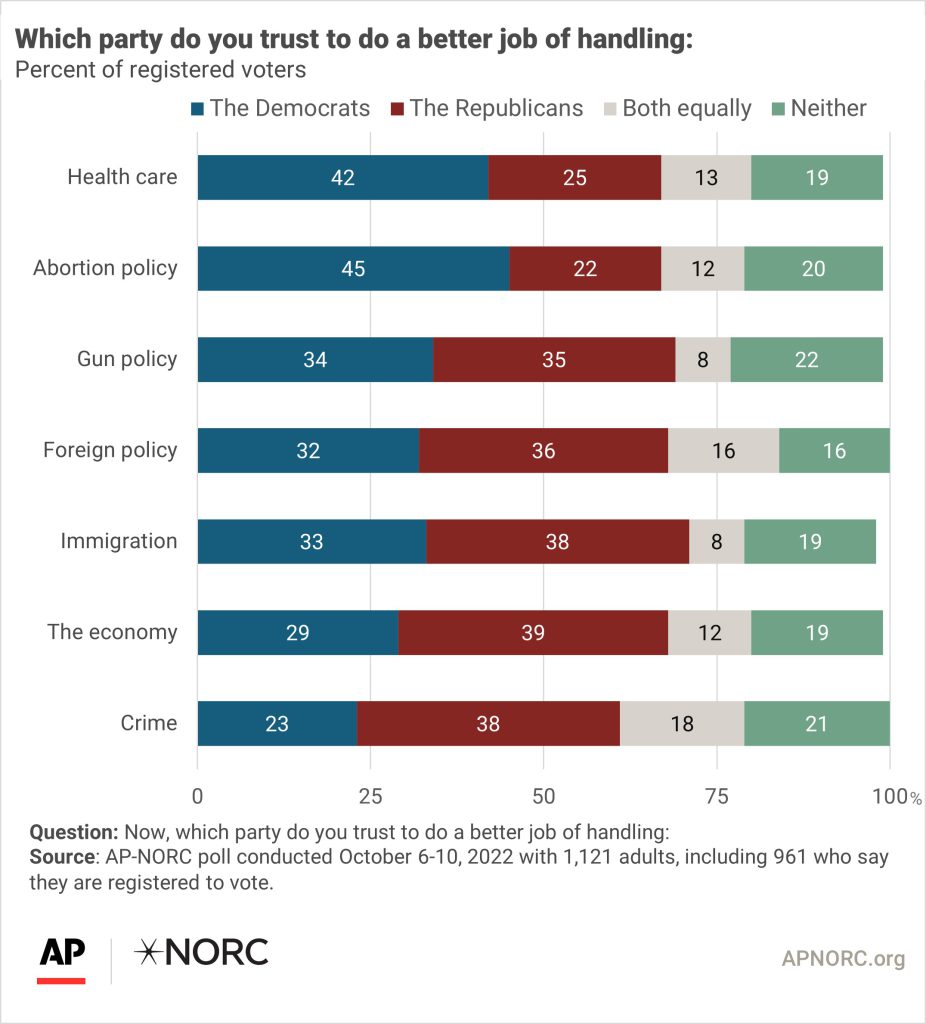 Seventy percent of voters are dissatisfied with the way things are going in the United States and over half express similar views about the status of individual rights and freedoms in the country. However, when it comes to their own state or community, voters are more closely divided.
Republicans are more likely to be dissatisfied than Democrats.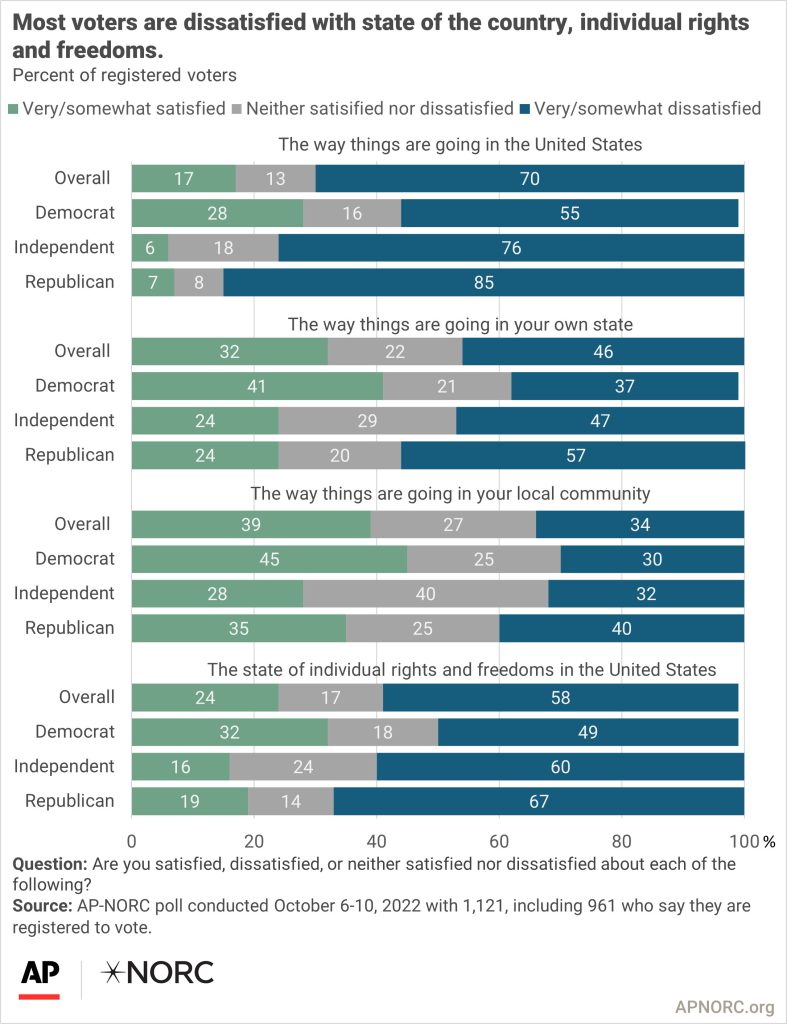 Most voters also have a negative view of the state of politics in the country. Voters are more likely to feel pessimistic than optimistic about the future of both political parties.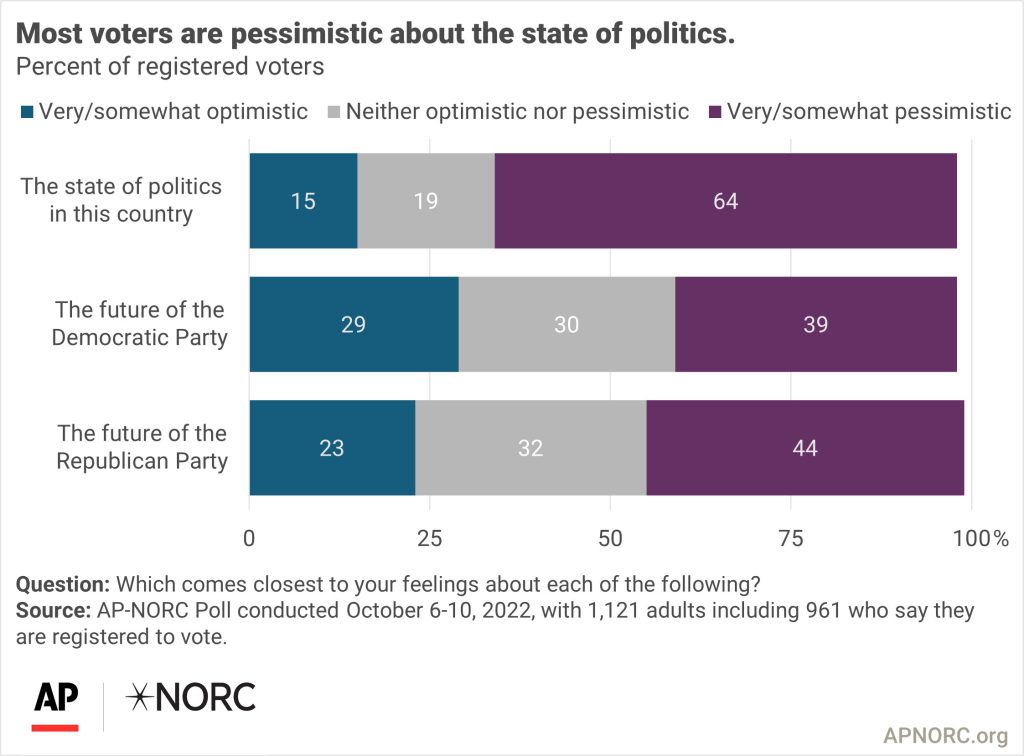 Voters are more likely to have an unfavorable than favorable opinion of the Democratic Party, the president, and the vice president, while a third have a negative impression of the first lady.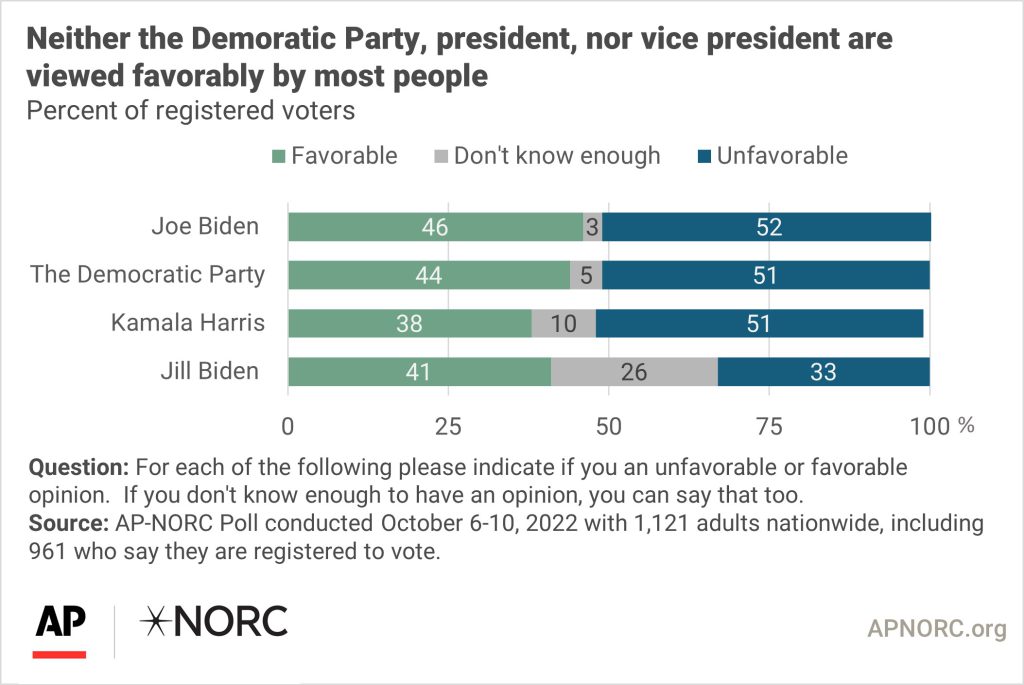 About 6 in 10 voters disapprove of the Republican Party and former president Donald Trump. More voters disapprove than approve of former vice president Mike Pence and Florida governor Ron DeSantis.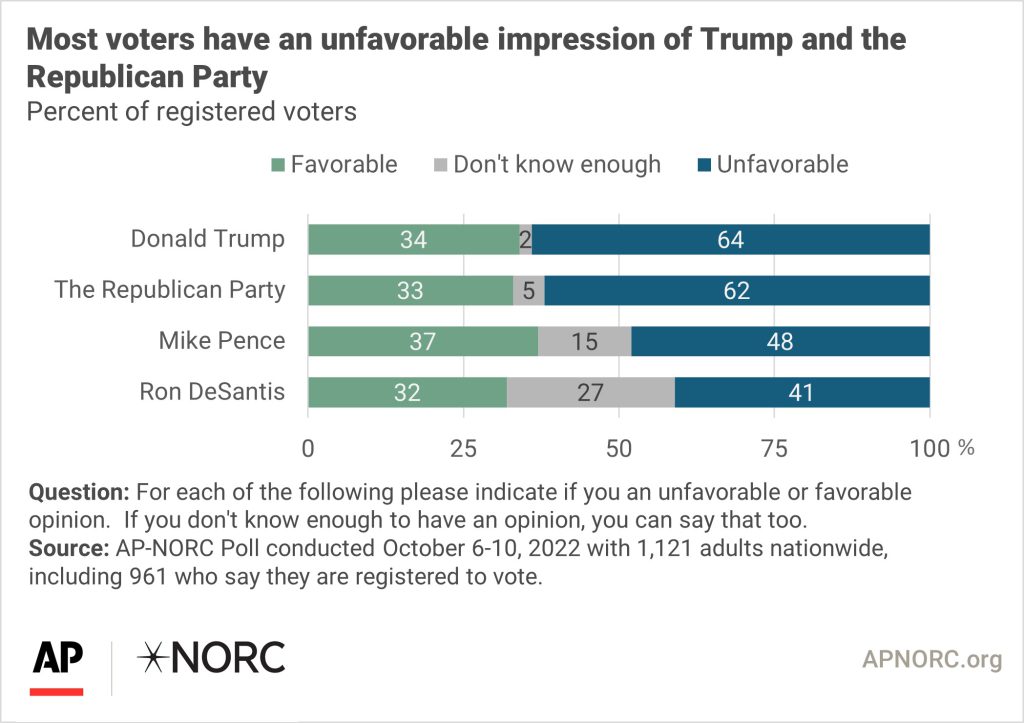 Most voters, regardless of party identification, disapprove of how Congress is handling its job. Republicans are more likely to express disapproval than Democrats, while white and Hispanic voters are more likely to do so than Black voters.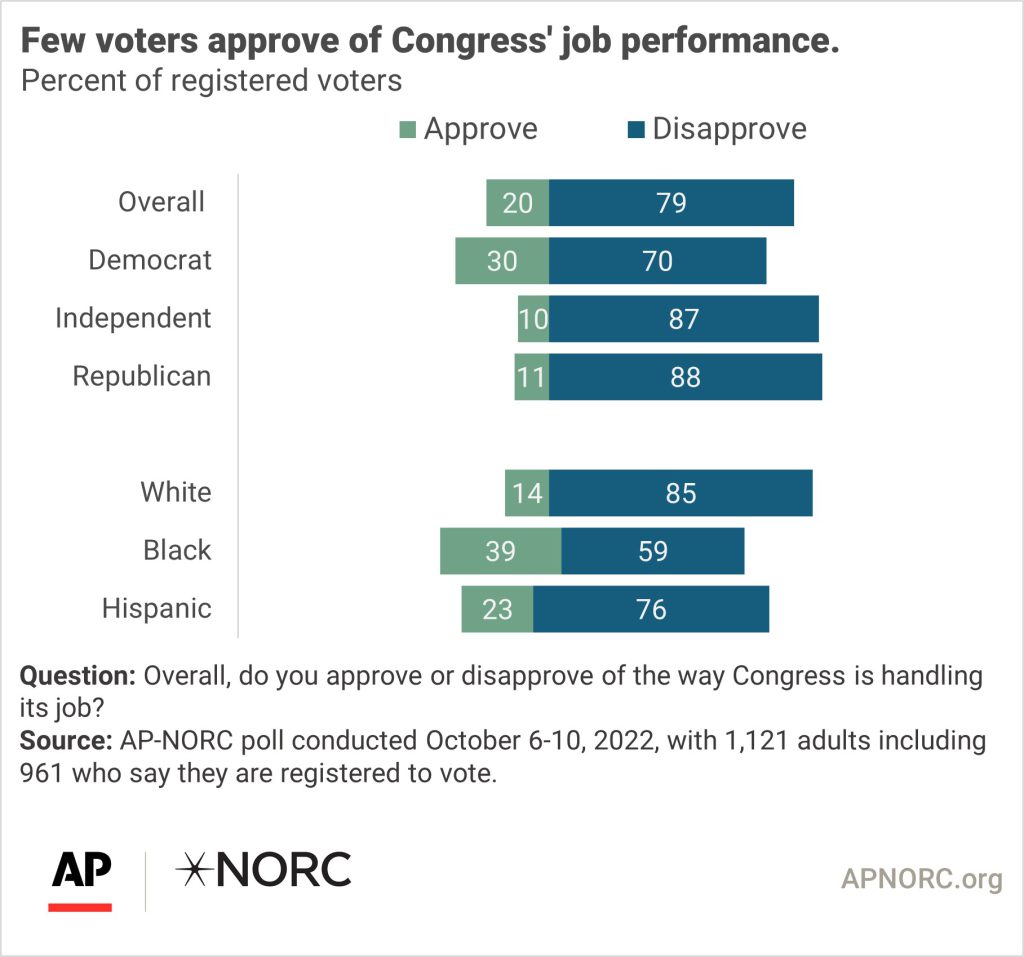 Looking ahead to the next presidential election, neither Biden nor Trump garners much enthusiasm for a presidential bid in 2024. Only about half of Democrat registered voters and about 1 in 10 Republican registered voters want Biden to run again, while about 6 in 10 Republicans and less than 1 in 10 Democrats want to see Trump run again.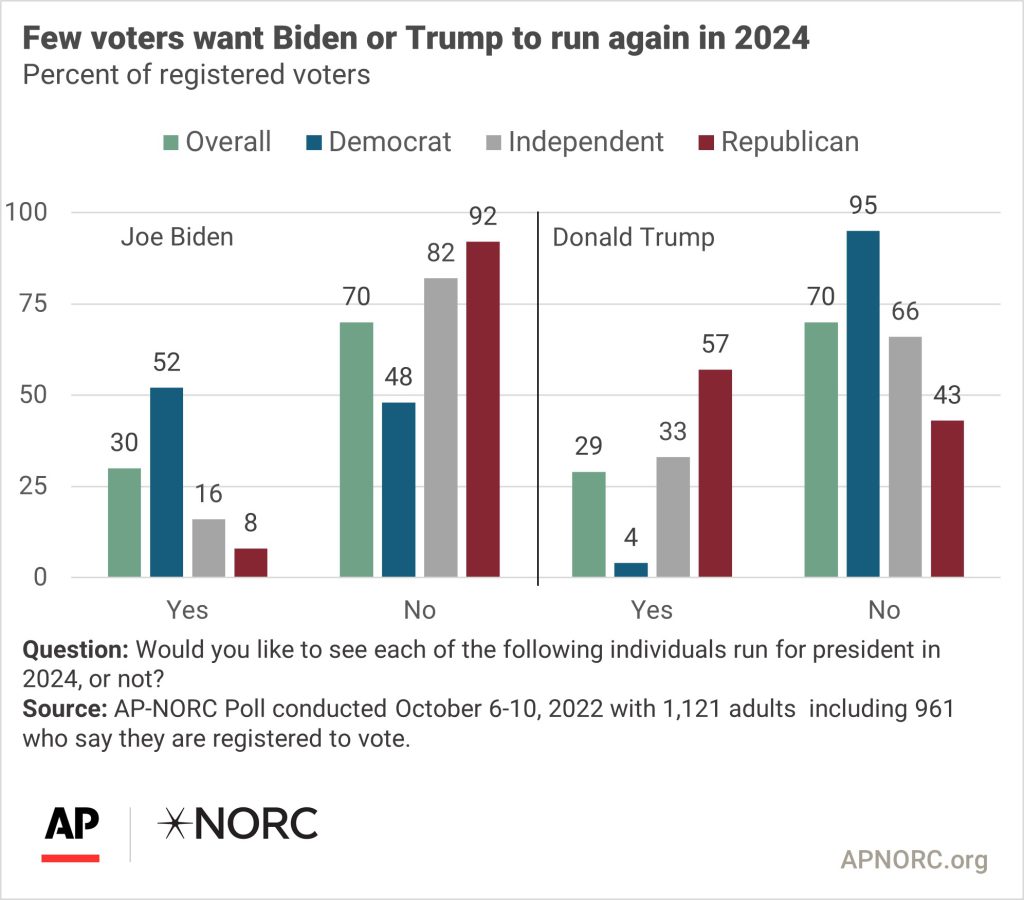 The nationwide poll was conducted October 6-10, 2022 using the AmeriSpeak® Panel, the probability-based panel of NORC at the University of Chicago. Online and telephone interviews using landlines and cell phones were conducted with 1,121 adults, including 961 who say they are registered to vote. The margin of sampling error for registered voters is +/- 4.1 percentage points.
Suggested Citation: AP-NORC Center for Public Affairs Research.  (October 2022). "Voters expect the 2022 elections to have serious impacts for the country" https://apnorc.org/projects/voters-expect-the-2022-elections-to-have-serious-impacts-for-the-country