August 16, 2023
About half of adults say Donald Trump acted illegally in his alleged attempt to overturn the 2020 election results in Georgia and 54% think his actions following his loss in the 2020 presidential election threatened democracy.
Half of the public also consider Trump's actions concerning the classified documents found at his Florida home as illegal. Nearly half feel he acted illegally during the events at the U.S. Capitol on January 6, 2021. The public is less inclined to say he acted illegally in the case about covering up hush money payments to a woman who said she had an affair with him: 34% say he acted illegally in that case, while 38% think his actions were unethical but not illegal. The poll was completed before the August 14, 2023 indictment from a Georgia grand jury was announced.
Views about the legality of Trump's actions in the pending criminal cases remain highly correlated with political affiliations. A large majority of Democrats think Trump's actions regarding the classified documents found at Mar-a-Lago and allegations about his behavior following his loss in the 2020 election to be criminal. And more than half also say that about the hush money payments case. Republicans are more inclined to say the former president did nothing wrong in these cases, or at worse behaved unethically. Less than 20% of Republicans consider Trump's actions illegal in any of the four cases.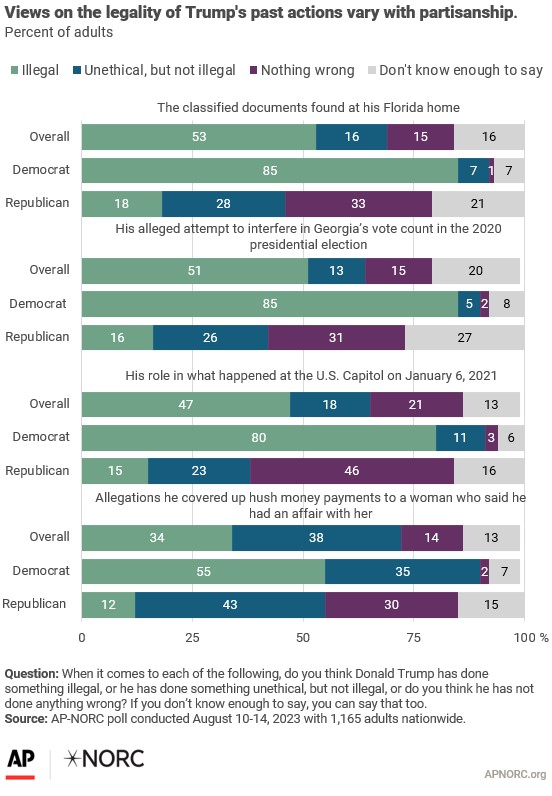 Eighty-five percent of Democrats say Trump's activities following the 2020 election were a threat to democracy. Among Republicans, 43% say Trump was doing more to defend democracy and 34% say his actions had no effect on democracy.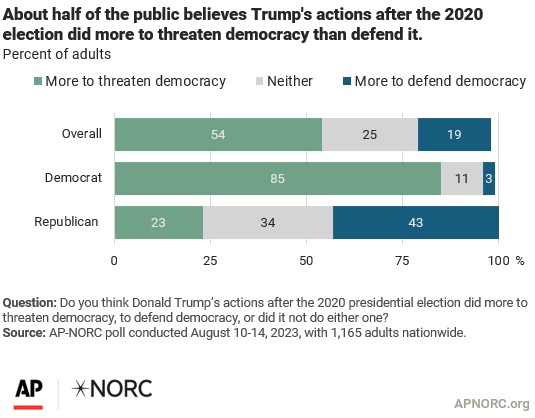 Seventy-three percent of the public are paying at least some attention to news about Trump's indictment for his actions on January 6, 2021. Similar results were found in AP-NORC surveys conducted in April, after Trump was indicted in New York for making hush money payments during his 2016 campaign, and in June, after he was indicted in the case concerning classified documents at his Florida home.
The views of most Republicans do not appear to be affected by Trump's legal problems. Seventy percent have a favorable opinion of him. Most Republicans also have a favorable opinion of Ron DeSantis. But they are divided when it comes Mike Pence. Forty-one percent have a favorable view of the former vice president, while 42% have a negative opinion.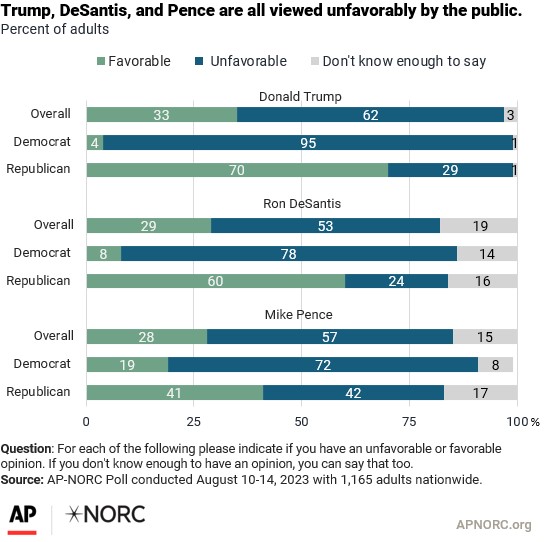 In addition, 63% of Republicans want Trump to run for reelection, and 74% would support him if he were the Republican nominee. In comparison, only 45% of Democrats want Joe Biden to run for reelection, but 82% would support him if he were the Democratic nominee.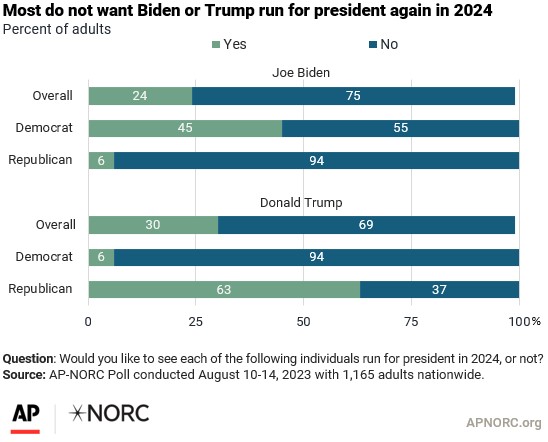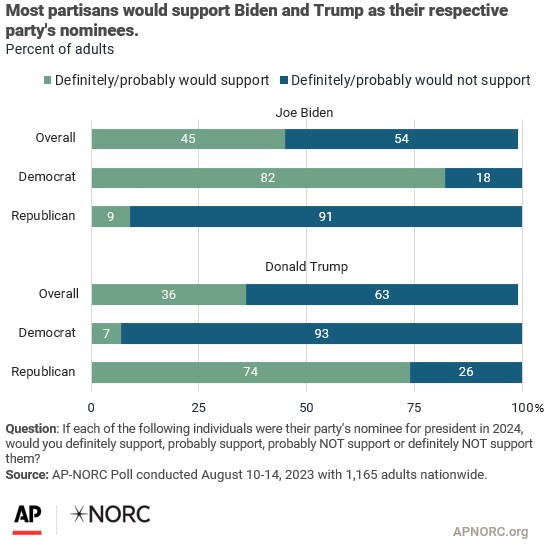 Overall, 53% approve of the Justice Department indicting Trump in the federal case that he worked to overturn the results of the 2020 presidential election. As with most opinions concerning Trump, there are large partisan differences. Only 16% of Republicans approve of the Justice Department's indictment, compared to 85% of Democrats. In addition, nearly half of Republicans have little confidence in the country's Justice Department.
Seventy percent of the public agree that Joe Biden was legitimately elect to the presidency in 2020, including 98% of Democrats and 41% of Republicans.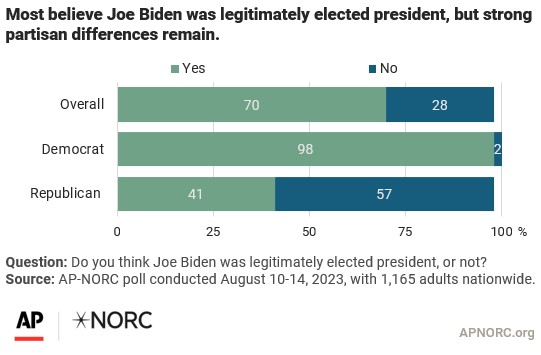 Among those who say Biden was rightfully elected in 2020, most say Trump's actions after the election were illegal, while those who disagree are likely to say Trump did nothing wrong.
Most adults have heard a lot or some about Trump's federal indictment involving his attempts to overturn the 2020 election, including majorities of both Democrats (80%) and Republicans (74%).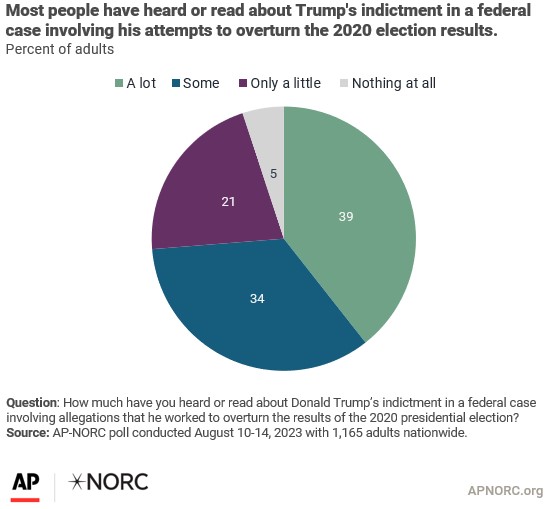 The nationwide poll was conducted August 10-14, 2023 using the AmeriSpeak® Panel, the probability-based panel of NORC at the University of Chicago. Online and telephone interviews using landlines and cell phones were conducted with 1,165 adults. The margin of sampling error is +/- 3.8 percentage points.