June 29, 2023
With former President Donald Trump's recent indictment, the public is now slightly more likely than they were in April 2023 to say the former president acted illegally in his handling of classified documents found at Mar-a-Lago. Three-quarters of adults report hearing or reading at least some news about the indictment. However, Trump's favorability among the public remains steady.
Fifty-three percent of adults believe Trump has done something illegal regarding the classified documents found at his Florida home. This is up from 47% in April, just after he was indicted in New York for allegedly attempting to cover up hush money payments made to a woman who claimed to have had an affair with him.
Eighty-four percent of Democrats think Trump broke the law regarding the classified documents, up from 75% who said the same in April. Twenty-three percent of Republicans feel he did something illegal in the case, remaining stable from the 20% who felt that in April.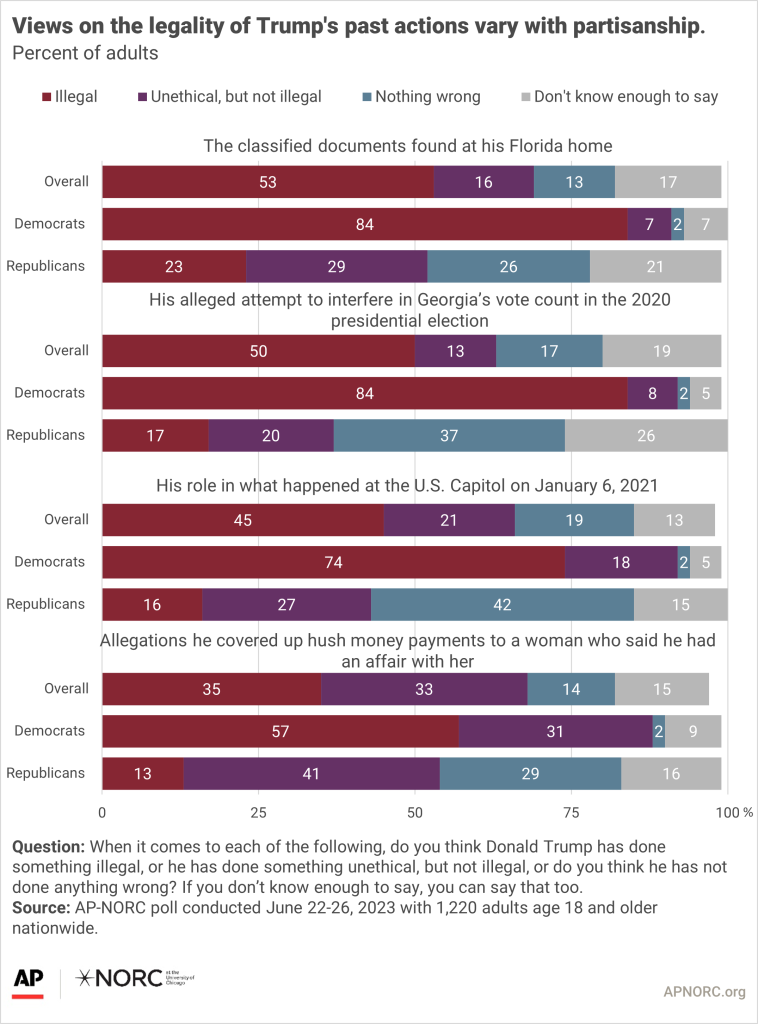 A majority of Americans have heard a lot or some about Trump's recent indictment, including majorities of both Democrats (78%) and Republicans (75%).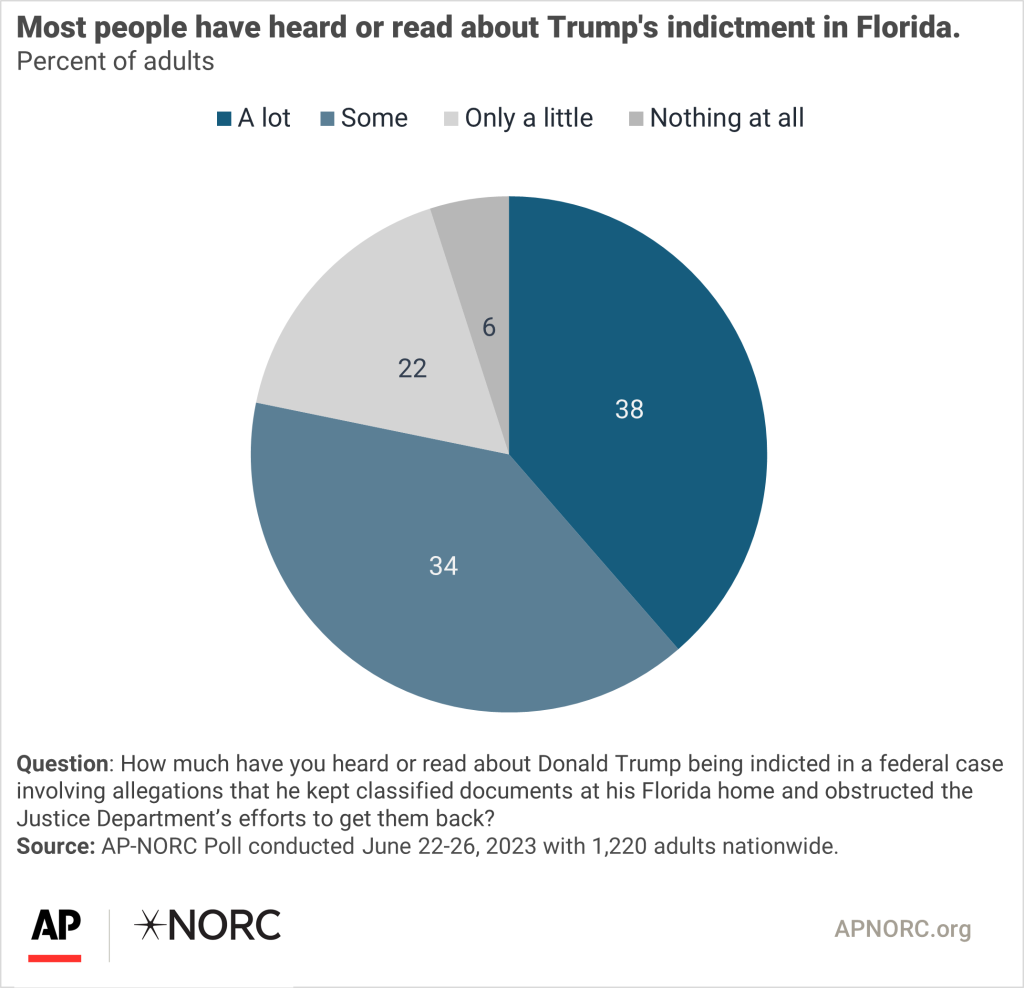 Despite the indictment, Trump has seen no decrease in his favorability among the public overall with 33% saying they have a favorable opinion of him, about the same as in April. Sixty percent of Republicans have a favorable view of Trump, along with 10% of Democrats.  In April, 68% of Republicans and 4% of Democrats were favorable toward him. Views of Florida Governor Ron DeSantis are about same as in April.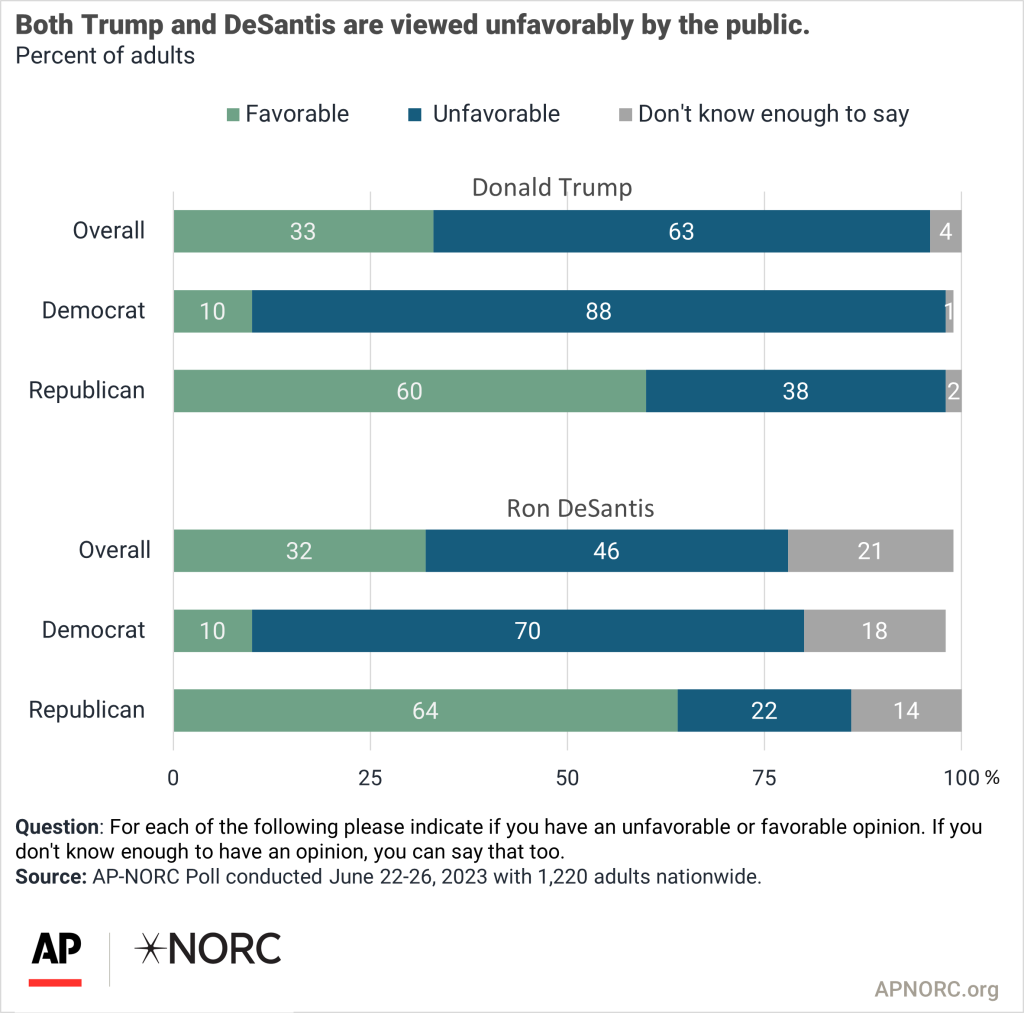 The nationwide poll was conducted June 22-26, 2023 using the AmeriSpeak® Panel, the probability-based panel of NORC at the University of Chicago. Online and telephone interviews using landlines and cell phones were conducted with 1,220 adults. The margin of sampling error is +/- 3.9 percentage points.