September 29, 2021
Just 35% of Americans approve of how President Biden is dealing with immigration. This is down from 43% in April, when it was already one of Biden's worst issues.
Democrats have been very positive about the president, but his handling of immigration is a relative low point within his own party. Sixty percent of Democrats approve, along with 6% of Republicans.
The decline in approval for Biden on immigration is especially pronounced among Black and Hispanic Americans. In April 72% of Black Americans approved of the president's handling of immigration; now 50% approve. Among Hispanic Americans, approval dipped from 59% in April to 39%. The view of white Americans has been relatively stable: 33% approved in April and 28% in the latest survey.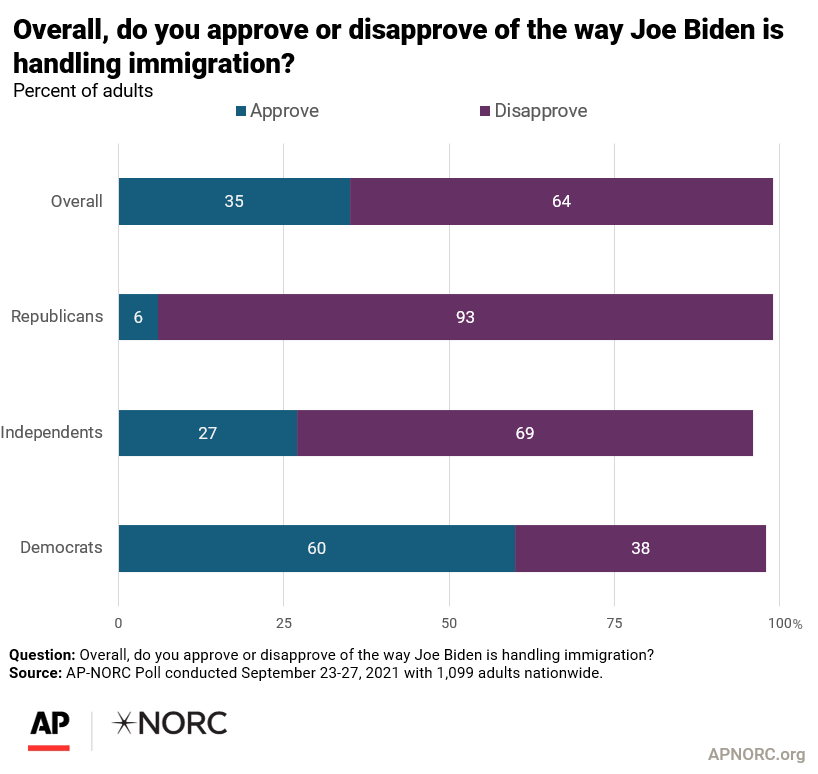 The nationwide poll was conducted September 23-27, 2021 using the AmeriSpeak® Panel, the probability-based panel of NORC at the University of Chicago. Online and telephone interviews using landlines and cell phones were conducted with 1,099 adults. The margin of sampling error is +/- 4.2 percentage points.
Suggested Citation: AP-NORC Center for Public Affairs Research. (September, 2021)."Biden's approval on immigration declines" [apnorc.org/bidens-approval-on-immigration-declines]