June 17, 2021
As he launched his first overseas trip as president, about half of the public approves of both the president's handling of relations with Russia and how he is dealing with foreign policy in general. The latest AP-NORC survey was conducted while the president was in Europe, but completed before Biden's meeting in Geneva with Russia's Vladimir Putin on June 16.
Biden's management of the coronavirus pandemic continues to be viewed positively by a large majority. About half of the public also approves of the president's handling of the economy and health care, but there is less support for Biden's immigration policies.
Views of the president and his policies are strongly influenced by party identification. Only 19% of Republicans approve of Biden's overall job performance and less than a quarter approve of Biden's handling of the other topics asked about in the survey, with the exception of the pandemic. The public overall is very supportive of how Biden's is dealing with the pandemic, including nearly half of Republicans.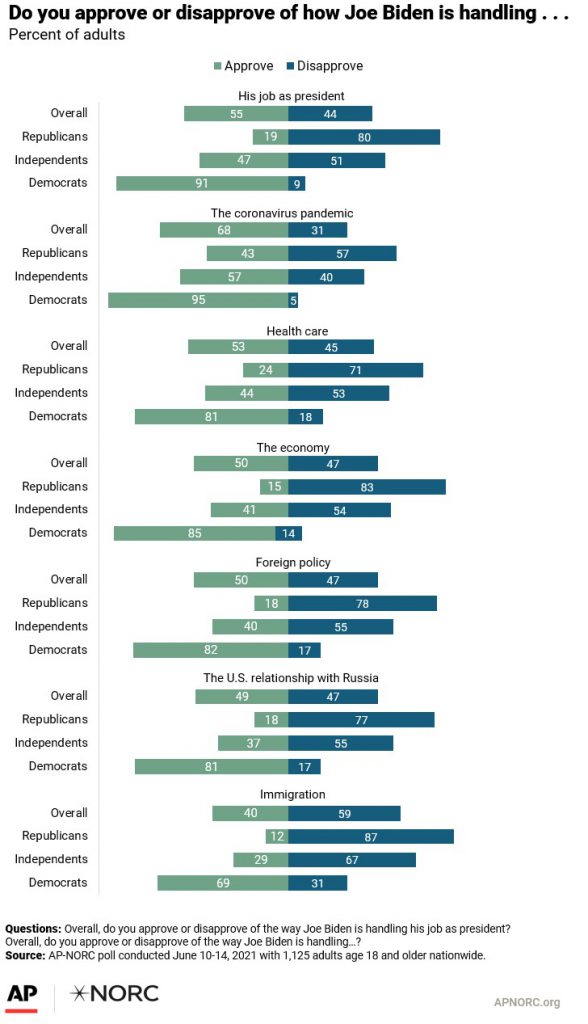 The nationwide poll was conducted June 10-14, 2021 using the AmeriSpeak® Panel, the probability-based panel of NORC at the University of Chicago. Online and telephone interviews using landlines and cell phones were conducted with 1,125 adults. The margin of sampling error is +/- 4.2 percentage points.