February 24, 2022
During the 2020 presidential campaign, President Biden promised to nominate a Black woman to the Supreme Court. Justice Stephen Breyer announced his intention to retire last month, providing Biden with the opportunity to make good on his pledge. 
Overall, nearly half of the public do not consider the first Black woman to be named to the Supreme Court to be important to them personally. However, 63% of Black Americans say it's extremely or very important to them personally that a Black woman becomes a Supreme Court justice.
Women, particularly Black women, are more likely to say the naming of a Black woman to the Supreme Court is important to them personally than men.
Democrats are more likely than Republicans and independents to say it's of great importance to them personally (50% vs 21% and 6%, respectively). Seventy-two percent of Black Democrats say it's very or extremely important, compared with 50% of Hispanic Democrats and 43% of white Democrats.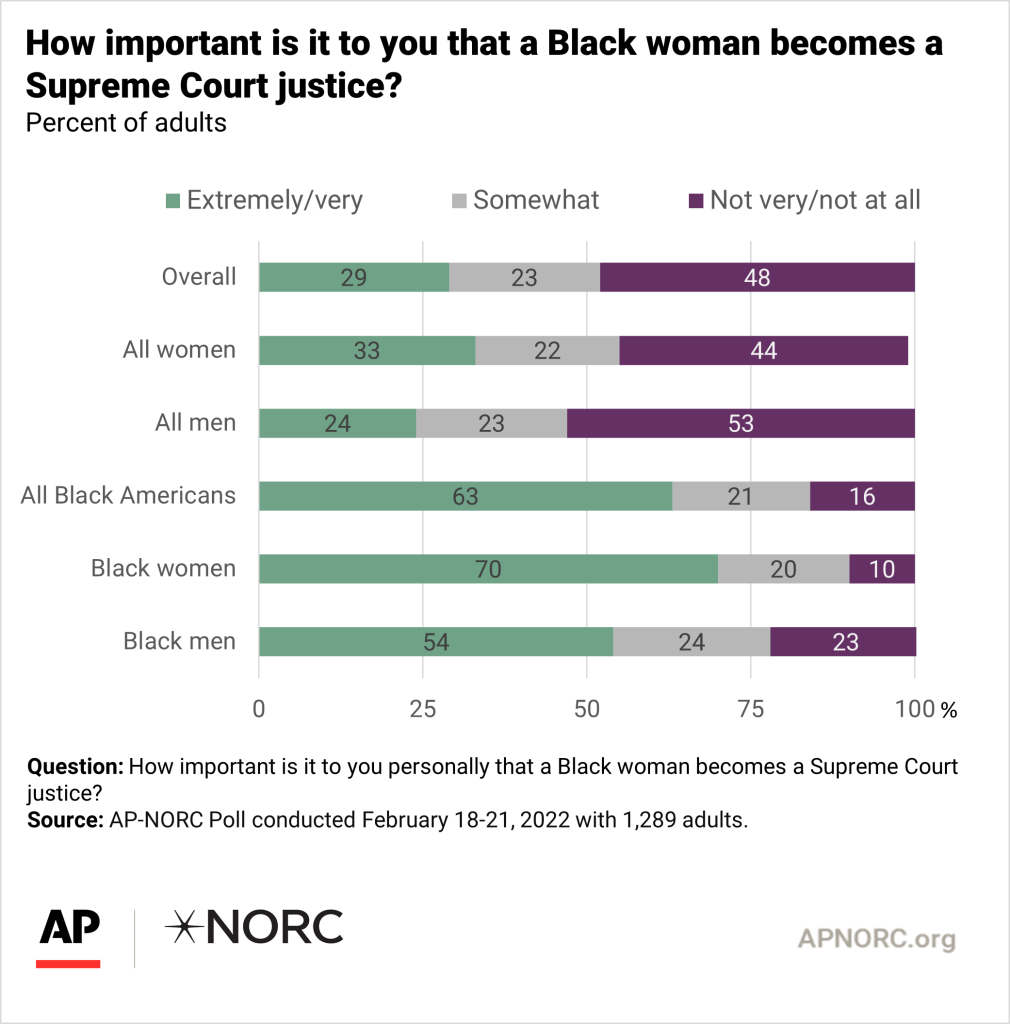 Approval of Biden's handling of Supreme Court nominations is high among Democrats regardless of race or ethnicity.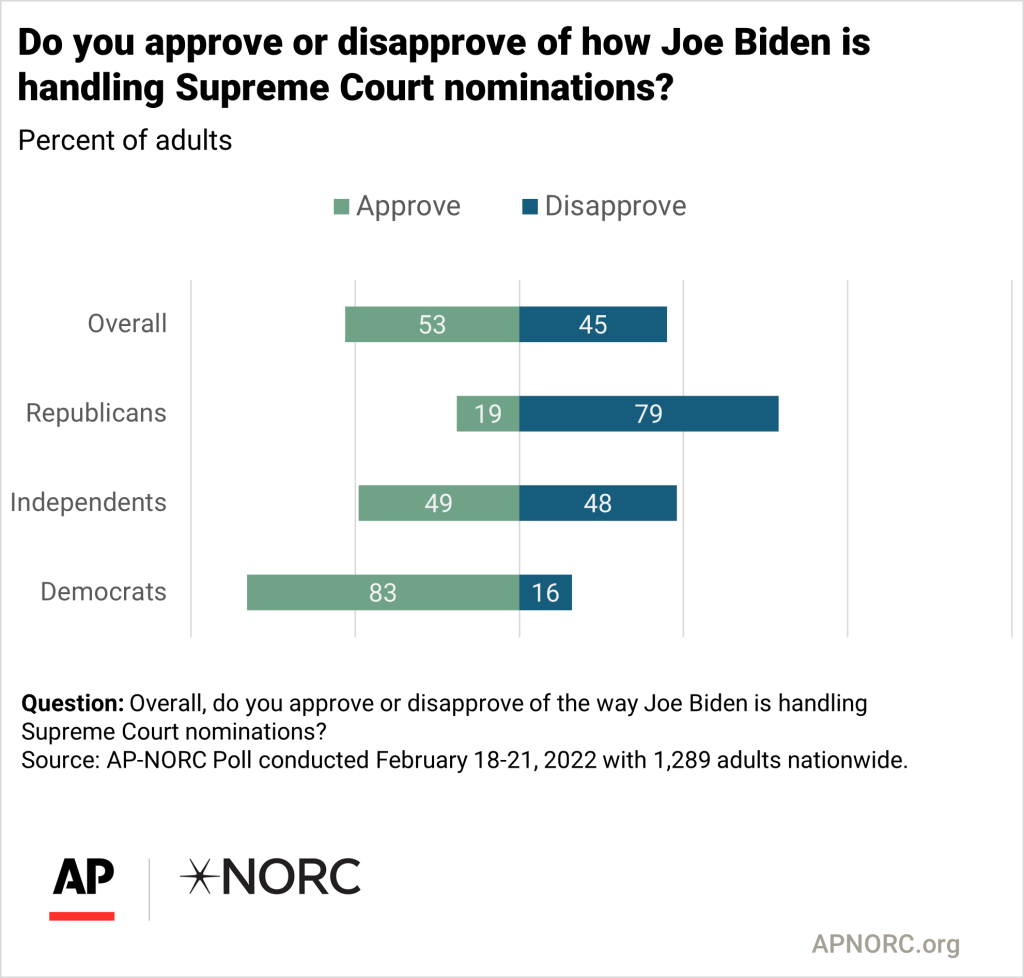 While most Americans have at least some confidence in the people running the Supreme Court, 24% have hardly any. This is slightly up from September 2020 when 17% said they had hardly any confidence.
Republicans are twice as likely as Democrats to have a great deal of confidence in the Supreme Court.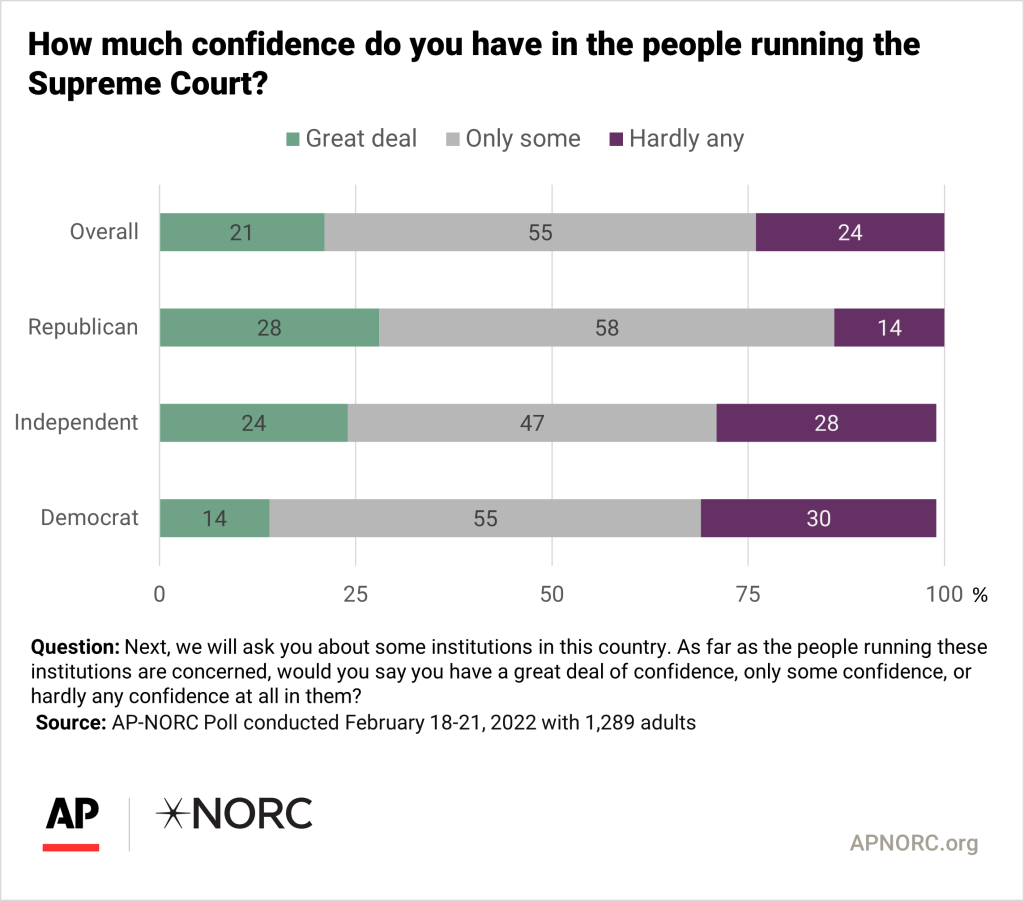 The nationwide poll was conducted February 18-21, 2022 using the AmeriSpeak® Panel, the probability-based panel of NORC at the University of Chicago. Online and telephone interviews using landlines and cell phones were conducted with 1,289 adults. The margin of sampling error is +/- 3.7 percentage points.
Black respondents were sampled at a higher rate than their proportion of the population for reasons of analysis. The overall margin of sampling error for the 301 completed interviews with Black respondents is +/- 7.2 percentage points.