November 5, 2021
In the United States, daylight saving time is observed from the second Sunday in March until the first Sunday in November. On November 7, most places will revert to standard time, turning the clocks back an hour at 2 A.M.
Most Americans want to skip the ritual of changing their clocks twice a year, but there is no consensus on which time the clock should follow.
Forty-three percent want to stay on standard time year-round, while 32% prefer to see the clocks remain on daylight saving time. Only 25% percent like the existing state of affairs in most of the country, shifting back and forth between daylight saving time in the summer and standard time in the winter. Hawaii and most of Arizona have opted out of daylight saving time, remaining on standard time year-round.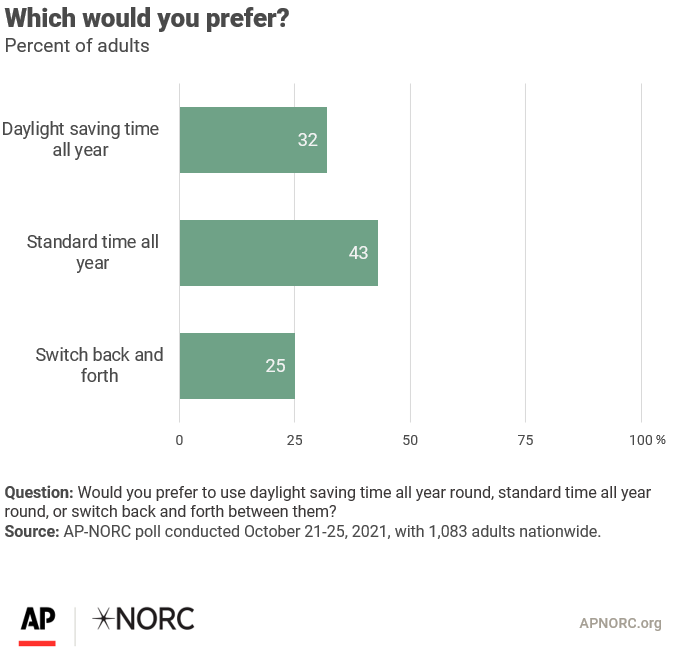 Remaining on daylight saving time year-round is more popular amongst adults age 60 and older (37%) are than those 18-29 (24%). Meanwhile, adults age 18-29 are more likely than those age 60 and older to prefer to switch back and forth (32% vs. 22%).
The nationwide poll was conducted October 21-25, 2021 using the AmeriSpeak® Panel, the probability-based panel of NORC at the University of Chicago. Online and telephone interviews using landlines and cell phones were conducted with 1,083 adults. The margin of sampling error is +/- 4.0 percentage points.
Suggested Citation: AP-NORC Center for Public Affairs Research. (October 2021)."Dislike for changing the clocks persists" [apnorc.org/projects/dislike-for-changing-the-clocks-persists]