Amid increasing media attention to the outbreak of the new coronavirus, most Americans are at least moderately confident that the country's health officials would be able to handle an outbreak of a new virus in the United States. Few are particularly concerned that they or a family member might be infected by the new coronavirus. More are at least somewhat worried about contracting the flu.
An outbreak of a respiratory illness caused by COVID-19, a new coronavirus, was first identified in Wuhan, Hubei Province, China. Thousands of cases have since been confirmed in China and a growing number of other countries, including the United States. Fifty-one percent of Americans have heard or read a lot about the coronavirus outbreak, 37% have heard or read some, and just 12% have heard or read little or nothing.
Still, Americans are much more likely to contract the flu, which has killed more than 10,000 people in the United States this winter, according to estimates from the Centers for Disease Control and Prevention.[1] And the public expresses more concern about it than about the new coronavirus.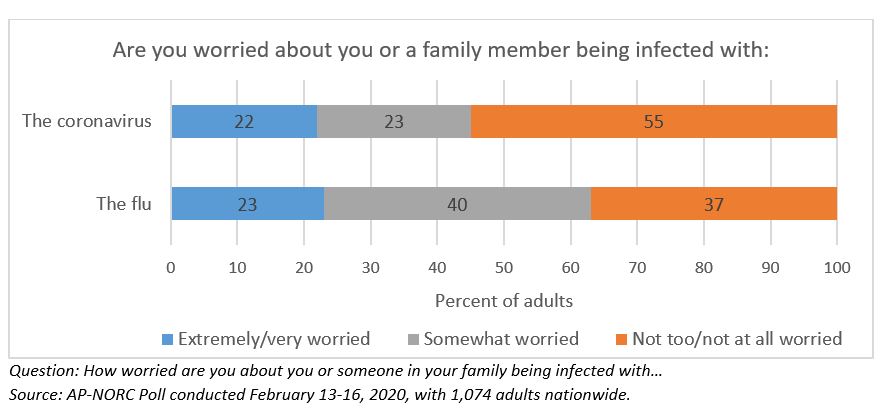 About half (51%) of adults report receiving a flu vaccine at some point in the past year. Those who have been vaccinated for flu this year feel more positively about health officials' capacity for dealing with an outbreak of a new virus in the United States.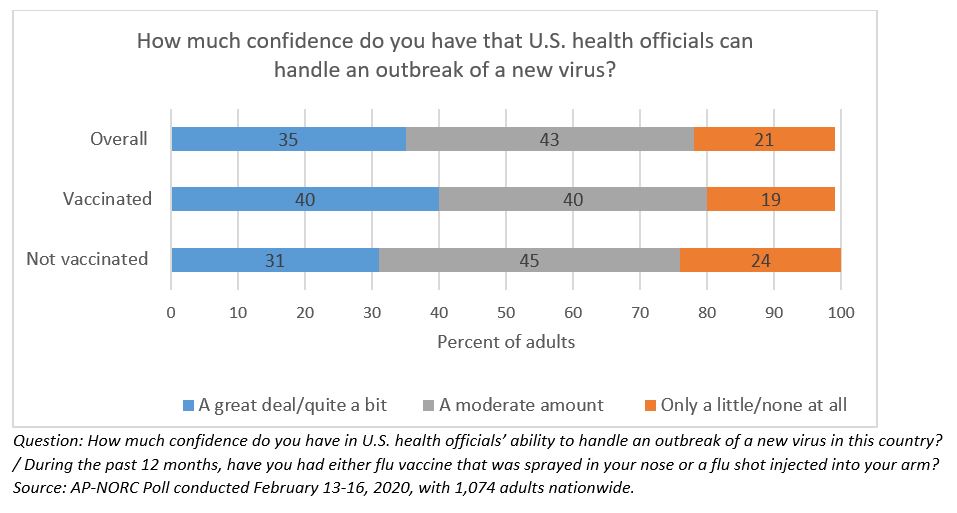 The nationwide poll was conducted February 13-16, 2020, using the AmeriSpeak® Panel, the probability-based panel of NORC at the University of Chicago. Online and telephone interviews using landlines and cell phones were conducted with 1,074 adults. The margin of sampling error is plus or minus 4.2 percentage points.