Sixty-three percent of Americans express a great deal of concern about at least one form of foreign interference into the 2020 U.S. presidential election, whether it's tampering with election results, influencing candidates or voters, or stealing information. And 52% are very worried about the vulnerability of the election system to hacking in general.
The investigation by Special Counsel Robert Mueller concluded that Russia interfered in the 2016 U.S. presidential election [1]. Looking forward, 50% of Americans are extremely or very concerned that foreign governments could tamper with the results of the next presidential election, and 49% are very worried about foreign governments stealing information from candidates or political parties. Forty-seven percent of Americans have significant concerns about foreign influence on how Americans think about candidates or on the candidates themselves during the 2020 election. And 52% are extremely or very concerned about the vulnerability of the country's election system to hackers in general.
Democrats are more inclined to say they are concerned about foreign interference and hacking than are Republicans or independents.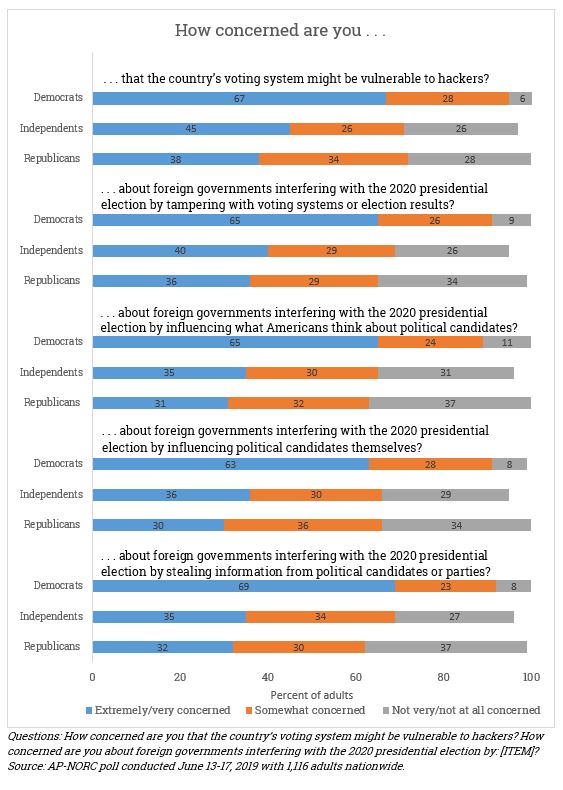 Mueller delivered his report on March 22, 2019, bringing to a close a nearly two-year investigation into Trump's campaign and Russian officials. Few Americans think the report completely exonerated Trump of either collusion with Russia or obstruction of justice.
Twenty-four percent say the report cleared the president of coordinating with Russia, 44% say it did not clear him and 31% say they do not know enough to say. Regarding alleged obstruction of justice, 20% consider the report an exoneration of Trump, while 48% disagree and 30% say they don't know enough.
Democrats strongly believe the Mueller report does not clear Trump of either accusation, while Republicans and independents are much less certain.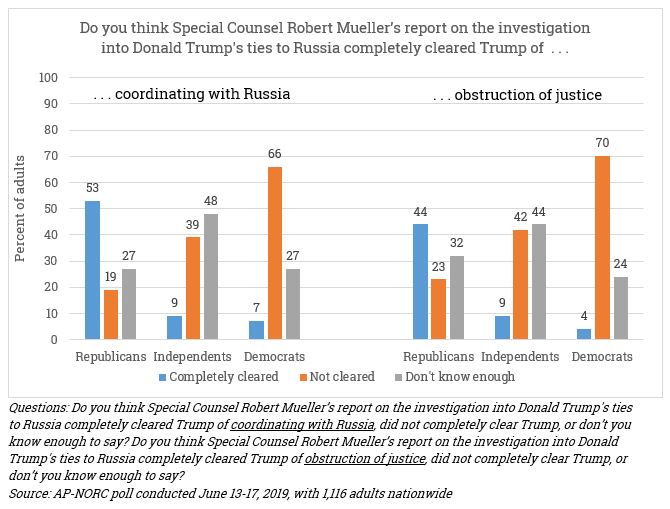 In general, only 34% of the public approve of how Trump is handling the Russia investigation, and 64% disapprove. Again there are large partisan differences in the public's views of the investigation into the president's ties to Russia. While 73% of Republicans approve of how Trump is dealing with the investigation, 94% of Democrats and 62% of independents disapprove.
Overall, the president's approval numbers have not changed significantly since The AP-NORC survey taken in May: 38% approve and 60% disapprove of how Trump is handling his job.
The nationwide poll was conducted June 13-17, 2019, using the AmeriSpeak® Panel, the probability-based panel of NORC at the University of Chicago. Online and telephone interviews using landlines and cell phones were conducted with 1,116 adults. The margin of sampling error is plus or minus 4.0 percentage points.