October 19, 2020
The public has become more anxious since the onset of the coronavirus pandemic, and workers are no exception. Most American workers say they are experiencing more stress because of COVID-19, according to a recent AP-NORC/SAP survey conducted by The Associated Press-NORC Center for Public Affairs Research, but most workers think their employers are responding appropriately to the pandemic.
The poll explores American workers' views about the impact of the coronavirus pandemic in general, how their employers are tackling its challenges, and the effect on their workplaces. For many workers, the pandemic is contributing to their stress. Fifty-four percent of employees say their stress levels are higher than usual because of the pandemic, 33% have unchanged stress levels, and 13% have less stress since the coronavirus outbreak in the United States.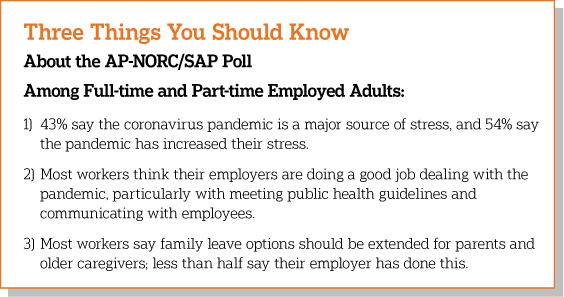 The nationwide survey of 1,015 full-time and part-time employed adults was conducted using AmeriSpeak®, the probability-based panel of NORC at the University of Chicago. Self-employed adults were not included in the survey. Interviews were conducted between September 11 and 16, 2020, online and using landlines and cell phones. The margin of sampling error is +/- 4.2 percentage points.