May 9, 2022
After years of heated rhetoric around immigration and its impacts, new data from an AP-NORC poll reveals that two-thirds of Americans feel the country's diverse population makes the US stronger – less than 10% say diversity weakens the country.
Still, roughly one in three (32%) adults agree that a group of people is trying to replace native-born Americans with immigrants for electoral gains. A similar share (29%) also express concern that an increase in immigration is leading to native-born Americans losing economic, political, and cultural influence. These two key measures tap into the core arguments of Replacement Theory, a decades old idea, which posits that there is a group of powerful people in this country who are trying to permanently alter the culture and voting strength of native-born Americans by bringing in large groups of immigrants  – the study indicates about one in five (17%) adults agree with both of these central tenets.
Most Americans cite a lack of economic opportunity (93%), poverty (92%), and violent crime (91%) as motivating factors for why immigrants leave their country, while just two-thirds cite the impacts of climate change.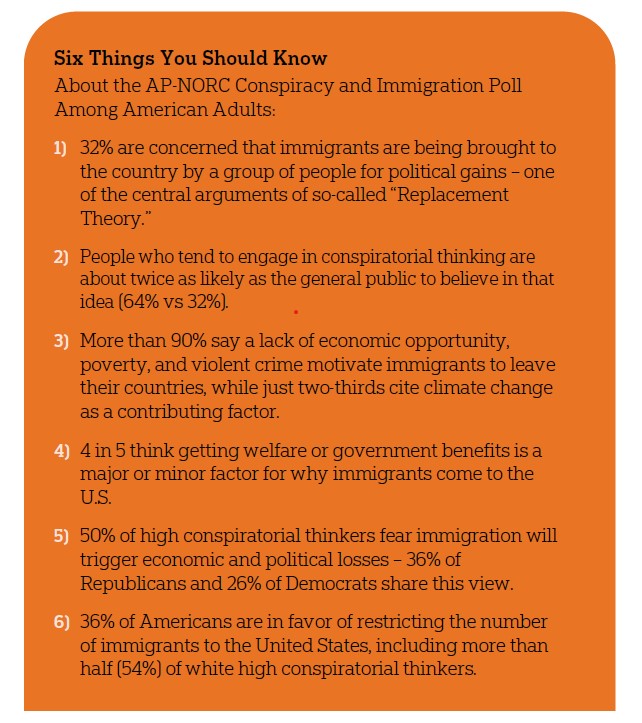 Nearly a quarter of adults think changing the way life (24%) and influencing the outcome of elections (22%) are major reasons immigrants come to the U.S, while roughly 4 in 5 Americans say securing government assistance is a factor.
Overall, the public tends to think illegal immigrants introduce higher risks compared to legal immigrants, but less than half of Americans believe that either immigrant group poses major risks. Generally, the public perceives greater benefits from legal immigrants than from those who come illegally, although only about half the population acknowledges these contributions.
Across the survey, concerns about the potential impacts of immigration are felt acutely among Republicans, yet the strongest anxiety is captured by another element – an individual's propensity to engage in conspiratorial thinking, measured by a validated scale that combined responses from four items. Those who score in the top 25th percentile are referred to as high conspiratorial thinkers.
Despite partisan concerns over immigration, high conspiratorial thinkers are more likely than Republicans generally to believe in Replacement Theory (42% vs 26%) and express concern the election system discriminates against white Americans (38% vs 25%).
The nationwide study was conducted by The AP-NORC Center from December 1 to 23, 20201, using TrueNorth®, which combines a sample from AmeriSpeak®, the probability-based panel of NORC at the University of Chicago, with a non-probability panel sample. Online and telephone interviews using landlines and cell phones were conducted with 4,173 people ages 18 and older living in the United States. The margin of sampling error is +/- 1.96 percentage points.
Suggested Citation: AP-NORC Center for Public Affairs Research.  (May, 2022)."Immigration Attitudes and Conspiratorial Thinkers: A Study Issued on the 10th Anniversary of The Associated Press-NORC Center for Public Affairs Research." [apnorc.org/projects/immigration-attitudes-and-conspiratorial-thinkers]