March 7, 2023
There is not much support for allowing more migrants into the United States in general, or for accepting more people who are seeking asylum. The public is more likely to say the number of immigrants overall or those seeking asylum should be reduced rather than increased.
Forty-four percent say immigration should be reduced, while only 20% would like to see more immigrants allowed into the country. Similarly, 43% say there should be fewer asylum-seekers allowed entry, compared with 24% who would like to see more people given asylum.
Support for immigration has faded over Biden's presidency. Twenty-eight percent of the public supported increasing immigration in an AP-NORC poll conducted in March 2021. That has dropped to 20% in the latest poll. Only 11% of Republicans favor increased immigration, along with 27% of Democrats. But when asked specifically about immigrants seeking asylum, Democrats are more likely to favor allowing more immigration, while Republicans have the opposite view.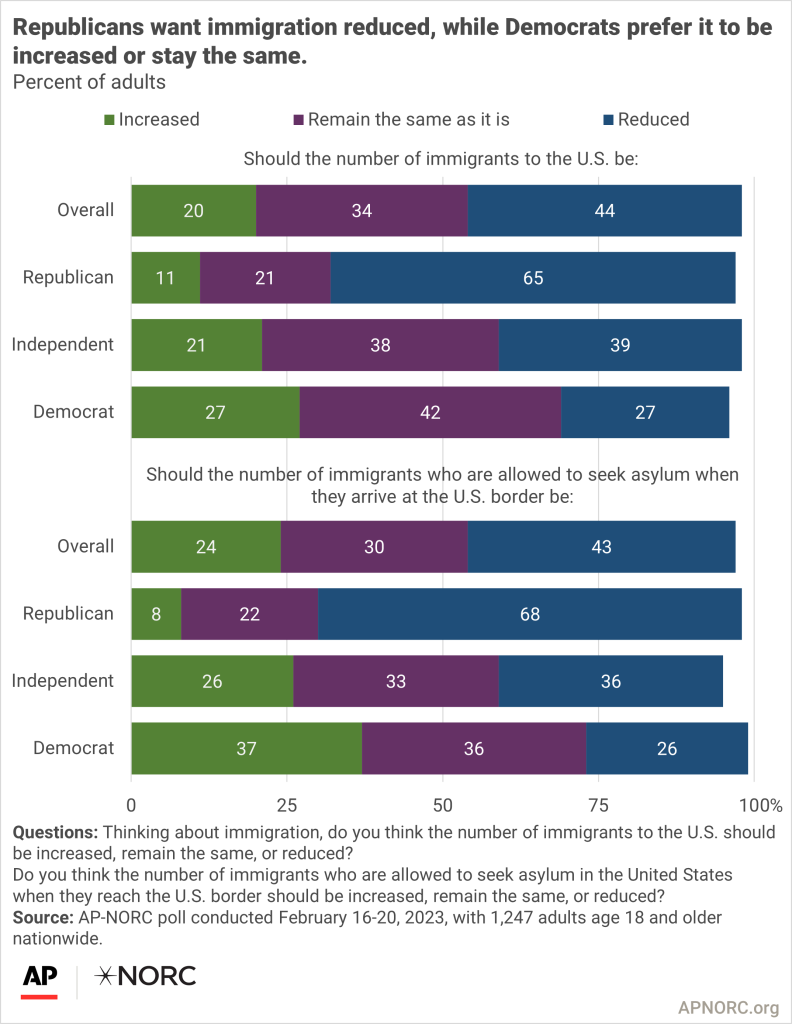 Democrats and Republicans disagree on priorities for immigration policy. Most Republicans say it should be a high priority for the federal government to increase U.S.-Mexico border security and prevent immigrants from overstaying their visas. About half prioritize penalizing companies that hire immigrants living in the U.S. illegally and deporting immigrants who were in the U.S. illegally. Democrats are more likely to prioritize creating pathways for immigrants brought to the United States as children to stay legally. Neither party prioritizes providing a pathway for immigrants living in the U.S. illegally to stay legally.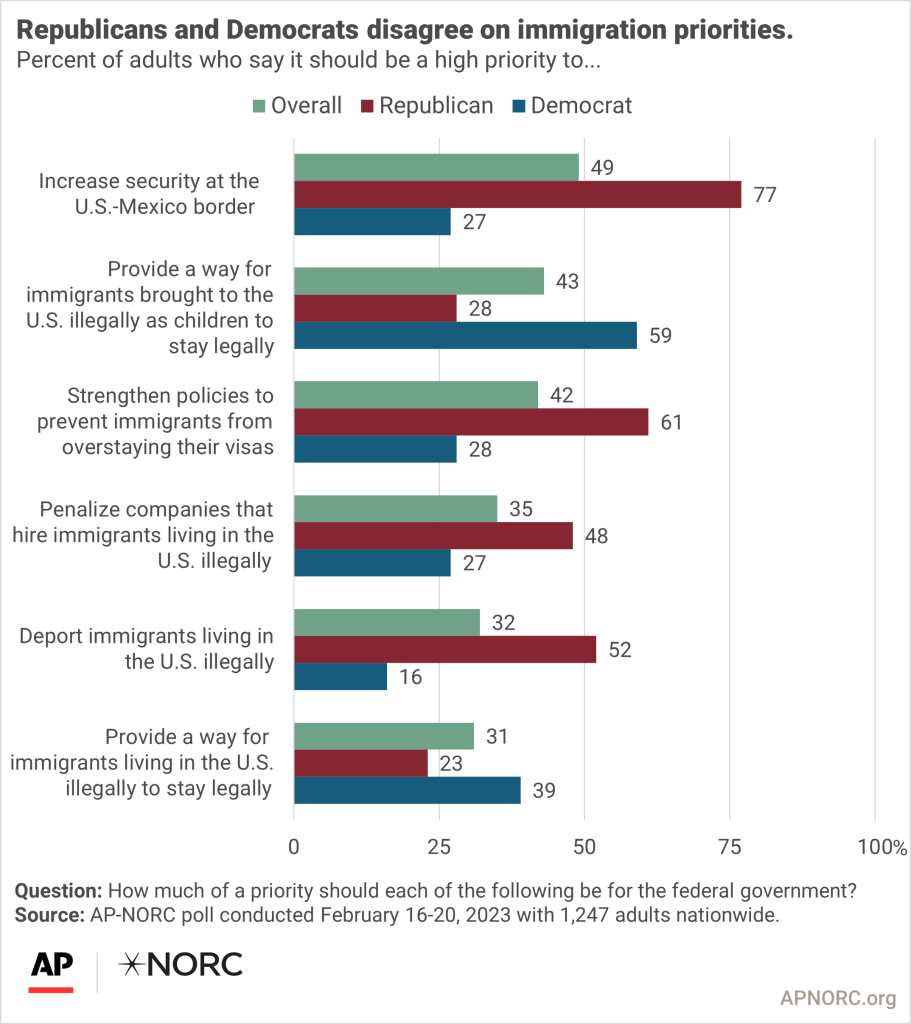 Forty-one percent of adults consider illegal immigration a major threat to the United States. Misinformation, China's influence in the world, cyberattacks, Russia's influence around the world, North Korea's nuclear program, the spread of infectious diseases, and Iran's nuclear program are of greater concern than illegal immigration.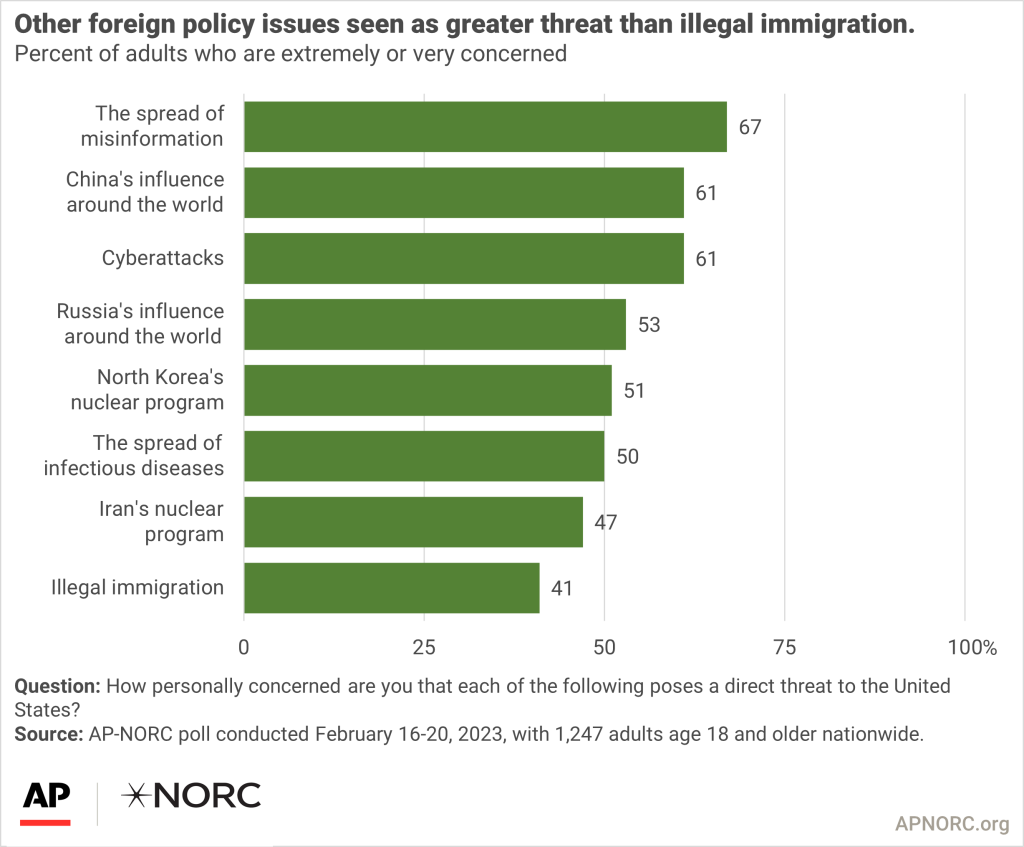 Biden does not get very high marks for his handling of immigration issues. About four in ten adults approve of how the president is handling immigration and border security, while nearly 6 in 10 disapprove. Though approval of his handling of immigration is up slightly from 31% in January.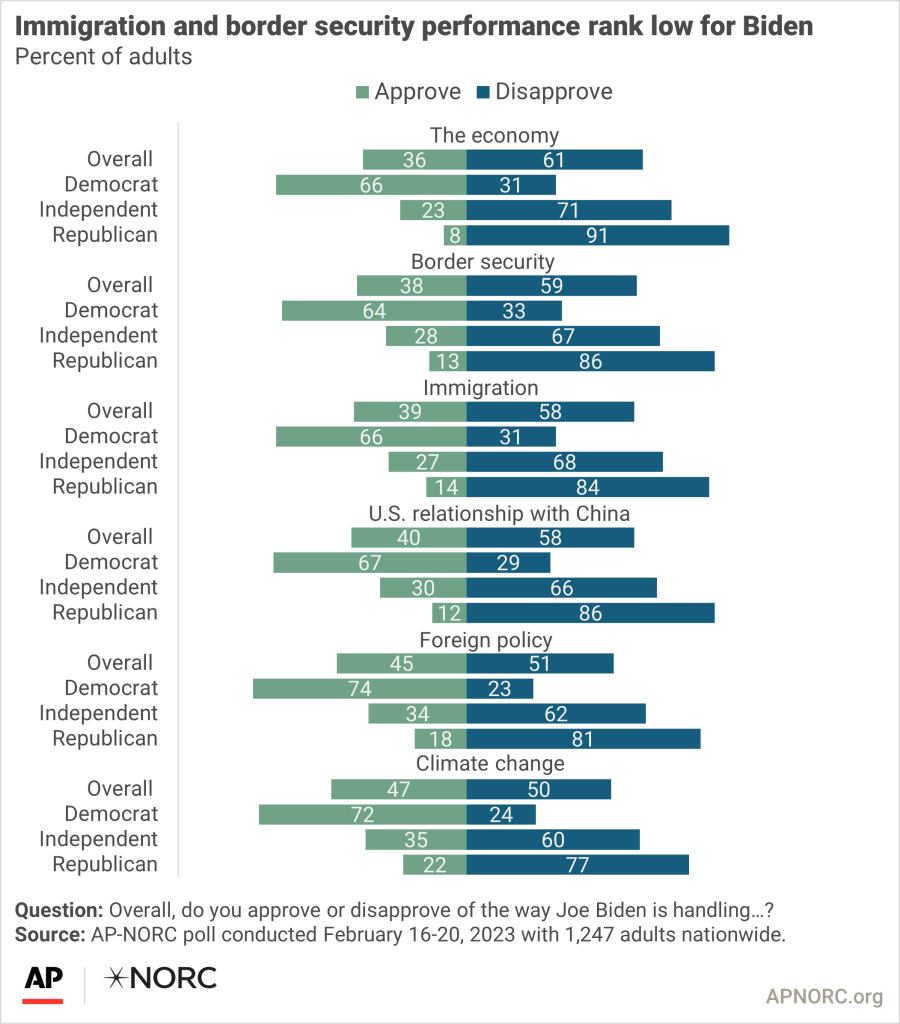 The nationwide poll was conducted February 16-20, 2023 using the AmeriSpeak® Panel, the probability-based panel of NORC at the University of Chicago. Online and telephone interviews using landlines and cell phones were conducted with 1,247 adults. The margin of sampling error is +/- 3.7 percentage points.