Young peoples' interest in the midterms is accelerating as the election draws nearer and so are their anxiety levels, according to the latest wave in the MTV/AP-NORC Center Youth Political Pulse.
Sixty-four percent of young people age 15-34 say they are interested in the election, up from 41 percent earlier in the summer. Feelings of hope and anxiety surrounding the midterms have also increased. Feelings of excitement, pride, and being overwhelmed have decreased. Feeling helpless has neither increased nor decreased significantly.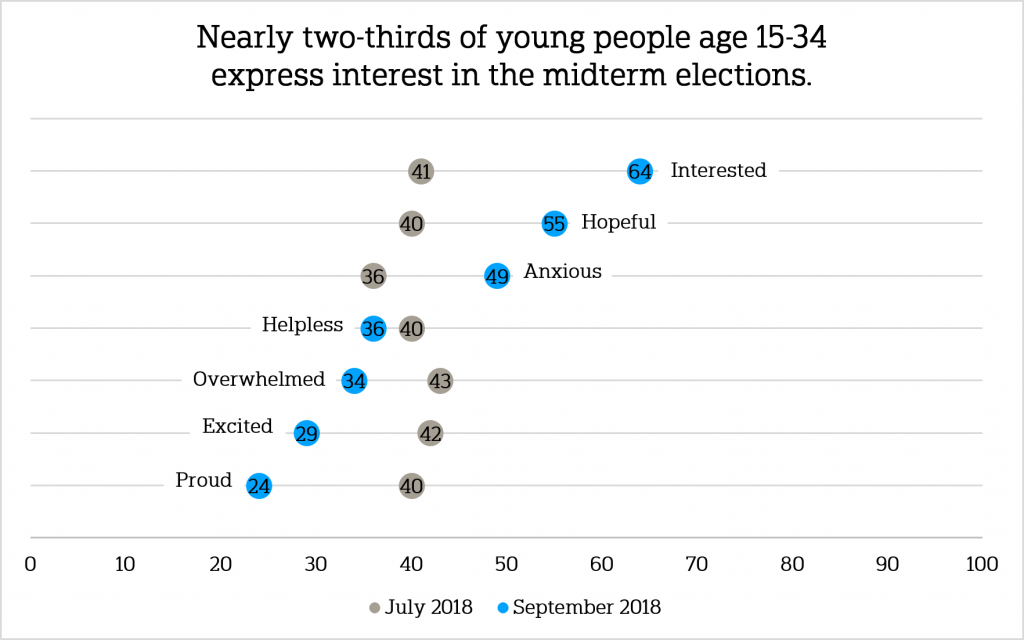 Question: Please indicate whether or not each of the following words describes how you feel about the upcoming midterm elections.
Source: MTV/AP-NORC poll conducted August 23-September 10, 2018, with 591 parents and 580 young people age 15-26
The survey also reveals that few young people trust the news they get about the midterm elections on social media. Thirty-one percent of people age 15-34 say they trust news a lot or some, while 59 percent say they don't trust it too much or at all. Fifty-five percent say that social media sites are currently doing too little to stop the spread of false information pertaining to the midterm elections on their site.
All of this while general political outlook and President Donald Trump's approval ratings remain stable. Forty-nine percent of 15- to 34-year-olds say they are generally optimistic when thinking about the future of the United States, and 50 percent feel generally pessimistic. And 32 percent express approval for Trump, while 67 percent disapprove of the way he is handling his job.
This fourth wave also explores young people's experiences with social media and their economic outlook, and includes a sample of parents of 15- to 26-year-olds to compare the views of young people and parents on these important issues.
The social media findings reveal that young people and parents share similar views of the effect social media has had on society, and that online harassment is a regular occurrence on the social media platforms they frequent. The economic findings reveal that young people and parents give mixed assessments when it comes to the economic outlook nationally and in their own homes. The social media experiences and economic views of people age 15-26 and parents of this age group are explored further in two issue briefs.
This survey is the fourth in a multiwave series that takes the political pulse of the newest generation of voters as the November 2018 midterm elections approach. This is the second in the series that includes a sample of parents of 15- to 26-year-olds in order to make comparisons between the two generations. This nationwide poll by MTV and The AP-NORC Center was conducted August 23-September 10, 2018, using AmeriSpeak®, the probability-based panel of NORC at the University of Chicago. It surveyed a total of 1,012 young people age 15-34, including 580 young people age 15-26. It also surveyed 591 parents with children in this age group.