The next generation of potential voters can turn their political pessimism into action in the 2018 midterms, according to the latest wave of the MTV/AP-NORC Youth Political Pulse Survey.
Young people age 15 to 34 express widespread pessimism toward the political system and discourse in the United States today. Fifty-seven percent say they are doubtful that people of different political views can come together and work out their differences, and less than 1 in 5 hold out hope that these political divisions will heal over the next five years. Just 1 in 10 have felt positive or excited about the state of the country in the past month, and about 7 in 10 say American politics are dysfunctional.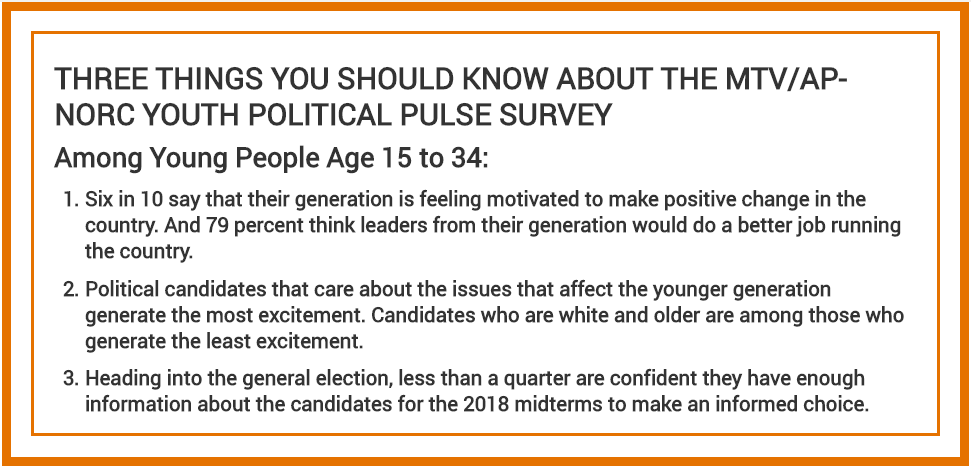 But many young people believe that negativity may fuel action by their generation. Sixty-two percent believe that their generation is motivated to make positive changes in the U.S., and 63 percent of young people say that voting in the 2018 midterms will allow their generation to effect real change in the government.
This November, young people say they will be motivated by the issues, and are looking for a different type of candidate on the ballot. Less than 1 in 5 express excitement about voting for a lifelong politician, or a candidate who is white, older, or a celebrity. Instead, two-thirds express excitement for a candidate who cares about the issues that affect them and their generation. And when it comes to the issues, more than half say health care, immigration, and the economy will be at the forefront when deciding how to vote.
While emotions toward the upcoming elections are somewhat tempered overall, likely voters express higher levels of excitement, interest, pride, and hope than those who say they are less likely to vote. Likely voters are also more likely than others to express excitement about voting for candidates who have certain qualities, including those who care about issues that affect them, are teachers, are black, and who share their religious beliefs.
This survey is the third in a multiwave series aimed at taking the political pulse of the next generation of voters ahead of the November 2018 Midterm elections. This nationwide poll by MTV and The Associated Press-NORC Center for Public Affairs Research was conducted using AmeriSpeak®, the probability-based panel of NORC at the University of Chicago. Interviews were conducted with a total of 1,030 young people, including 878 adults age 18-34 and 152 teens age 15-17.