Just over a year into the Trump presidency and several months before the 2018 midterm elections, a third of American teens and young adults approve of the president's job performance. A majority of young people across the political spectrum feel disillusioned with the political process, yet this dissatisfaction may be contributing to more action. Most feel that the public has become more engaged with politics and social issues since Donald Trump's election, and many report being more involved themselves, according to a new poll of Americans age 15-34 by MTV and The Associated Press-NORC Center for Public Affairs Research.
This survey is the first in a multiwave series of polls highlighting the voices of the youngest generation of voters. These 15-34 year olds, all of whom will be old enough to vote in 2020, represent the most diverse generation in American history and occupy the largest share of the electorate. This Youth Political Pulse series explores the views and priorities of this influential generation regarding the most critical political and social issues impacting the United States, and how their attitudes will shape their voting choices.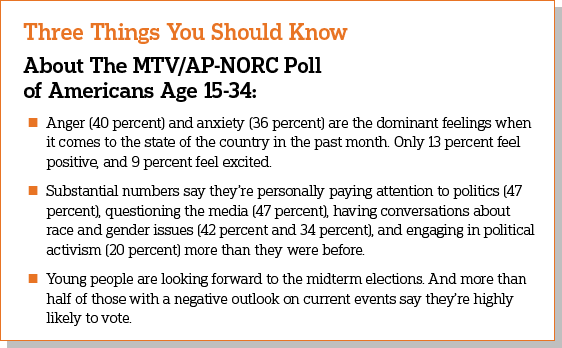 The results of the first poll reveal that these young Americans are critical of many aspects of President Trump's performance and personal qualities, with 66 percent saying he is not "making America great again," and 72 percent saying that he does not reflect their personal values. At the same time, 54 percent do not feel that he has been treated fairly by the media.
Young people acknowledge that the public has become more interested and involved with politics since Trump's election in 2016. Majorities feel that people are now paying attention to politics (64 percent), questioning the media (62 percent), engaging in political activism (61 percent), and having conversations about race and gender issues (60 percent and 53 percent, respectively) more than they were before.
Half of young Americans are already thinking about the 2018 midterm elections, and majorities support a number of policy changes on issues currently under debate, including student loan debt relief through refinancing (76 percent), finding a way for participants of the Deferred Action for Childhood Arrivals (DACA) program to stay in the United States legally (69 percent), a government-funded health care system (67 percent), increasing the federal minimum wage (60 percent), addressing climate change (60 percent), protecting the rights of LGBT citizens and Muslims (59 percent and 58 percent, respectively), and legalizing recreational use of marijuana (55 percent).
This nationwide poll by MTV and The Associated Press-NORC Center for Public Affairs Research was conducted using AmeriSpeak®, the probability-based panel of NORC at the University of Chicago. Interviews were conducted with a total of 1,027 young people, including 839 adults age 18-34 and 188 teens age 15-17.