October 12, 2022
About four weeks ahead of the midterm elections, the public continues to be largely negative in its assessment of the economy and President Biden's handling of it. After holding steady for years, concerns about personal finances are increasing.
However, most people do not hold Biden's policies responsible for high prices. Republicans are much more likely to blame Biden, while Democrats cite factors outside his control.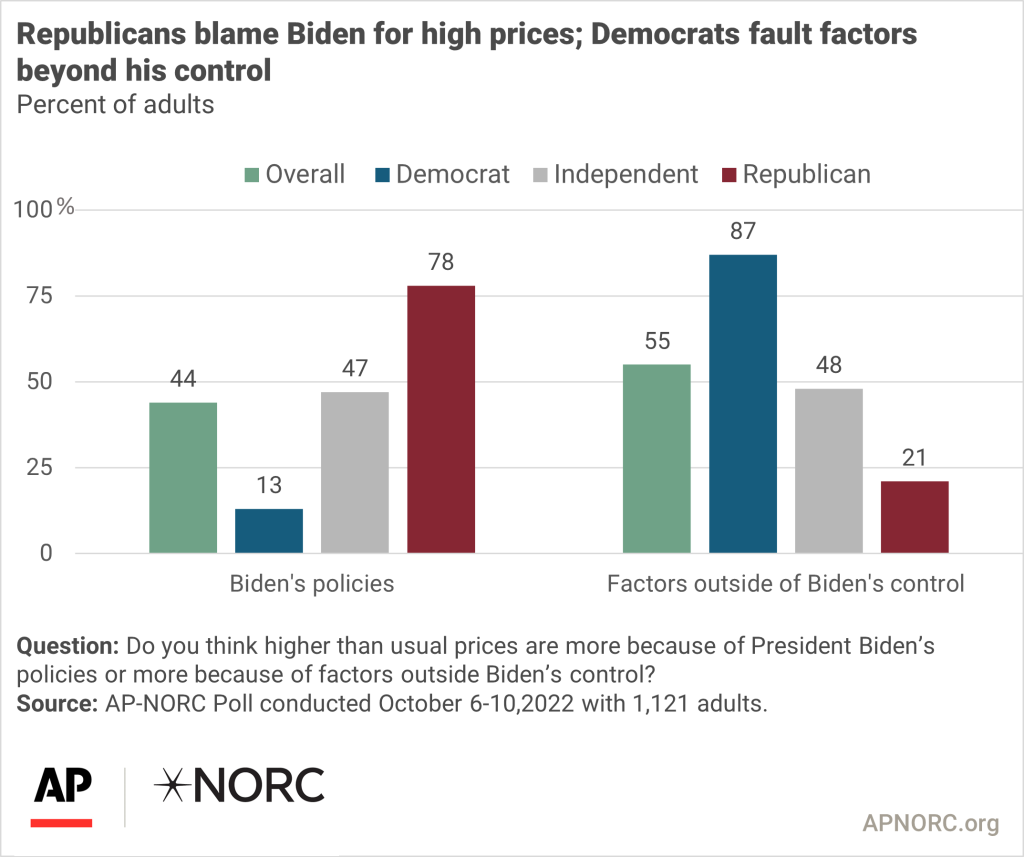 Twenty-five percent of adults say things in the country are heading in the right direction and 74% think the country is moving in the wrong direction. This is similar to the AP-NORC poll conducted in September. The president's overall approval rating is also holding steady from September.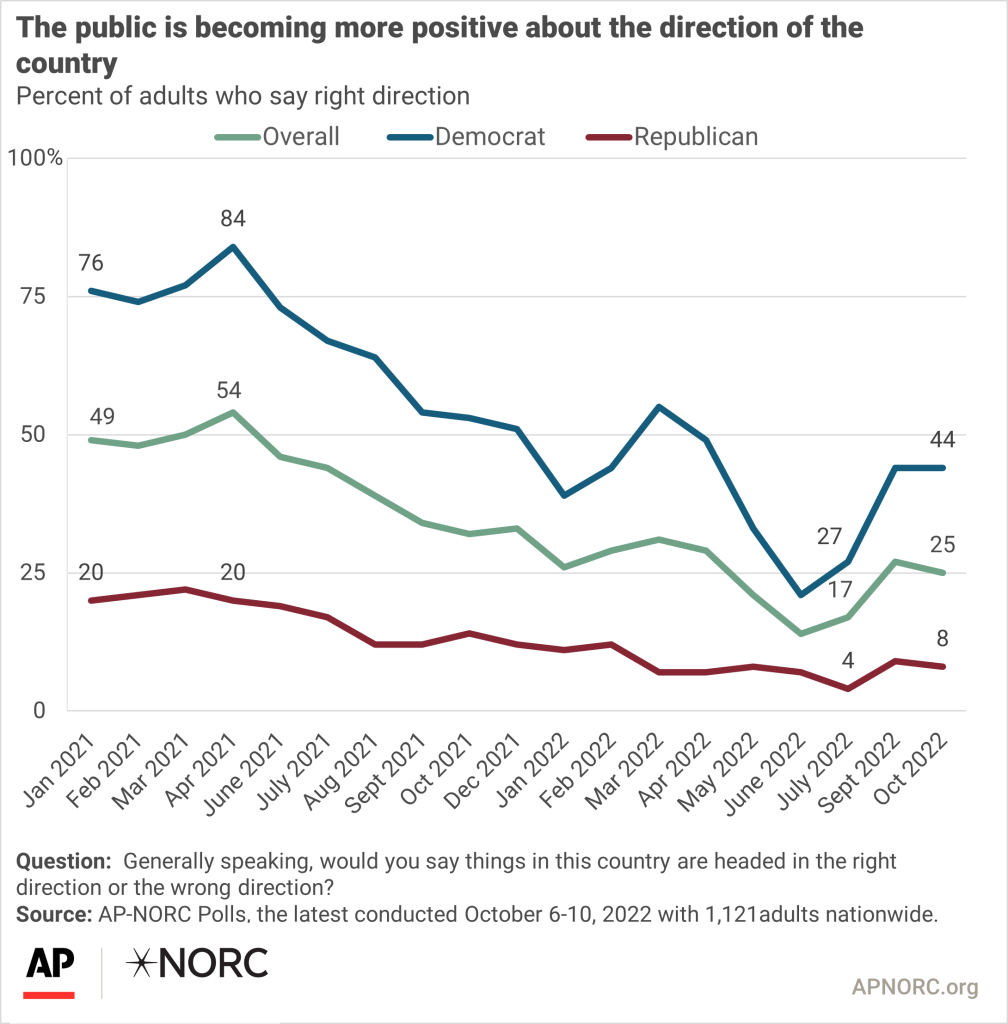 In the wake of Hurricanes Fiona and Ian, most people approve of Biden's handling of natural disasters. And 55% approve of how he's handling the coronavirus pandemic, long one of his strongest issues. However, most people disapprove of how Biden is dealing with immigration. And the public continues to negatively assess his handling of the economy.
Twenty-three percent of the public describe the national economy as good, down from 29% in September, and about the same as June during the peak of high gas prices. Last month, 46% of Democrats said the economy was good; now only 35% regard it positively. A majority, 64%, consider the economy in poor condition. The opinion of Republicans has not changed since June: only 10% view the economy favorably.
Views of the economy, while still negative, improved slightly last month. [1] However, that positivity is fading, particularly among Democrats.
While people are more positive about their own financial situation, that has taken a hit as well. The share of the public calling their personal financial situations good had been fairly constant over the last few years including during the economic downturn during the early months of the COVID-19 pandemic. Last spring, majorities of both Republicans and Democrats called their household financial situation good. But now, about half of Republicans and more than a third of Democrats say their own finances are poor.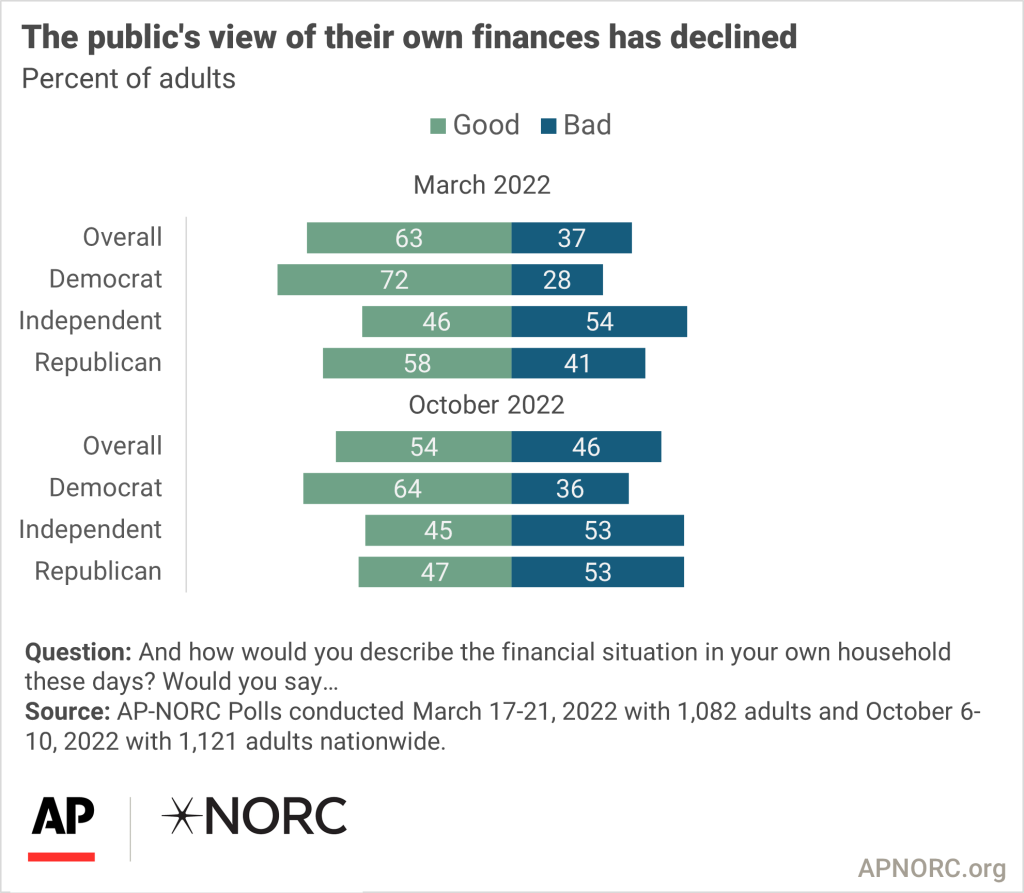 The nationwide poll was conducted October 6-10, 2022 using the AmeriSpeak® Panel, the probability-based panel of NORC at the University of Chicago. Online and telephone interviews using landlines and cell phones were conducted with 1,121 adults. The margin of sampling error is +/- 3.8 percentage points.
Suggested Citation: AP-NORC Center for Public Affairs Research. (October 2022). "People are feeling increasingly negative about their personal finances" https://apnorc.org/projects/people-are-feeling-increasingly-negative-about-their-personal-finances/
---
[1] https://apnorc.org/projects/despite-some-signals-of-optimism-the-public-remains-largely-dissatisfied-with-the-economy-and-the-direction-of-the-country/