Forty-eight percent of Americans consider the use of opioids – both prescription and illegal drugs – a serious issue for their community, and both pharmaceutical companies and opioid users themselves are seen as most responsible for the problem of addiction.
When it comes to solutions to the opioid problem, the public wants their communities to prioritize treatment over cracking down on drug addicts. About 60 percent say treatment should be improved and made more available, while less than half are looking for tougher treatment for drug users.
Opioids are a class of drugs that produce effects similar to opium and include pain relievers available legally by prescription, such as OxyContin, Vicodin, and Percocet, as well as illegal drugs such as heroin. According to the Centers for Disease Control and Prevention (CDC), opioids were the leading cause of drug overdose deaths.. Opioids, both prescription and illegal, were involved in more than two-thirds of overdose deaths in 2017.1
Thirty-five percent of Americans report having some experience with addiction to prescription painkillers or heroin, either personally or with a close friend or loved one. Fifty-six percent say they, themselves, have been prescribed an opioid painkiller at some point in their life.
About 40% consider drug use to be a serious problem in their community. Those who have experienced opioid addiction themselves or with a loved one are much more likely than others to regard the use of prescription painkillers in the community as a serious problem (58% vs. 31%).
These perceptions remain stable since this question was last asked in 2018.2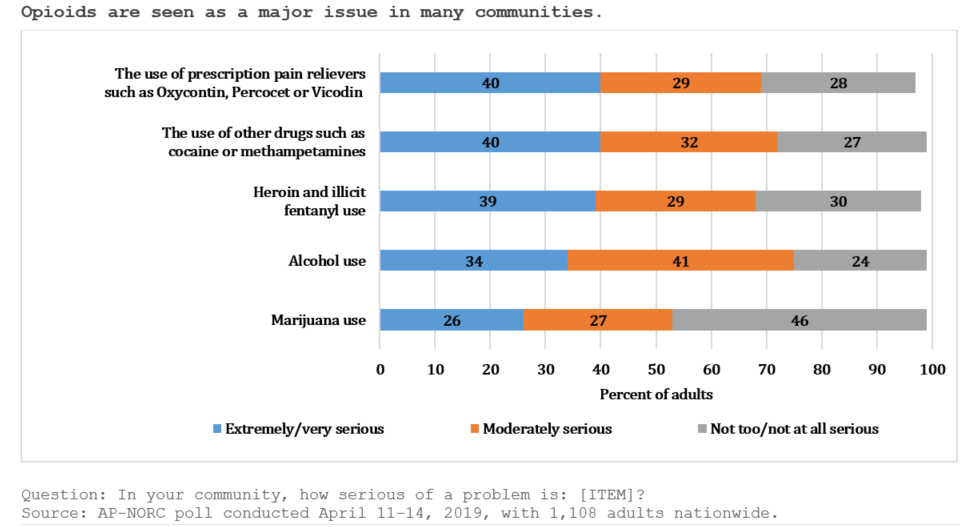 Over the past few years, nearly 2,000 lawsuits have been filed against Purdue Pharma, alleging that the manufacturer of OxyContin helped generate the nation's opioid crisis with aggressive marketing of the powerful painkiller.
Both pharmaceutical companies and opioid users are seen as most responsible for the problem of opioid addition. Seventy percent of those with personal experience with opioid addiction say pharmaceutical firms are very responsible for the problem of opioid addiction, along with 59% of those without any opioid addiction among their family or friends.
In addition, 72% of the public who identify as Democrats consider pharmaceutical companies responsible for the opioid crisis, compared with 53% of Republicans. Pharmaceutical companies and opioid users are seen as having the most blame for the problem of opioid addiction.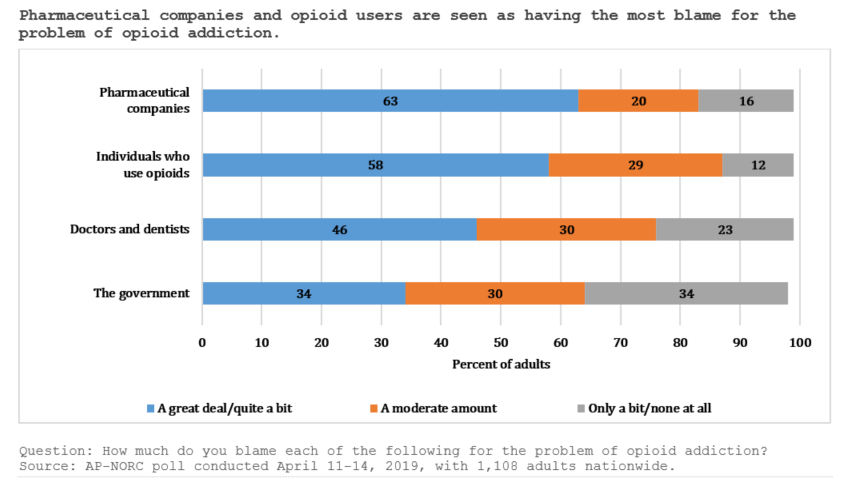 Less than half of the public blame doctors and dentists. The survey was conducted before 60 people, including more than 50 medical professionals, were charged on April 17, 2019 for their roles in illegally prescribing and distributing opioids and other drugs.3
Fifty-two percent of those with experience with opioid addiction put a lot of blame on doctors and dentists, compared with 43% of those who haven't any experience with addiction. Democrats are also more inclined to hold doctors and dentists responsible for the crisis than independents or Republicans.
Americans generally want their communities to do more to address the opioid crisis. A majority say their community is not doing enough to make substance use programs more affordable and accessible and to find ways to improve treatment for substance use.
The public would also like to see a reduction of the stigma of drug addiction and more education for the public and students about the issue. Nearly half of Americans think their community needs to do more to educate doctors and dentists who prescribe painkillers about the risks of opioids.
The survey finds a slight reduction in the desire for law enforcement to deal with opioid addiction. Forty-six percent are looking for tougher treatment for drug users, down from 55 percent in 2018. And 57% say communities should make a bigger effort to crack down on drug dealers, down from 64% in 2018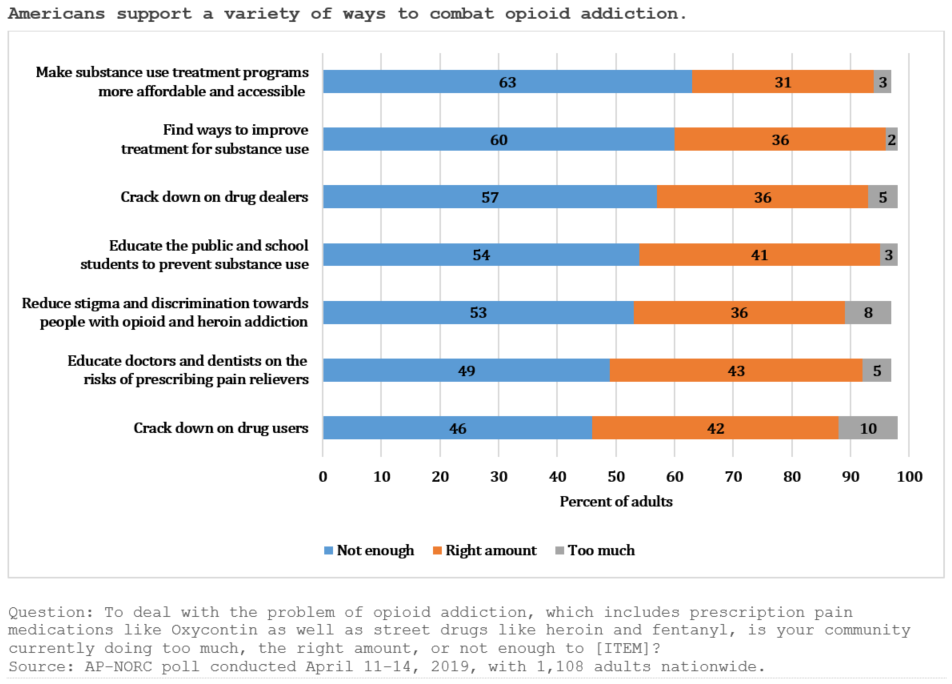 The nationwide poll was conducted April 11-14, 2019, using the AmeriSpeak® Panel, the probability-based panel of NORC at the University of Chicago. Online and telephone interviews using landlines and cell phones were conducted with 1,108 adults. The margin of sampling error is plus or minus 4.1 percentage points.