June 23, 2021
Most Americans agree that the United States should have at most a minor role in finding a resolution to the conflict in the Middle East, according to the AP-NORC survey conducted about three weeks after a ceasefire ended the most recent period of Israeli-Palestinian fighting. But when it comes to which side the U.S. should be supporting, attitudes vary considerably by partisanship.
While President Joe Biden continues to have an overall positive job approval rating, most Americans disapprove of how he is dealing with the conflict in the Middle East.
Twenty-nine percent of the public think the United States is being too supportive of the Israelis, and nearly the same, 25%, say it is too supportive of the Palestinians. These attitudes break across party lines. Half of Republicans say the United States is not giving adequate support to the Israelis; about the same number of Democrats think the Palestinians are not getting enough support.
There is agreement when it comes to how involved the United States should be in working out a solution to the problems between the Israelis and Palestinians. Half of the public says this country should only play a minor part in trying to settle the conflict, and 28% think the United States should stay out of it altogether. Just 19% thinks the United States should be a major player in working out a solution.
Nonetheless, Americans are somewhat optimistic about the possibility of a lasting peace in the Middle East. Fifty-seven percent say it is possible for Israel and an independent Palestinian state to coexist peacefully, while 39% have the opposite view. Two-thirds of Democrats and half of Republicans and independents have hopes for a peaceful two-state solution to the conflict.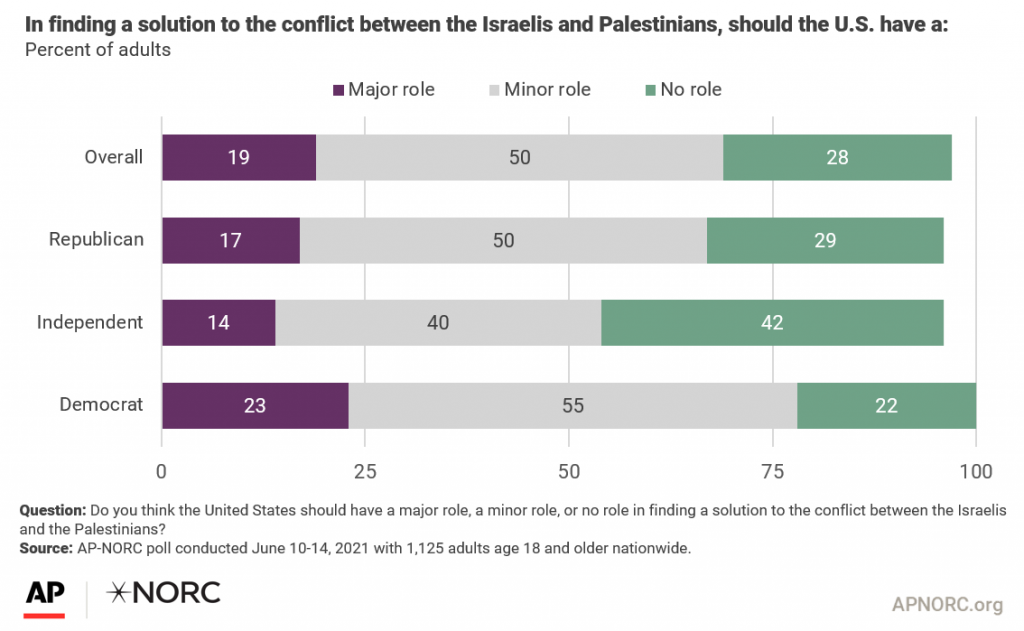 Fifty percent of the public approve of how Biden is handling foreign policy in general. However, there is less support for how he is dealing with the conflict between the Israelis and the Palestinians.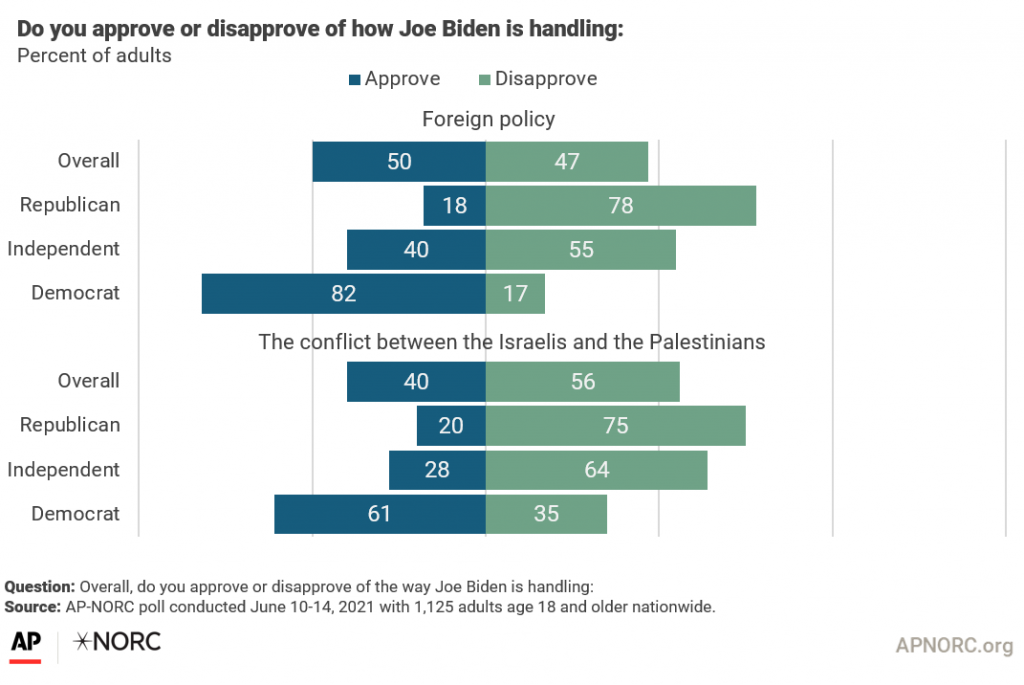 The nationwide poll was conducted June 10-14, 2021 using the AmeriSpeak® Panel, the probability-based panel of NORC at the University of Chicago. Online and telephone interviews using landlines and cell phones were conducted with 1,125 adults. The margin of sampling error is +/- 4.2 percentage points.