February 10, 2021
As national, state, and local governments continue to navigate the coronavirus vaccine distribution, 35% of Americans say they will definitely get vaccinated against COVID-19 and 13% say they have already been inoculated. Fifteen percent say they will definitely not get vaccinated. The rest of the public are less sure: 19% percent say they will probably receive the vaccine and 17% say they probably won't. Overall, 73% are at least somewhat worried they or someone in their family will contract the coronavirus.
More Democrats than Republicans intend to get the vaccine when it's made available to them. College educated Americans are more likely than those less educated to say they would receive the vaccine. Older generations are more likely to say they definitely would receive the vaccine than younger ones.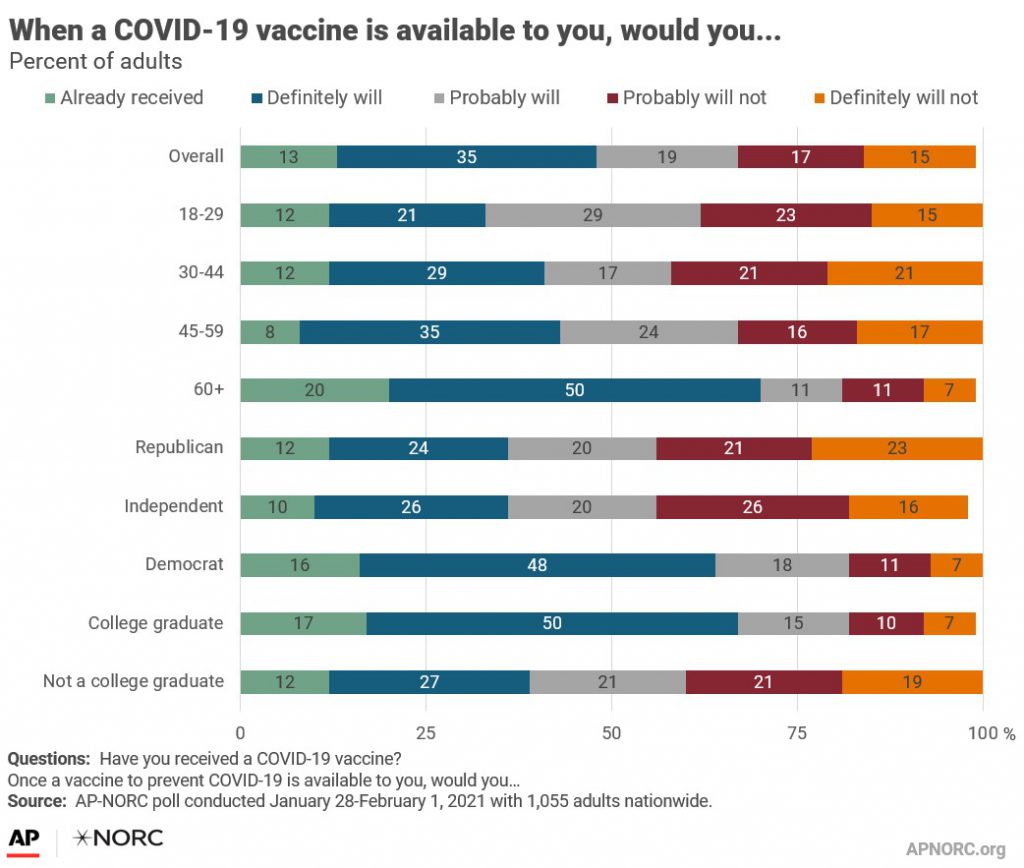 Among those less certain about their intent to receive the COVID-19 vaccine or who have been inoculated but don't intend to receive all the required doses, most are worried about possible side effects, and nearly half say they plan to wait and see if the vaccine is safe.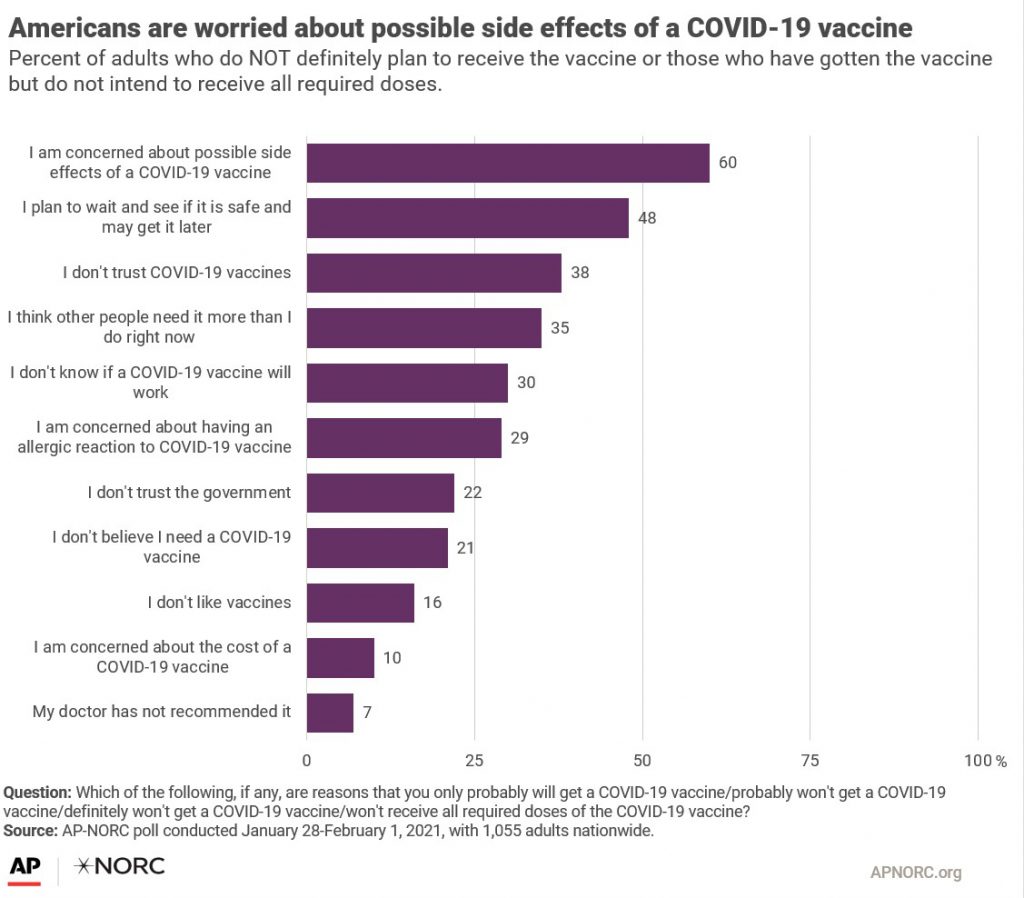 Most of those who intend to get immunized or who have already done so believe the COVID-19 vaccinations are safe, would protect their loved ones and community, and prevent them from contracting the virus.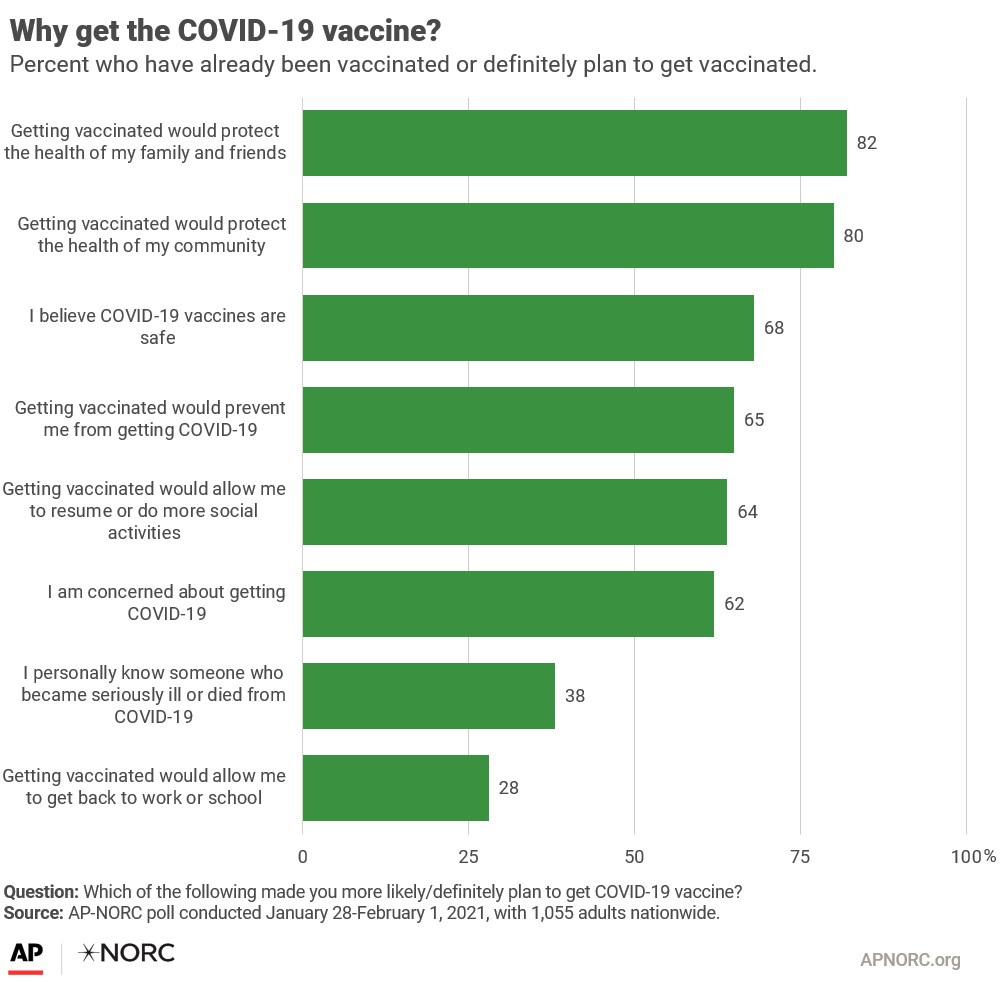 While doubts remain about the coronavirus vaccine, 74% have at least some confidence in President Biden's ability to quell the outbreak. Twenty-six percent of Americans express having hardly any confidence at all in the president's ability to handle the virus.1
Seventy-three percent of Americans are at least somewhat worried that someone in their family might contract COVID-19, including 43% who are very or extremely concerned. So far the approval of several vaccines has not reduced the public's level of concern, which has stayed fairly constant since late summer.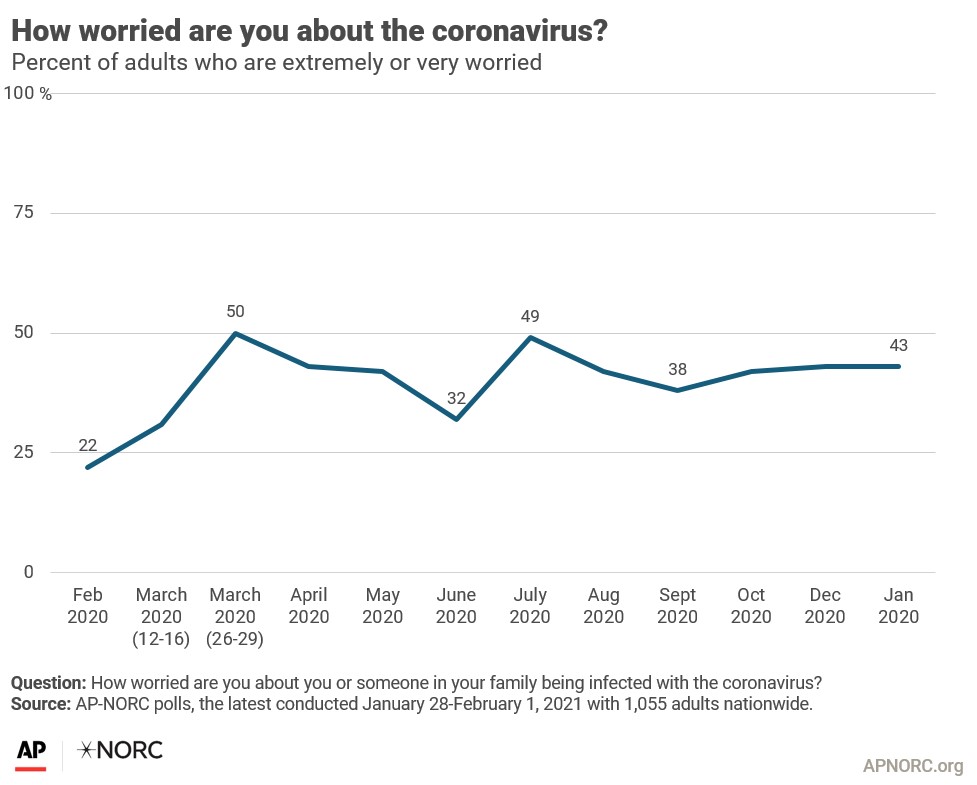 The nationwide poll was conducted January 28-February 1, 2021 using the AmeriSpeak® Panel, the probability-based panel of NORC at the University of Chicago. Online and telephone interviews using landlines and cell phones were conducted with 1,055 adults. The margin of sampling error is +/- 3.8 percentage points.
Suggested Citation: AP-NORC Center for Public Affairs Research. (February, 2021). "Safety Concerns Remain Main Driver of Vaccine Hesitancy." [https://apnorc.org/projects/safety-concerns-remain-main-driver-of-vaccine-hesitancy]
---
1 https://apnorc.org/projects/president-bidens-honeymoon-period/