December 13, 2021
As public health officials closely monitor the spread and severity of the omicron variant, more Americans are concerned about coronavirus infection compared to recent months. Nonetheless, fewer Americans are taking precautions compared to the spring and many are returning to pre-pandemic activities.
Thirty-six percent of Americans are extremely or very worried about themselves or a family member being infected with coronavirus. This is up from 25% who felt the same in October. In August, as the delta variant caused a spike in cases, 41% were concerned about infection.
While 71% of those who are vaccinated still say they're at least somewhat worried about infections, 55% of those who are unvaccinated say they have little or no worry. Eighty-one percent of Democrats say they're at least somewhat worried, compared with 49% of Republicans.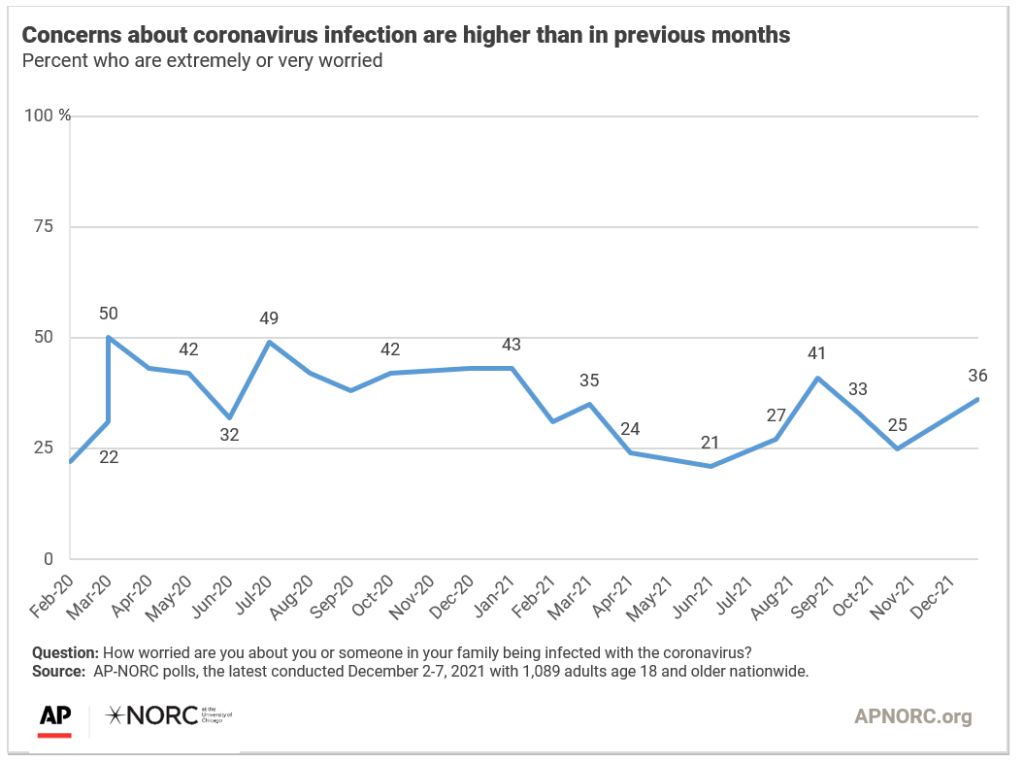 More than half of adults continue to stay away from large groups, wear a face mask, and avoid nonessential travel. However, fewer people are using these precautions than before vaccines were widely available. In February, more than 7 in 10 Americans reported staying away from large groups, wearing face masks, and avoiding travel.
Vaccinated Americans are more likely to take these precautions than the unvaccinated. Democrats are also more likely than Republicans to say they're regularly masking (72% to 33%), avoiding travel (63% to 36%), avoiding large groups (65% to 43%) and avoiding other people as much as possible (47% to 27%).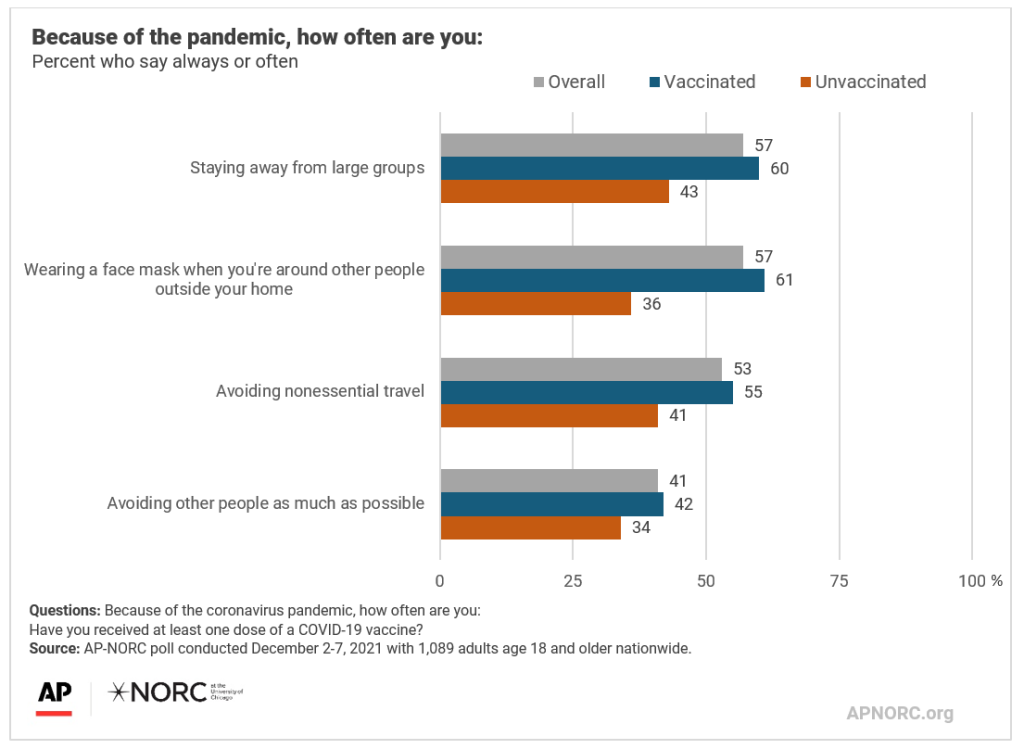 Though concern about infection is higher, Americans report similar levels of activity to June, when fear of infection was at its lowest since the pandemic began. Large majorities plan to visit friends and family and shop for fun in the next few weeks.
More adults are comfortable using public transportation. Fifty-six percent of those who used public transportation at least monthly before the pandemic plan to travel by bus or subway. In June, just 44% of pre-pandemic regular public transportation users planned to use these services.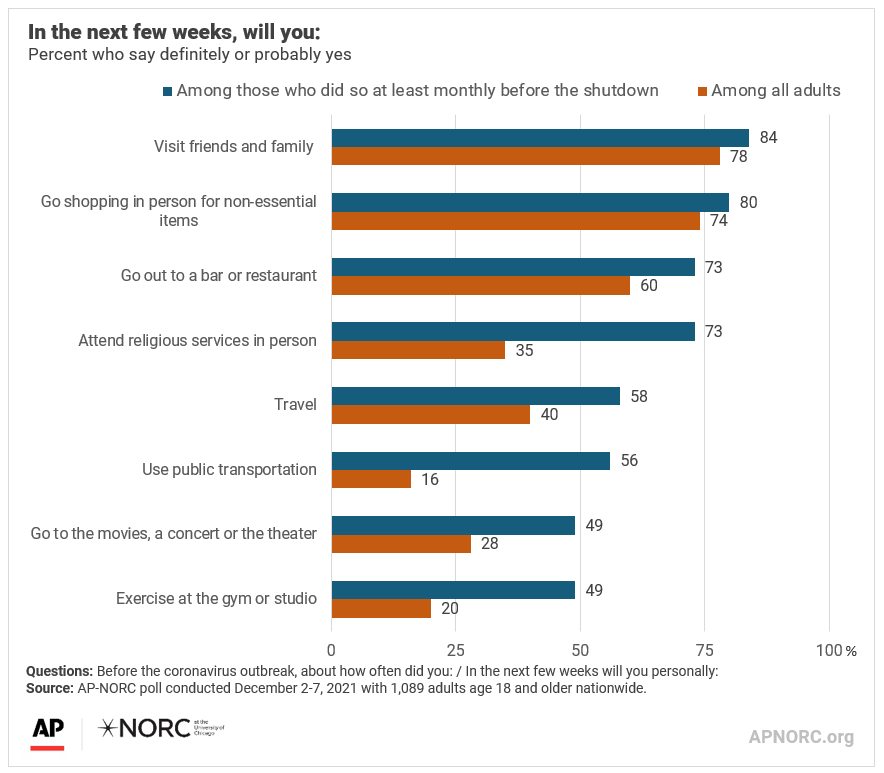 About two thirds of Americans feel it is easy to find factual information about COVID-19 vaccines and booster shots. Fifty-eight percent say the same about finding facts regarding COVID-19 vaccines for children. However, large partisan gaps exist. Democrats are more likely than independents or Republicans to find it easy to identify factual information about vaccines (76% vs. 55% vs. 52%), booster shots (79% vs. 54% vs. 56%), and vaccines for children (71% vs. 47% vs. 47%).
Overall, 83% of adults report receiving at least one dose of a COVID-19 vaccine. Older Americans, college graduates, and Democrats continue to have higher vaccination rates than others.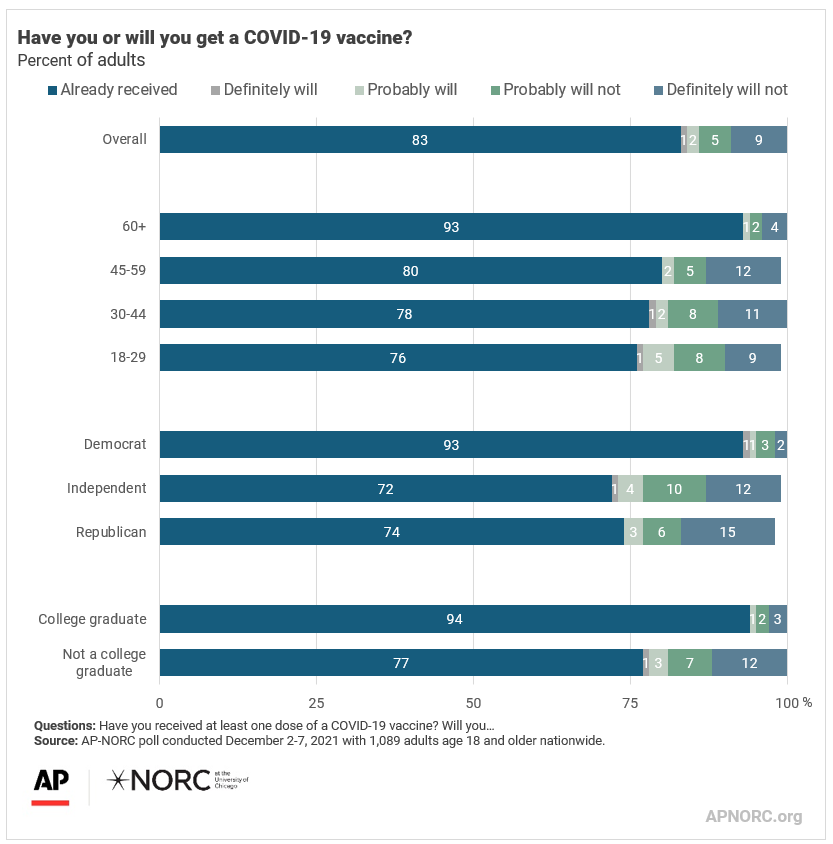 Among those who have been vaccinated, almost half have already received a booster vaccine. Another third will definitely or probably receive a booster vaccine once it becomes available.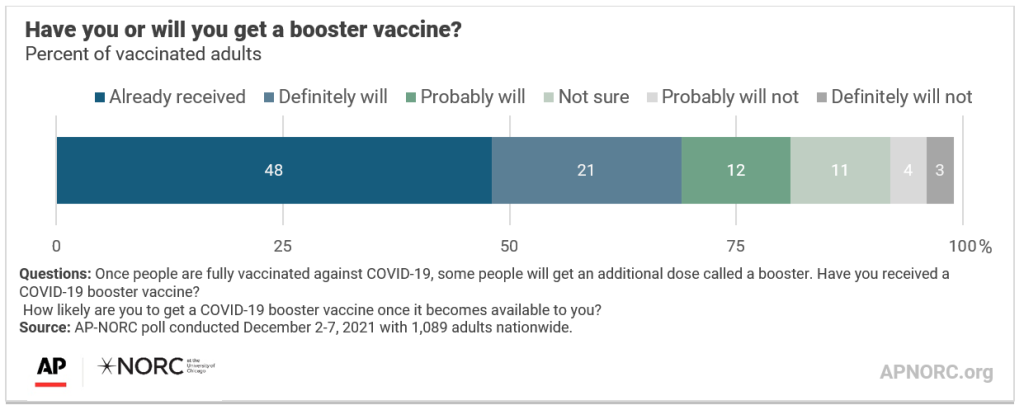 The nationwide poll was conducted December 2-7, 2021 using the AmeriSpeak® Panel, the probability-based panel of NORC at the University of Chicago. Online and telephone interviews using landlines and cell phones were conducted with 1,089 adults. The margin of sampling error is +/- 4.1 percentage points.
Suggested Citation: AP-NORC Center for Public Affairs Research. (December 2021). "Uptick in concern over COVID infection." https://apnorc.org/projects/uptick-in-concern-over-covid-infection