October 1, 2021
Half of Americans approve and about half disapprove of how Joe Biden is handling his job as president, a significant drop from the president's approval rating earlier this year. Just 34% of Americans say the country is headed in the right direction, down from about half who felt that way during the first months of Biden's presidency.
As Biden contends with challenges both at home and abroad, his approval ratings for handling domestic and foreign issues have deteriorated since his honeymoon period in the spring.
Since July, Biden's approval rating has dipped slightly among Democrats, down from 92% to 85%. There has been a bigger drop among independents who don't lean toward either party, from 62% in July to 38%. It's also decreased among both white Americans (49% to 42%) and Black Americans (86% to 64%). There has also been a drop since July among suburbanites (from 57% to 49%) and people living in rural areas (53% to 36%).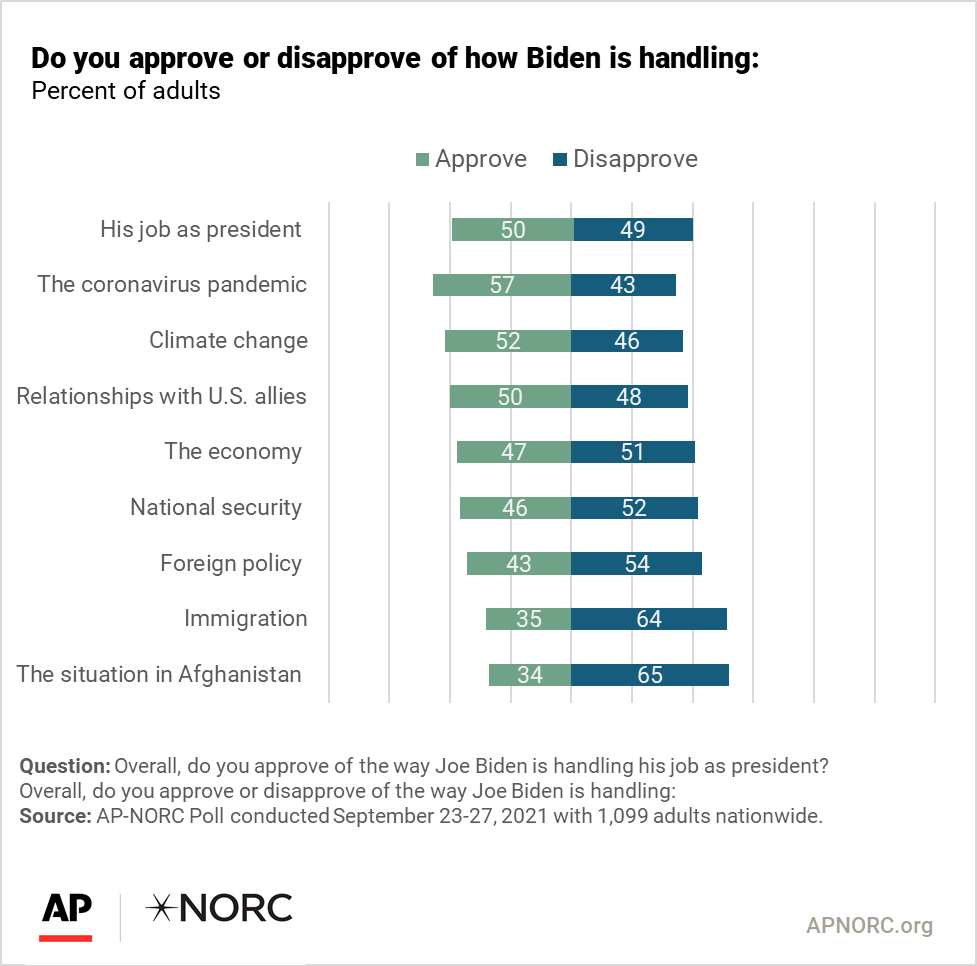 Forty-seven percent of Americans approve of how Biden is handling the economy, down from a high of 60% in March but similar to where it stood in August. Overall, 45% say the economy is good, while 54% say it's poor. About 8 in 10 Democrats and about 1 in 10 Republicans say they approve of Biden's handling of the economy. Sixty-three percent of Democrats say the economy is in good shape, while 70% of Republicans call it poor.
Approval of Biden's handling of the coronavirus pandemic has stabilized since August at 57% but remains significantly below where it stood as recently as July, when 66% approved. Still, it remains Biden's strongest issue in the poll.
Eighty-six percent of Democrats approve of Biden's handling of the pandemic, compared with 23% of Republicans. In July, 32% of Republicans said they approved.
Half of Americans approve of the Biden administration's plan to mandate that most U.S. workers either get vaccinated against COVID-19 or get tested regularly, while a third disapprove and 14% have no opinion.
Only 34% of the public approves of his handling of the situation in Afghanistan and 65% disapprove. Support for the the decision to remove the last remaining U.S. troops from Afghanistan is a little high (45%), but nearly as many disapprove (39%). Sixty-five percent of Democrats approve of the decision to withdraw troops; only 24% of Republicans agree. But only 54% of Democrats approve of how Biden has been handling Afghanistan. Jult 10% of Republicans alos approve.
The poll was conducted just after the dispute with France over a submarine deal with Australia, and 50% approve of how Biden is handling relationships with allies. In June 2018, 43% approved of Donald Trump's dealings with the country's allies.
Pessimistic views about the about the direction of the country continue to rise. Thirty-four percent say things in the country are heading in the right direction and 64% saying they are headed in the wrong direction. In April, 54% thought the country was on the right course, and only 44% said it was going in the wrong direction.
Although Democrats still say the country is heading in the right direction, their optimistic assessments of the country have dropped to 54%, down from 64% last month and 77% in April.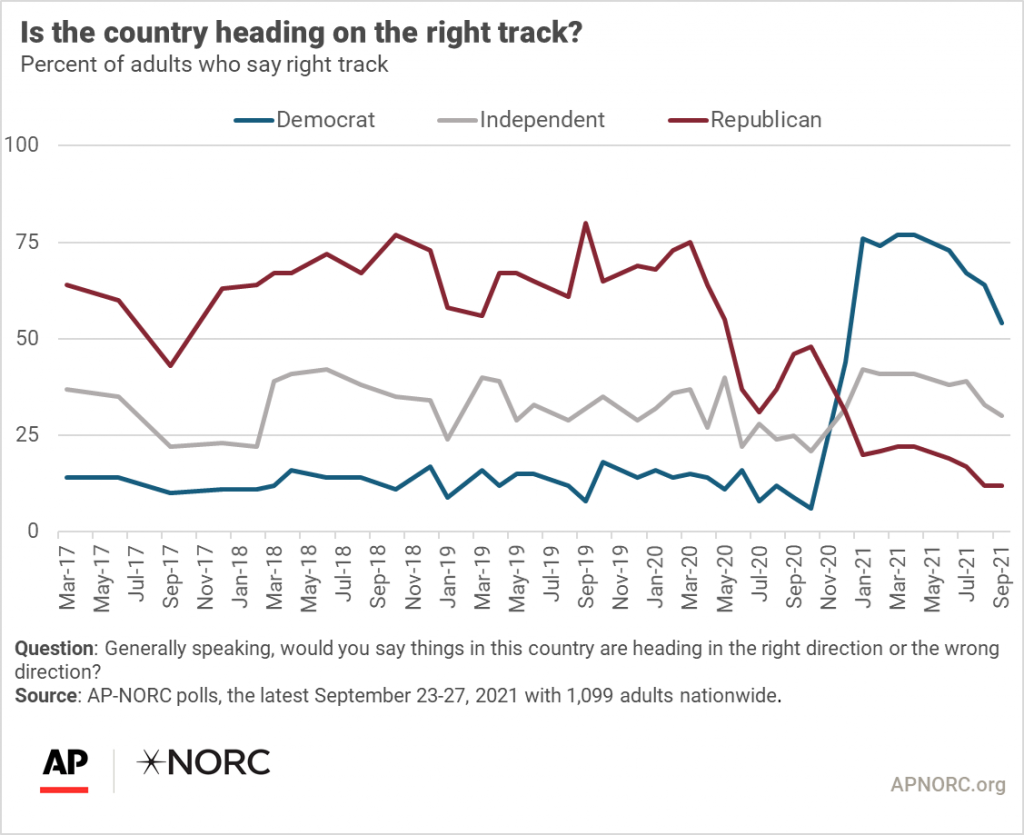 The nationwide poll was conducted September 23-27, 2021 using the AmeriSpeak® Panel, the probability-based panel of NORC at the University of Chicago. Online and telephone interviews using landlines and cell phones were conducted with 1,099 adults. The margin of sampling error is +/- 4.2 percentage points.