As the process for selecting a nominee for president gets underway, Democratic voters are generally positive about their top candidates for president. But they are only moderately confident that the Democratic Party's nomination process is fair.
Nationally, most Democratic voters[1] have a positive opinion of Bernie Sanders, Joe Biden, Pete Buttigieg, and Elizabeth Warren. Michael Bloomberg is viewed favorably by half of Democratic voters. Few have an unfavorable opinion of any of the top candidates, but 39% of Democratic voters say they don't have enough information about Amy Klobuchar and 52% say the same about Tom Steyer.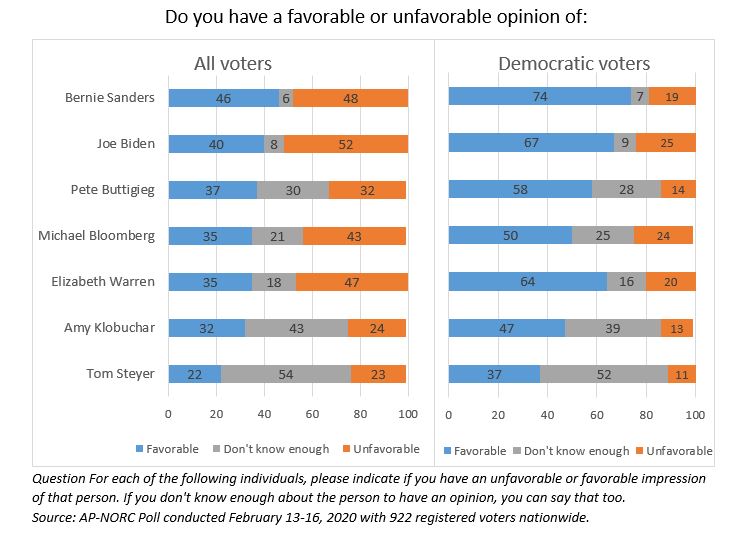 A quarter of all Democratic voters lack confidence in the fairness of their party's nominating process. Republican voters[2] are more convinced about the fairness of their party's nominating process than Democratic voters.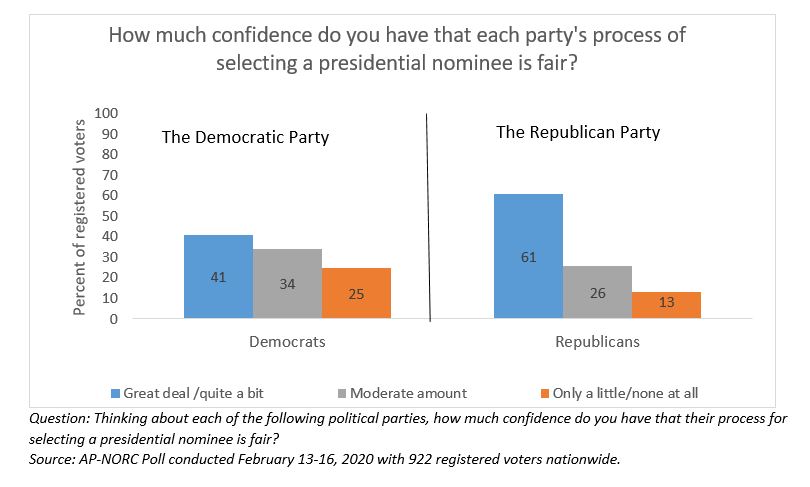 Voters are looking for candidates who are trustworthy, intelligent, and caring with a strong moral character. Most voters would also like to see a candidate who shares their views on issues. Few consider military service or shared religious beliefs important considerations in a candidate.
Voters in both parties are generally in agreement on the traits that make a good presidential candidate. However, Democratic voters are more enthusiastic about candidates with political experience rather than expertise in the business community, but the reverse is true for Republican voters. Among Republican voters, 69% consider business experience to be important, while only 25% say the same about candidates having held political office. In contrast, 59% of Democratic voters say experience in elected office is important in a presidential candidate, and 25% regard experience running a business to be important. In addition, while 12% of Democratic voters consider sharing religious beliefs with a candidate important, more than twice as many Republican voters (26%) agree.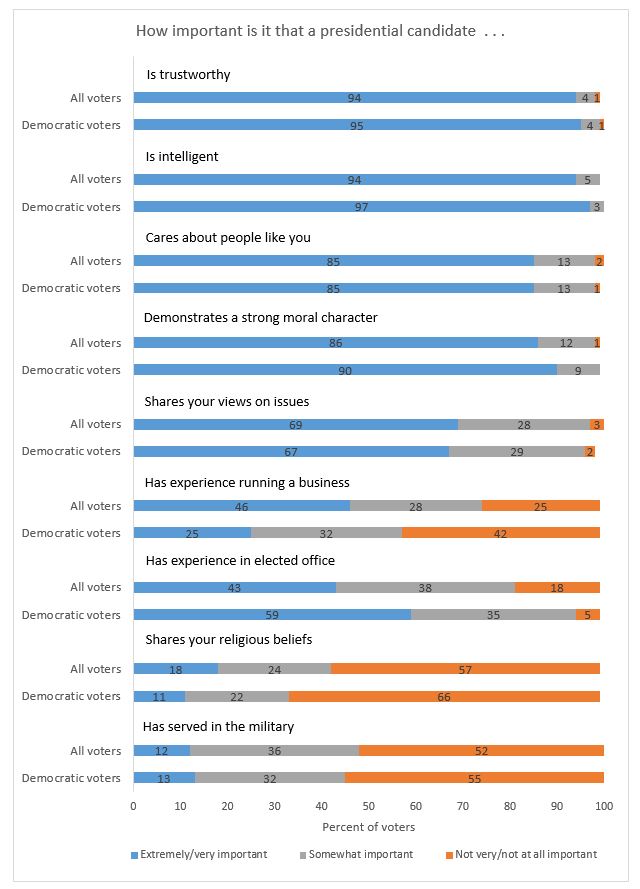 Overall, 43% of the public approves of how President Trump is handling his job and 56% disapprove. This is not significantly different from the results of the AP-NORC last month when 41% approved of the president's stewardship. The survey has similar results regarding voters' opinion of Trump. In both cases, Republican voters overwhelmingly have a positive view of Trump.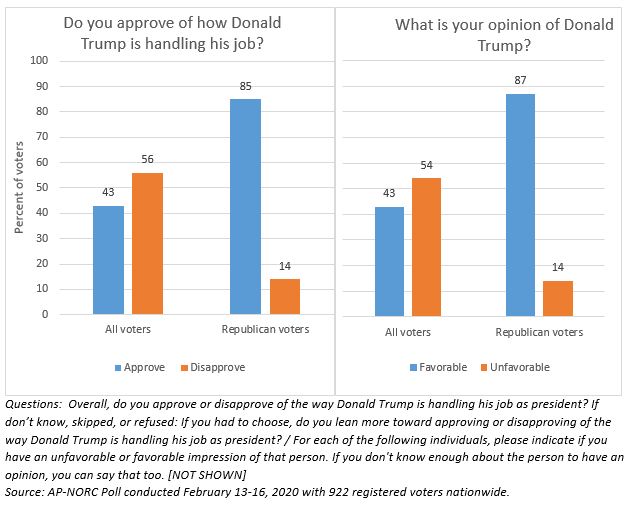 The nationwide poll was conducted February 13-16, 2020, using the AmeriSpeak® Panel, the probability-based panel of NORC at the University of Chicago. Online and telephone interviews using landlines and cell phones were conducted with 1,074 adults, including 922 who say they are registered to vote. The margin of sampling error is plus or minus 4.4 percentage points for registered voters.
Based on registered voters who consider themselves to be a Democrat or lean Democratic.
Based on registered voters who consider themselves to be a Republican or lean Republican.