Fewer than one-third of Americans say things are going better in the country now than they were a year ago, and nearly half say it's only going to get worse in the coming year, according to a new survey by The AP-NORC Center for Public Affairs Research.
They are somewhat more optimistic about the current state of the national economy: 39 percent say it's better and 36 percent say it's about the same compared to a year ago. Similar numbers of Americans expect it to get better, stay the same, or get worse over the coming year.
When it comes to their own personal finances, 47 percent say they haven't changed over the past year and 45 percent don't expect changes in the next year.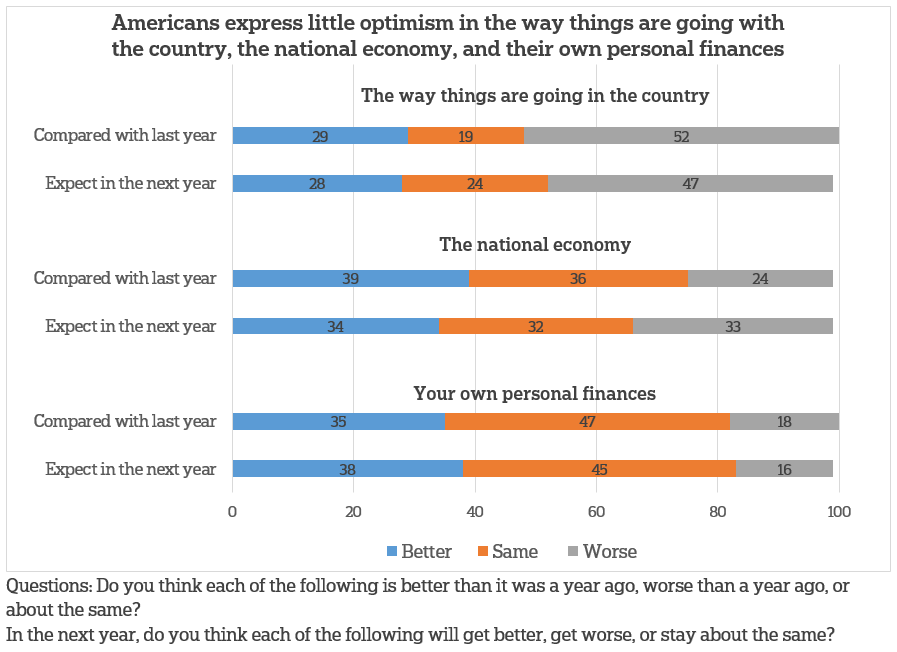 President Trump's overall approval rating stands at 35 percent while 64 percent disapprove. On the issues, Trump receives his highest marks on the economy: 45 percent say they approve and 54 percent disapprove. About one-third approve of the way Trump is handling foreign policy and immigration.
Far fewer approve of the way Congress is handling its job; 14 percent of Americans approve while 85 percent disapprove. This is down 9 points since March of 2017 when a quarter of Americans expressed approval for Congress. They are more positive about their own member of Congress: 44 percent say they approve of the way their representative is handling his or her job and 53 percent disapprove.
The nationwide poll was conducted February 15-19, 2018 using the AmeriSpeak® Panel, the probability-based panel of NORC at the University of Chicago. Online and telephone interviews using landlines and cell phones were conducted with 1,337 adults, including an oversample of 388 African Americans. The margin of sampling error is plus or minus 3.9 percentage points for all respondents.