October 27, 2023
About two-thirds of adults say their household expenses have risen over the last year, but only about a quarter have also seen their income increase during the same period. Seventy-three percent describe the national economy as poor.
Few adults have been able to contribute more toward their savings over the last year and most say household debt is either rising or not going away.
People are far more likely to say that their household expenses and debt have increased compared to income or savings. Half the public says their household savings decreased over the last year.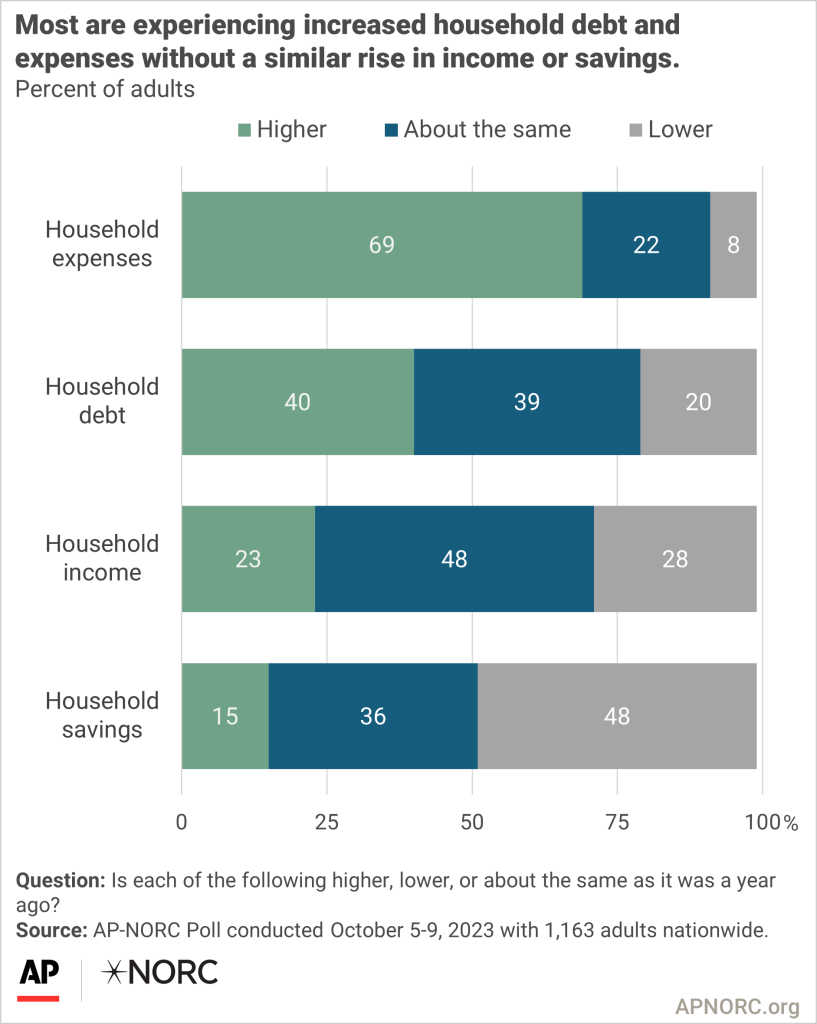 Still, about half of adults say their financial situation is good even when citing certain drawbacks. However, that varies based on household income. Sixty-nine percent of people in households with incomes over $100,000 per year report being in good financial health compared to 38% for people in households making under $50,000.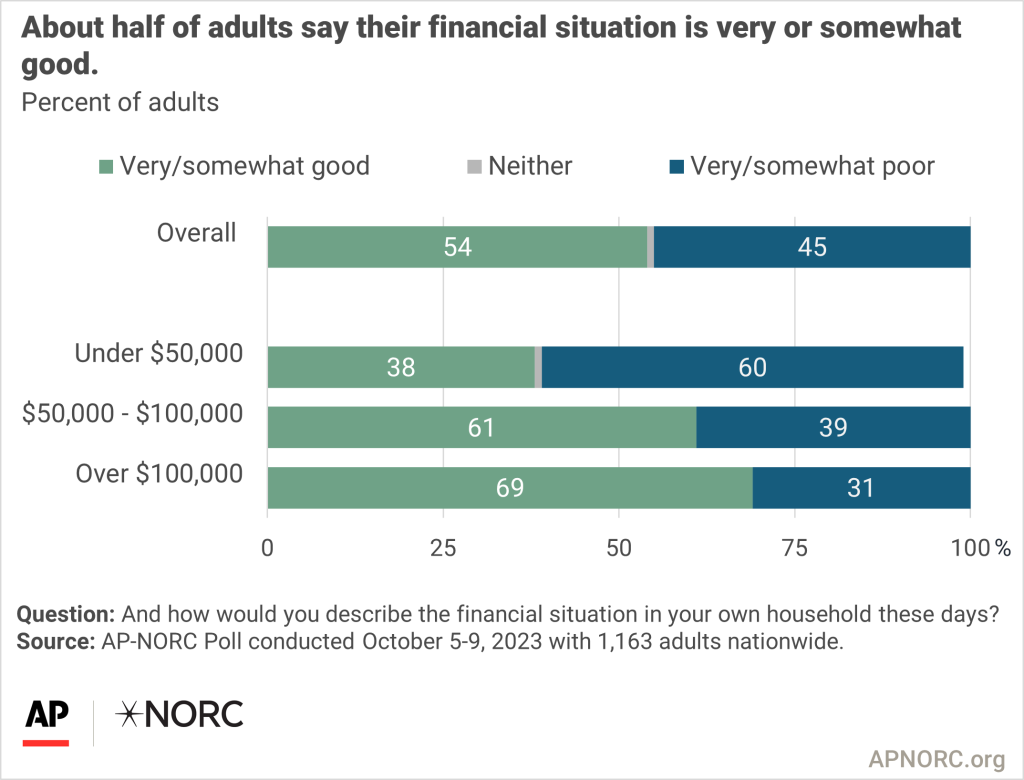 Nearly half of adults are not confident they will have enough savings for retirement, but most are at least somewhat confident they can keep up with their expenses, pay an unexpected medical expense, or find a good job.
Among those who are retired, 30% are very confident they have saved enough for their retirement, 38% are somewhat confident, and 31% are not very confident or not confident at all.
People with higher household incomes are more likely to have greater confidence in having enough savings for retirement, keeping up with expenses, paying an unexpected medical expense, and finding a good job.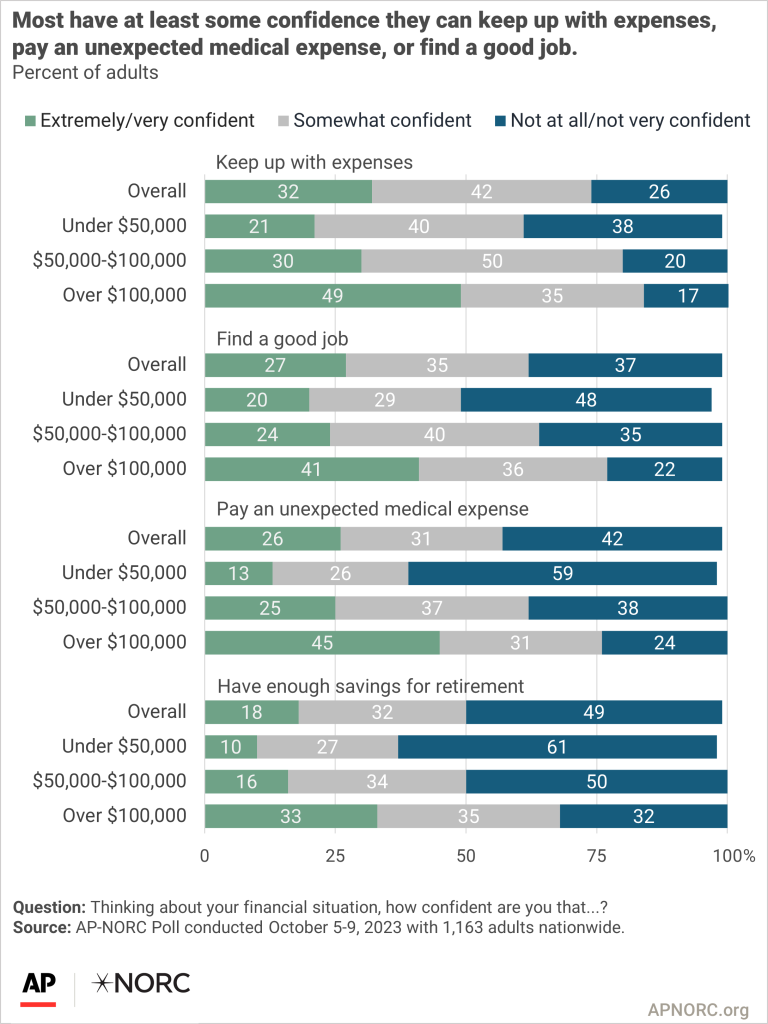 While half face credit card debt and 40% have auto loans, fewer have student loans or medical debt. Thirty-one percent say they have had to forego a major purchase due to higher interest rates.
Affluent people are more likely to have auto loans but less likely to have medical debt. Though they are just as likely as lower-income households to be carrying credit card and student loan debt.
Overall, 23% of adults have student loans, though younger adults are more likely to hold that type of debt. Thirty-six percent of 18- to 44-year-olds have student debt, compared to 12% of people who are 45 and older.
Forty-one percent of adults approve of how President Biden is handling student loans. Among people with student debt, 50% approve of how Biden is dealing with the issue compared with 39% of adults without any student loans. While 69% of Democrats approve of Biden's handling of student debt, only 14% of Republicans agree.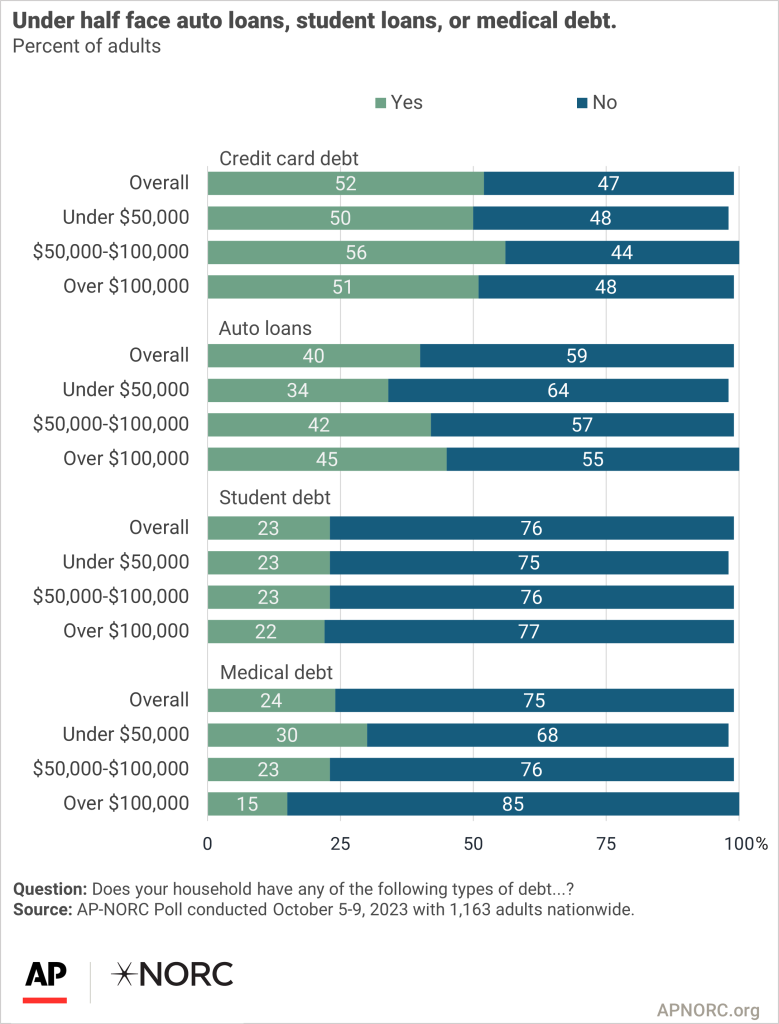 The vast majority continue to describe the national economy as poor.
Democrats are more likely than Republicans to describe the economy as good. Those who describe their personal financial situation positively are more likely than those who say their finances are in bad shape to consider the national economy as good.
Partisan views are more commonly expressed by individuals in favorable financial situations. Among Republicans, 82% percent who feel their personal financial situation is good view the economy poorly, while only 38% of Democrats with good personal finances share this view. Yet the gap between Republicans and Democrats shrinks among those who rate their personal finances negatively. Among those in more financially challenging situations, 83% of Democrats say the national economy is in bad shape as do 97% of Republicans.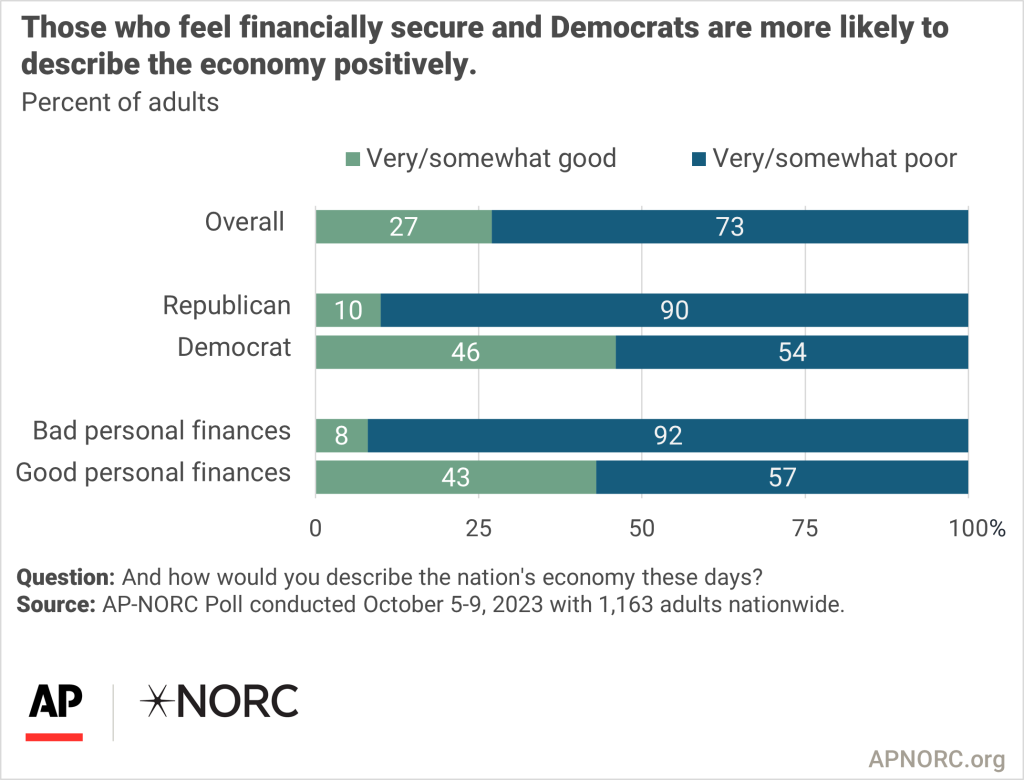 Sixty-seven percent disapprove of the way Biden is handling the economy, including 92% of Republicans and 37% of Democrats.
However, adults are split on which party they trust more to do a better job of handling inflation. Democrats and Republicans are each more likely to trust their own party.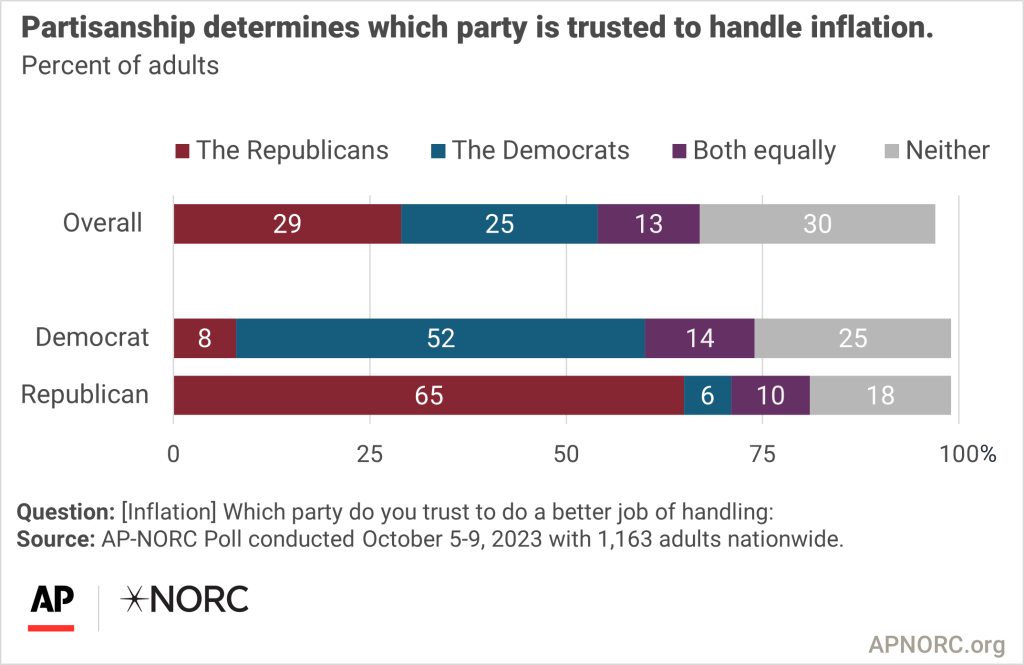 The nationwide poll was conducted October 5-9, 2023 using the AmeriSpeak® Panel, the probability-based panel of NORC at the University of Chicago. Online and telephone interviews using landlines and cell phones were conducted with 1,163 adults. The margin of sampling error is +/- 3.9 percentage points.
Suggested Citation: AP-NORC Center for Public Affairs Research. (October 2023). "Many are uncertain about their financial futures as household expenses outpace earnings" https://apnorc.org/projects/many-are-uncertain-about-their-financial-futures-as-household-expenses-outpace-earnings/